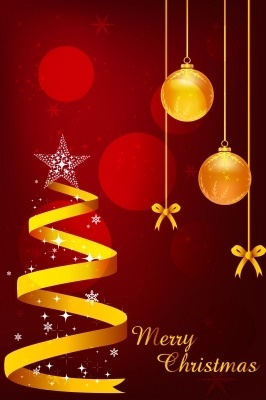 Merry Christmas and happy blogging to you for 2014!
This is a time of the year where we reflect on what has been done over the year, and what we intend to do this coming year.
While my last post was about acknowledging 27 bloggers that have supported this blog the most, along with a handful whom I've met more recently, and intend to know more in 2014, this post is about some news bout this blog, which may affect your own blog as well, as you'll understand if you read on.
I am well aware, that no one wants to read something that couldn't apply to them or help them in some way, but I thought that my story here could help you understand your own blog better, as well as giving you ideas for the coming year.
Finally Starting to See the Horizon at the End of the Stiff Climbing
Chances are that if you read this blog post, you probably have a blog yourself, and maybe have plans to improve it in whatever way it needs to be improved.
Maybe you have felt discouraged at times, because results haven't happened or are still not happening fast enough.  If so, don't get discouraged.
In my case, blogging has been a very long learning process, because I didn't have a whole vision of what a blog was "really" supposed to be for, and what the normal progression of a blog was supposed to be like.
I was in too many places at the time, and while I was doing many things and seemingly doing OK in some area of my online marketing, I've missed the boat on blogging, it seems.
I know of many bloggers who went from point A to point B in a pretty easy matter of fact fashion, while everything progressed naturally for them.
Well, it wasn't like that for me at all, and frankly, I'm still recuperating from that, even though, I'm doing much better and starting to see a ray of light. It's only now that my blogs seem to get better in many ways and that my readership is improving steadily.
Still lots need to be done, I've not arrived yet, but things are really getting better and better, not only for this blog, but my other two as well.
Alexa Ranking
At the beginning of this year my Alexa ranking here and my other 2 blogs were somewhat OK and seemingly going up, however, last May several issues related to hosting happened at the same time I was moving and  was totally off line for a few days.  By the time I realized some of the issues  I had it might have affected my Alexa ranking.
Do I know that for sure?
No, but it's shortly after that, that my 3 blogs' Alexa ranking started falling like speeding rockets, and went from acceptable to totally not acceptable in my book.  It was so bad that I didn't want to see it anymore, so I stopped looking for while.
This lasted a few months, but since about October my 3 Alexa rankings have started to climb and climb again on a steady weekly basis. How much climbing? Well, over 200.000 ranks up for this blog and even more for the other two.  It all  happened withing the last 3 months.
As much as I don't want to sweat the Alexa ranking too much, I feel better with a descent one that makes more sense according to the quality of my blog.
Page Rank
Right now, SylvianeNuccio.com has a page rank of 2, which I can live with at the moment. I think that while it could be better, it's OK considering that (as I mentioned above), my progress wasn't very much of a typical one. Meaning a slow type one.
What's Coming for 2014 on this Blog!
Maybe some of you know that I'm in the process of completing a writing tutorial eBook. Originally this eBook was supposed to be completed by September, but that never happened, because of my extremely busy life.
Even though that eBook will be a free product that's not something I wanted to rush for the sake of completing it, so I decided that it would be coming out at a later date.
I'm planning to have it all ready at the very beginning of 2014, and here is a preview of what of the cover.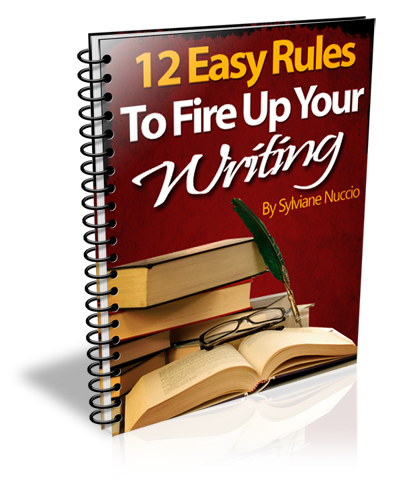 Writing Services
While my blog posts will always be aimed at helping my readers with writing topic kind of posts, even though  at times I may write about marketing, social media and other Web 2.0 sites, and so on, I also want to better send the message that this blog is also the support of my freelance writing service, which should definitely increase, and improve in 2014.
This blog has two purposes. On one hand I'm aware that most of the readers of this blog come just to read the post and comment, but on the other hand I also want to attract the potential client and be more obvious about that than I've been until now.
So to send the message loud and clear the little banner below will be posted on my sidebar and linking to my Hire Me page…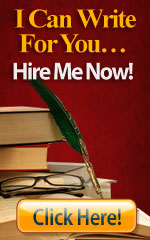 Then, at the end of each post, starting fist post in January you will be able to see the banner below. Not to steal, though. Those are right reserved and customer made for me by my good friend Steve B.  You can check his work here (affiliate link).

As a matter of fact this will be posted on all my 3 blogs for improved opportunity to have my service seen loud and clear.
New Little Banners for Easy Navigation from Blog to Blog
There will be little banners that will facilitate navigation between one blog to the other. On the sidebar they will be showing side by side on each blog (there will be 2 of them on each blog).  I had that already before but this two banners will be higher on the siderbar, and more obvious than of I have now.



More Videos
It is my intention do do more videos in the coming year.  I will even do some videos outdoors as I now have the equipment. However, I will have to purchase some type of tool to make video settings easier and more professional looking.
OK, that's all for now!
I hope this post help you in some way, and maybe gave you some ideas for your own blog.
Have a Merry Christmas and a Happy Blogging for 2014! And don't forget to leave your feedback below.