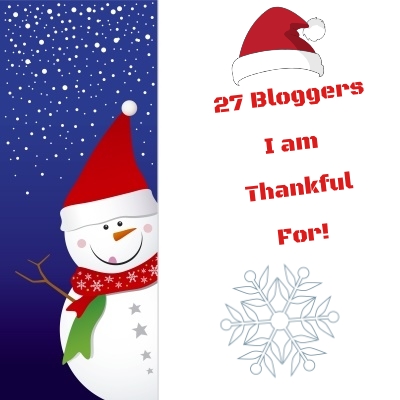 I love this time of the year, because it's the time when you go back and look at what you've done with your blog, what relationships you've build over the year, and other achievements.
While my next post will be more about what this blog had done this year, this one is all about my readers.
You may or may not remember how last year I've mentioned a short list of bloggers I wanted to get know more. Looking back at it I thought that I did an OK job, since I now know better most of the people I've mentioned on that list, except for a few that kind of fail away from blogging it seems.
This year my list is so much bigger, because I wanted to mention the bloggers who have been coming to my blog without fail on regular basis as well as those who I'd like to get to know more as well.
For those who I know best, I also picked one of their best post this year. So, here we go.  This is my list of 27 bloggers who I know well or would like to know more.
My 2 Best all Time Visitors, and Content Sharers
Donna Merrill, and Adrienne Smith. On top of that these two turned out to be such good friends as well.
So far no one has been able to beat those two ladies, and I'm so glad I've got to meet them one day and that a relationship was created.  They are also the only two of that list with whom I actually spent some time talking with on the phone.
One of my favorite post this year from Donna is Marketing Lesson From Get Response where she highlights the need to be a good relationship maker, by giving a true life example. If you still doubt how important that is go give it a read.
Now, since Adrienne posts twice a week, I could have easily spent a couple of hours going through all her posts this past year, but I remembered on cool one just recently where she told us how to easily insert a tweet into your post.  If you have no clue how this is done, go check it out!
My 6 Next Top Visitors
The 6 following bloggers have come regularly on either one, two or even all three of my blogs this past year. They are not bloggers who come only if I go to their blog first, so for this, I'm very thankful to them.
Sue Price
Corina Ramos
Carol Lynn Rivera
Mayura Da Silva
Harleena Singh
Sue Neal
Sue Price had a very good post with a very interesting question not too long ago, titled The Law of Attraction – Is it a Fact or a Fiction? Check her post out if you are not sure about that yet.
Corina has written a post about a To Do List For Personal Development. This might help you to start the new year.
Carol Lynn has written so many juicy posts that it was a tough choice to make, but one that I really thought interesting for me was 12 Techniques to Make your Content more Memorable.
Mayura writes very good tutorial posts with step by step explanation on how it's done. Here is a great post of his titled Seach Engine Optimation Basics For Bloggers. You should definitely give it a read if you want to know more about this.
Harleena is THE family blog queen. She has a blog where she writes about everything that affects families in many different ways.  In this post she talks about the importance of fathers.
Sue Neal writes excellent content, but one of my favorite one this year is the one she tells us how to create share buttons for our PDF eBooks. Make sure you check that one out if you don't know how to do this.
8 More Bloggers Who Come See Me Often
Now they are other folks who are coming rather regularly on my either one of my blogs, and they are…
Lisa Buben
Lisa writes especially about SEO and Social Media. One of her interesting recent posts was asking the question, What if Yours Became the Most Popular Blog Site?  I thought this was a very interesting topic.
Silviu Constantinescu
I think that Silviu came to my blog through Adrienne, and he has come here regularly ever since. His comments are usually pretty long and pretty interesting.  Here he has written a post about blog comments that's pretty interesting.
Michael Belk
I met Michael toward the end of last year, and I know that he has been searching for what he really wants to blog about.  However, in the meantime, he has come here pretty regularly. Thank you, Michael.
Jeevan Jacob John
I met Jeevan about two years ago and back then he had a blog which he has since let go.  He went away for a while, but as soon as he came back he was nice enough to visit my posts every week again, without having a link to "sell." So for this, thank you Jeevan.
Mary Stevenson
Mary's writing style has always caught my eye a while back. She has a very interesting way to make you wonder what she is going to say, and that glues you to her writing. Mary blogs about things of life.  Here is one interesting post of hers, Brain Frog How To Grab It By The Tail.
Sherman Smith
I know Sherman for about a year. He blogs about marketing and one of his last posts asked the interesting question: Does Money Really Motivate People? Sherman has come pretty regularly to this blog as well as my personal development blog.
Barbara Charles
I met Barbara just over a year ago through a Google hangout group we still both belong to. She blogs about blogging and marketing. Here she is asking the question, How Much do Bloggers Make? If like many you're are asking yourself the question, give it a read.
Carolyn Nicander Mohr
Carolyn is the tech lady on the block. I can think of a couple of online software tools that I wouldn't have known about if it wasn't for her.   One of her recent posts How to Create a Shared DropBox Folder helped me discover a great free tool.
3 New Kids on the Block
Now, 3 bloggers, I haven't known for very long. They are now part of one of the Facebook groups I belong to and they come to this blog as well as my personal development blog each week.
Gladys Cruz is a certified coach and blogs about personal development. I met Gladys through Adrienne who induced me to her.  Gladys is a very special lady, and one of her posts you might enjoy is where she talks about the 6 Perpetual Ps of personal development.
Kumar Gauraw
Kumar blogs about several topics including marketing, social media, business, and leadership. He's got many very valuable posts, but here is a cool recent one of his. 24 RSS Sites to Drive Massive Traffic.
William Butler
Just like Kumar I've known William for only a few months.  William blogs about personal development, and knows a lot about this topic too. Here he wrote about 25 traits of highly successful people.
8 More Blogger I Would Like to Know More in this Coming Year!
And lastly, here are 8 great bloggers that I don't know well yet, but would like to get to know more.  Those bloggers have been coming to my blog at times, and here they are…
Akkaaham Torungwu from NotoPoverty.com
James Kazeem from Haceweb.com
Maxwell Ivey from MidwayMarketplace.com
Cole Wiebe form ColeWiebe.com
Tim Bonner from Tim-Bonner.com
Ashley Faulkes from Madlemmings.com
Okto from  NotOrdinaryBlogger.com
Emmanuel Kabenlah from Kabenlah.com
I hope you enjoy this list… Let me know your thoughts on that…
Photo Credit: FreeDigitalPhotos.net
Happy Holiday Season you ALL!