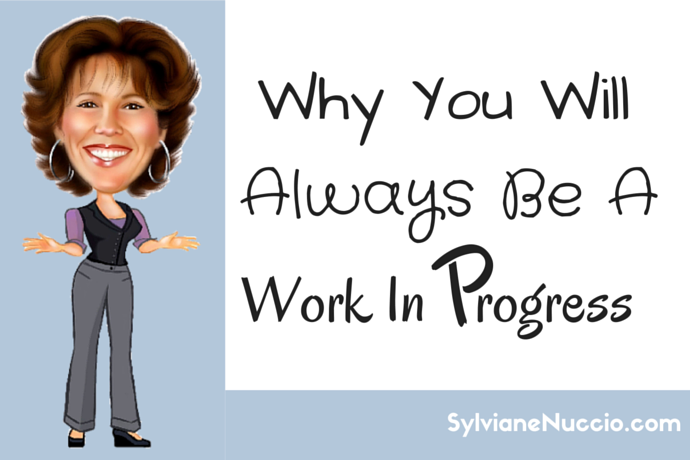 I will have special guests on the personal development section of the blog throughout the year.
I know it would be hard not to guess who is my first guest here today!
I've known Adrienne longer than most of you here, and I have been a guest at her blog over 2 years ago. However, she's never been a guest on mine until today.
That's why I'm so thrilled to have her!
As you may know by now, I create a special quote for each of my guests, and  here is my quote for Adrienne.
Take a lively hard working lady with a good heart, as well as a huge love for life and for people, and you get Adrienne Smith!"
For those that don't know me, my name is Adrienne Smith and Sylviane and I have known each other for a little over three years now.
I blog over at AdrienneSmith.net and my area of expertise happens to be showing bloggers how to build their blogs one relationship at a time.
So why you might ask has Sylviane invited me to write a guest post for her here in her personal development category instead of blogging!
Probably because she knows how passionate I am about this subject and how hard I continue to work on myself each and every day.
Don't we all?
What I Know For Sure
We are all and always will be a work in progress.
Granted, you might have reached a time in your life where you think you have it all.  Maybe you have the life you've always wanted right now or you're pretty darn content.
You've got the great family, doing work you love, you have a gorgeous house, cool cars and you get to travel to exotic locations often.  That's what I would say is a pretty great life!
Are we ever guaranteed anything in life though?
Work changes though, some for the good and some not so much.  For instance the economy can take a turn for the worst and the next thing you know what you were doing is no longer possible, at least for a time being.  Or you find that you're at a crossroads and it's time for a change.
We hope to always have our loving family but we also know that life happens and sometimes we lose our loved ones way before their time.
Maybe the circumstances call for you to downsize that nice house of yours or trade in the fancy cars.  The vacations get put on hold due to budget cuts or they just aren't logical right now.
Life happens, it's inevitable.
Should you always wait for the shoe to drop though?
Heck no!
I'm not trying to be "Miss Down and Out" here by any means.  I personally STILL have a pretty cool life considering everything that's happened in mine.
I own a one bedroom condo, 23 years this April, which is just the perfect size.  It's getting a new face lift as we speak by the way.  Yay!!!
I once owned the cool sports car but I've been over that faze for quite some time now.  My current vehicle will be 16 years old next month but it's all mine.  It still runs like a champ, it's very reliable and gets me everywhere I need to go.
I may not have the awesome family with a loving husband and fabulous kids but I do have a four legged daughter whom I love with all my heart.  I also have two nieces and two nephews who are the light of my life, a brother, a sister, a sister-in-law and my awesome 89 year old Mom who we moved right next door to me a few years back.  I'm the caretaker of the family in case you're wondering.
I can honestly say the worst thing that has happened to me is losing loved ones.  That one definitely hurts the most.  Everything else doesn't even compare.
At times life can throw you a curve ball but that's just part of life right!
Are You Where You Want To Be?
I'm still a work in progress.
Sylviane is still a work in progress.
You are still a work in progress.
Is that a good or a bad thing?
Personally, I think that's a fabulous thing and you want to know why?
Because you care enough about yourself to continue improving, never giving up until you have everything you've ever wanted in life.
Is that possible to achieve?
Well heck yeah it is.
If you've been a reader of Sylviane's for any length of time then perhaps you read her post last year when she shared with her readers that she was now a certified life coach.
Guess who she used as a test subject in order to complete that final phase?
Little old me and I loved it.  When she asked me if I would do this for her I jumped on it and you want to know why?
Free coaching of course, who wouldn't want to do that right!
She had me write out my own personal mission statement based on answers to questions she had asked me.  Although I've tweaked it numerous times now I still read it religiously every single morning before I start my day.
Want to know why I continue to tweak it?
Because some of what I had on my list has already happened so it needed to be revised.
That's the coolest thing about continuing to work on you.  The things you want to happen in your life will come slowly when you're ready.
Some of what I have on my list is still way out of my reach though and I'm not exactly sure why.
I do the work, I know what my issues have been but I still fall short in getting to where I want to be.
Does that sound familiar to you at all?  Have you been there yourself?
The funny thing is that I've worked with two life coaches now yet I'm still not where I want to be in one major area.
Want to know what I'm doing about that?
I've signed up to work with another coach.
See, I'm still a work in progress.  I've done really well in certain parts of my life but I fall short in others.
What a coach can do for you is help you dig down deep to figure out why.  Even though I know what the issue is I still can't seem to resolve it.
Sylviane mentioned in a recent post that she too had hired a life coach to help her move forward in certain areas of her life.  See she's still a work in progress and through her continuing to improve herself, she can continue to help us.
What a life coach can do is help us figure that out what those underlying issues really are.
I'll go ahead and share with you exactly what my issue is and perhaps you can relate.
Like a lot of people, my issue continues to revolve around money.  I KNOW where it stems from, my parents.  I'm aware of it but I also thought I had dealt with it because I am aware.
Resolving Those Underlying Issues
Because I consider myself to be an open book, here is what I continue to deal with and maybe you can relate.
I LOVE my Mom but she grew up in the depression and lived a very hard life for a good number of years.
She penny pinched her entire life and saved everything.  Because of that she's got a LOT of money.  She'll still to this day say she can't afford something.  Her issue is she doesn't want to spend the money.  She thinks everything is overpriced and I mean everything.
Although I do not share my finances with my mother she continues to lecture me pretty much on a weekly basis about finances.  It's who she is, she'll never stop and it's annoying as hell.
If I purchase one thing that she either thinks I shouldn't have bought or she thinks I didn't need, I'll hear it for weeks.
I LOVE my mother but that ends up being one more issue I have to deal with regarding money.
My entire life I heard the phrases, "money doesn't grow on trees" or "we can't afford that".  In all honesty we probably couldn't afford it with my Dad's salary but my Mom always made it work and I never felt that I had to go without.
So I've dealt with these issues and I know what they are.  I do feel I'm worthy and I don't have my Mom's money issues.  Yet here they are, still holding me back from obtaining the financial security I KNOW I deserve.
I've followed in her footsteps and am VERY budget conscious as well.  I rarely spend money on myself and purchase elaborate things.  I'm just not big on material things, relationships are far more important to me than that.
But something keeps holding me back from moving forward and I have to resolve these issues once and for all.
That's what a coach can help us figure out and teach us how to deal with.
I'm aware of the issues, I've been taught some ways to deal with them, I thought I was doing great but obviously something is still standing in the way.  Something continues to keep me from being where I want so badly to be.
A coach is that sounding board, that person to discuss things with; the one that can pinpoint issues you didn't know you had.  The hidden issues that are there yet you don't know they are, it's that kind of help that at one time or another we all need.
Coaches Need Coaches
If you're into personal development then you've definitely heard of Dr. Joe Vitale right!
I was listening to one of his talks just last week and he stated that he still has life coaches today, even after all his successes.
Want to know why?
He mentioned that with each new project he undertakes, it's hard at times to counsel himself and Sylviane used the perfect example in her post.  It's like a dentist needing a root canal; he can't give it to himself.
We all have things crop up in our lives as we become more successful, have more money, move into new business ventures or perhaps form new relationships.  At times we all need a little assistance understanding possibly why we aren't moving forward or if we're having issues in that area or we just want to be crystal clear on some things.
There is nothing wrong with asking for help because we are all still a work in progress.
I personally believe it's just part of life, what drives us, what keeps us going.  Being able to admit it, act on it and do something about it, those are the people who will continue to achieve what they desire in their lives.
You Are A Work In Progress
Can you see why we are all still a work in progress?
Sylviane has helped me in areas I didn't realize I needed help in.  Can you imagine working with a coach when you know what your issues are!
In my brain at times I think I'm doing okay but then a coach will ask the right questions and all of a sudden it's like the lightbulb just went off.  Once you recognize it then you can do something about it.
It's those eager to take action who will continue to excel in life.  I sure hope you're one of those people.
We Appreciate You
Thank you for reading this post and we would love to hear your thoughts on this topic.
As we continue to move into this new year and into another month, are you heading in the right direction?
Do you have issues you believe might need some work?
Are you where you want to be in life or do you feel you will be able to accomplish everything you have set for yourself on your own?
Not that Sylviane needs a plug of course but trust me when I say she can definitely help you in these areas.
Love to hear your thoughts in the comment section and please do be sure to share this post with your friends.  Sometimes its hearing how other people have coped that can spark something within someone who may need that advice today.  Maybe this will be that post.