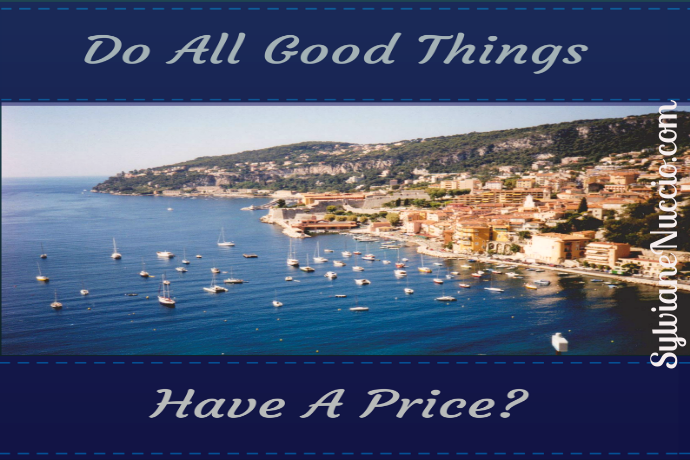 Ok, I'm going to let it all out!
Unless you didn't get it from my last post, I hired a life coach.
No, way!
You call yourself a life coach and you hired one for yourself?
Well, are doctors doing their own diagnostics? Are dentists able to do their own root canals?
The point of the matter is that, whoever you are, and whatever you do, you're going to need the help of someone outside of you at times.
That's just the way it is.
I know all too well, that another coach would be able to help me pin point few things that I need to clear up in my life.
Actually, it's because I'm a coach myself that I am aware of what I need to clear, as opposed to most people out there who are actually NOT aware.
One issue that I have been having my whole life that came up very quickly in my first conversation with my coach, is that I have always expected the other shoe to drop.
Looking back in my life, I've had some incredible experiences, and I have even been pretty fortunate more often than not, yet, I've always carried that damaging subconscious belief that I shouldn't expect too much, or else!
I've always been afraid of being too happy for fear of losing something precious.
As long as I maintained a sucky enough life, with good health, bad relationships, good times here and there, just enough money, and just enough unhappiness I would be OK.
Does that sound familiar?
Well, I'm asking, because I know that it is for many, many people out there.
But who would Consciously do that to Themselves?
No one!
You see. That's the thing. No one in their right mind, would do such thing consciously, but we do it all the time, unconsciously.
This has been my a subconscious programming of mine.
And even though I've kind of known that, it's became all the more clearer, when my coach pointed out to me that basically, I have always made sure that I was never too successful, so nothing too bad would happen to me.
Wow, she put her finger on it!
That's been my life story.
You see, there is that voice in my head, silently planted in my mind, that's been saying to me that all good things come with a price.
So, actually, this was my home work for the week.
I had to write a story titled "All Good Things Come With A Price."
It didn't matter if it was a true or a made up story, as long as I wrote a story, with a beginning, a middle and an end that would prove that all good things come with a price.
This is part of a plan of course.
It has nothing to do with the truth of the matter, but with what I unconsciously believe to be true.
I teach that to my own clients and readers through this blog for a while now.
But I had to admit to myself, that this is a deep down subconscious belief that has been shaping my life, in such a way, that I'm no longer accepting.
I have come to a place in my life where I will no longer accept to be the Muppet of my subconscious programming, that's why I've decided to do something about it, once and for all.
Where does this Belief Come from?
Pretty easy, actually.
I KNOW where it comes from.
Want to guess?
Well, where do most of our beliefs come from?
I think you know…
Yes, that's right!
Most of our subconscious beliefs come from our childhood.
As children, between the ages of 0-16, we are very vulnerable. A child between 0 and 7 years old is like a sponge, absorbing everything that's going on around them.
The problem is that as children, we learn mostly subconsciously, and very little consciously, actually.
That's why we learn our mother tongue so easily. We learn it mostly subconsciously.
That's why it's much harder to learn a second language as an adult, because we learn that language consciously.
That's also why we never forget our mother tongue.  I can testify to that.
When it comes to good things such as a language, that's perfect. The subconscious does it job and it works wonderfully.
The problem is that when the exact same thing happens with bad stuff.
Whatever bad experience we learned a lesson from, as a child, it's pretty much planted in our mind, just like our mother tongue.  And unless someone points it out to you, and you agree that's a piece of garbage that you want to throw out, it's there to stay.
People have lived and died with such beliefs from the beginning of human history.
Think about people you know, just for a minute, and I'm sure you can think of someone.
Don't you?
We all do.
Maybe it's you!
Why in my World Good Things have Price
One of the heavy burden that I've been carrying around is that good things come with a price.
And, yes, I know where it comes from.
When I'll tell you my little story, I know that you will say, oh, but of course!
So her it is…
When I was five years old and my brother was two, it seems that our parents had finally reach a point where they were well off enough financially to buy a brand new car (a Mercedes nonetheless), and we were about to go to Italy for a whole month vacation that upcoming July, with the brand new Mercedes.
Some very good things were on the horizon for us. Indeed!
However, on March 26, my father got killed in a car crash.
The car that he was driving smashed into a truck and that ended his life.
That summer we never went to Italy and my mother had to cancel the Mercedes.
The car was ordered but not home yet, so she sent one of my uncles to cancel everything.
You see, experiences such as this, especially when you're 5 years old, teach you something.
What's more is that it teaches your subconscious something.
In this case, this particular experience taught me that … All good things come with a price.
There was the Programming
I didn't have a clue about that at the time, of course, but back then, I subconsciously learned that when things are about to get too good, something bad is going to happen.
The subconscious mind doesn't think, evaluate or make any sort of difference between true and false or right and wrong. It just register what IS and shape itself based on that.
My subconscious mind registered: Luxurious band new car + dream vacation + good times on the horizon = something very bad happen.
Now, you need to understand that our subconscious mind's role is to protect us. But it can only protect us based on its programming.
To protect me, my subconscious made sure that I'll never get to the point of having it all, so nothing too bad would happen to me.
This type of subconscious programming will make sure that you never truly become successful.
Unless?
Well, unless, you break that subconscious belief and get rid of it for good.
Now, do you imagine how many people walking this earth have this type of subconscious beliefs?
More than you would care to count.
I truly feel that all these years, I've lived with that subconscious programming that always allowed me to have just enough, but never too much… so nothing too bad would happen to me.
I can think of many different times of my life where this has been exactly the case.
However, I've had it now, and I know too darn much about the whole subconscious mind process, and how coaching works along with that, to let that problem preventing me to be fully successful and get to where I want to go.
If you want to learn from my own experience, I'll take you with me on my journey of removing a huge subconscious belief of mine.
Don't you think this could help YOU?
If you'd like a one on one session with me, just contact me.
In the meantime, leave your thoughts and comments below…