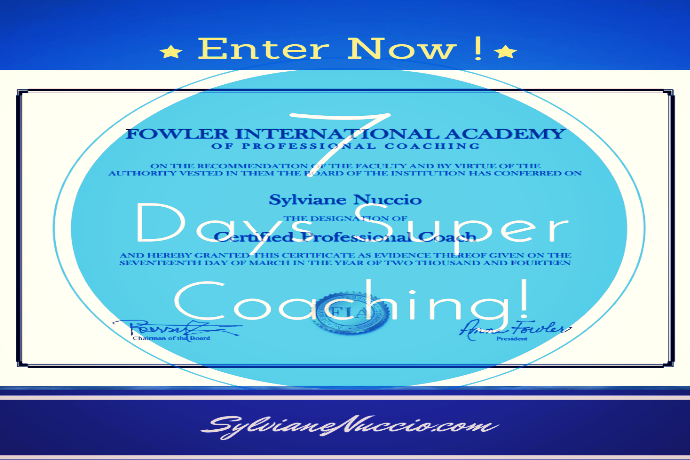 Since my website's look has been transformed and improved, there was still a missing piece to the whole new design.
That missing piece, and I've even been told that by several of my own readers here, was a new opt in.
Actually some even used the "P" word.
Yes. Pop up!
So guys, here is a popup!
My new 7 Day Super Coaching giveaway!
OK, I'm not going to blog about pop up today, because it's not that kind of post here, but I will in an upcoming article on my blogging section.
For the time being, and for this section of my blog, I want to introduce you to my new freebie that you can get by singing up through my pop up form.
My New Giveaway
At first, I thought of creating another eBook, but then again, there are so many eBooks out there, that I decided to do something different this time.
Something I've actually done in the past, when I was teaching article marketing, was an eCourse which did very well.
So, I opted for that latter option.
I thought about creating an eCourse of value which could help my readers, and potential clients, as much as possible.
Even though, no eCourse or eBook will ever equal the value of one on one coaching, that's a nice start.
Don't you think?
Now again, I want to make it clear to you that it's not because it's free that its value less. Actually, that course is darn valuable and some people would sell this to you in a heartbeat, but I'm giving it away!
So, what are you getting?
Call to Action #1 – Discovering Your Thought Pattern
In this first session, I'm giving you a recap of what the law of attraction really is, and how it really works.
Many people are still confused about the LOA.
Very much so.
In this first session, I'll be giving you an action step that will help you recognize your thought pattern.
Most people are so caught up in their day to day lives, that they really have no clue about their thought pattern.
In other words, for the most part, we don't even think about our thoughts.
But it's your thought pattern that attracts what you are experiencing in your life RIGHT NOW!
So, in this lesson, I'll be helping you to learn how to "watch your thoughts" so to speak, and become aware of what you're thinking all day long.
And then, move from there.
Call to Action #2 – Changing Your Negative Thinking Pattern
Once you've learned how to recognize your thinking pattern, you're ready to work on it.
In lesson two, I'll give you some tips to help you change your negative thinking pattern.
I will give you some homework to do to help you choose your thoughts and better control the negative feedback we all have to deal with at times.
Yes, you can choose your thoughts!
Still a new concept for a lot of people.
Call to Action #3 – Discovering what you are Meant to Be Do and Have
In this lesson, I will give you some tips to help you find out (discover) your true desire, if you are not quite sure about that yet.
In this exercise, I'll have you do a very simple thing to try to guide you in that direction.
It's so simply, that many people simply don't do it, so they have no idea how powerful it is.
Call to Action #4 – Removing Doubt by Developing Faith
In this lesson we are going to talk faith.
Not religious faith, but the type of faith that we can all develop regardless of what we believe in.
Faith that something stronger than you will help you succeed as long as we do your part.
That faith of knowing that what you want to be, do or have in this life will come true.
We are going to take some action steps to develop that faith in YOU and in your success, which you may be lacking right now.
In this lesson you are also going to realize that whether you are aware of it or not, you are putting faith in something right now!
So you'll be better off by controlling it.
Call to Action #5 – Doing Affirmations the Right Way
Now in this lesson we're going to debunk a lie, which is that affirmations don't work.
Yes, affirmations do work.
When you tell yourself that you're broke, what do you think that affirmation is doing?
It works!
Why?
Because you believe it.
When people are saying that affirmations don't work is because they are making statements well above and beyond what they are ready to take on.
For example, if you're making only $30,000 a year, and tomorrow you start saying "I'm a millionaire, I'm a millionaire, I'm a millionaire…" it won't work, because your degree of belief that you are actually a millionaire is way too low.
If we could measure how low such belief is for you, using some type of belief barometer, it would be freezing cold.
Do you see what I mean?
So, in this exercise, you are going to find out how you can develop affirmations that you can believe, so they will actually work for you.
Call to Action #6 – Developing Your Imagination
Here we are going to develop that imagination of yours.
Maybe you're great at imagining things and you feel that you don't need help with that. And if that's the case, all the best to you.
But for the most part, people don't use their imagination well enough, so it's a bit rusty. Just like a muscle we don't put to use, it becomes weak and lazy.
Imagination is actually a huge factor in success.
Actually, we could say that that success and imagination go hand in hand.
So in this exercise you're going to learn an easy trick to help develop your imagination to lead you to more success.
Call to Action #7 – Creating the Big Picture
In this lesson we will put everything together to create the big picture.
You will be creating a planning or course of action of the steps that you need to keep taking in order to manifest more of what you want in life.
We've going to put together everything we've learned thus far.
I hope that if you do decide to opt-in you'll enjoy this course, and take advantage of it.
In each email you'll receive, you will see that I encourage you to open the dialogue with me. I don't want this to be a one way street thing, I am open to questions, so don't hesitate to reply to those emails and give me your feedback.
In the meantime, tell me what you think of all of that, right now in the comment area.