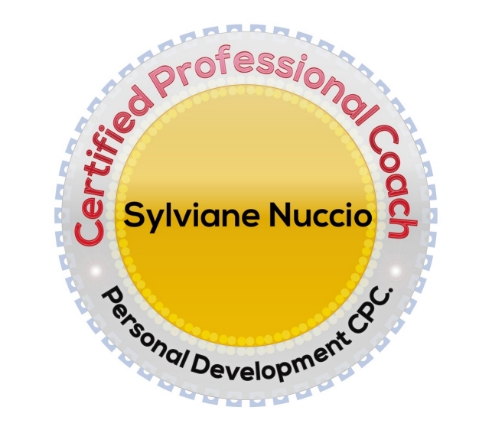 Today, I wanted to take advantage of this post to make a very special announcement in regards to my Life Coaching.
Even though I've been writing about personal development since 2007, and started this blog in 2009 (yes it's that old and still behind in traffic, but that's another story), and also been helping some people along the way with some personal issues and problems they were facing…
There was, yet, something still missing. An  important piece of the puzzle, should I say, and this piece was something that would bring me and my business to the next level. Yes, I'm talking about being a Certified Professional Coach.
What you're seeing above here is my logo in the making.  The end results will be a little different with colors matching the theme of this blog.
Why is it Worth it to be a Certified Coach?
Now, don't get me wrong, a certification will not make you a good coach, as I believe that you can't learn to be a good coach. You either are or you're not, because life coaching comes with inner will and skills that I don't think one can really learn – it has to be part of you – but certification is what puts you on the map of coaching.
Being a certified coach gives me credentials and will put my future and present clients more at ease. They are now able to see a written official proof that I have the credentials to coach, as well as a professional and well established method to help them.
Some of the Benefits of Being a Certified Professional Coach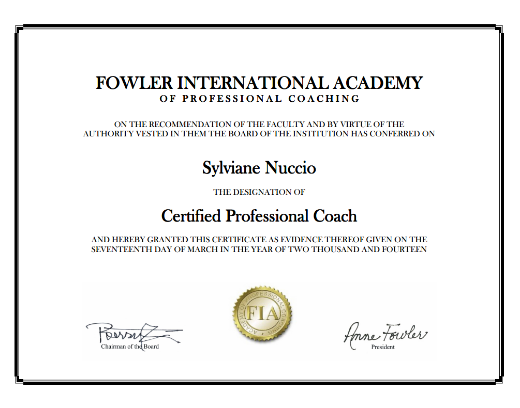 During the course that I took between the end of January the beginning of March that led to my graduation, I've learned some specific professional coaching methods that I can now apply with my clients. And I think that's really going to help me tremendously in my practice.
Once I did graduated and got my Certification I got a bunch of documents/tools that will help me all throughout my practice such as the following:
A New Client Intake Form Template.  This is what I will be using with each new clients to help me know and understand them better and show me in what direction my coaching needs to go with each individual.
A Circle of Individual Perspective Script, and Circle of Individual Perspective Interview form. These are scripts and questionnaires that I can use literally or by inserting some of my own words to help me see where my new client stands career wise, relationship wise, financial wise, health wise, spiritually wise and well-being wise.
This is a tool that has been reported to create a Aha moment for many clients who have gone through this exercise, because it gives a visual of the present situation of the client.
A New Client Interview Form Template. This is something I can use once I have more information about my client to be able to develop a personal coaching session with that specific client.
A Coaching Goal Planning Form. This is a tool that will help me shape my client's goal palette, so to speak, and be able to put it in front of them in a way they may have never seen before. This is where the goals of the client will become more real than ever to them.
An Ongoing Coaching Session Form. This is a tool that I will use to keep my client accountable for the goals we've already made and for the growth of the whole process as the coaching progresses.
A Personal Mission Statement Form. This is a form that I will use to ask specific questions to my clients about their goals and dreams which will allow me to write their own personal mission statement.
Now, if you don't believe how strong a mission statement written by someone else (you coach) is, just ask Adrienne Smith.
My dear friend Adrienne had accepted to be my course practice clients and I've created her very own personal mission statement based on her own answers to my questions. She loved it so much that she ask me for a copy, and she reads that mission statement every day now.
For both me and Adrienne I think I'm not lying if I say that it was as powerful as my teachers told me it would be. I was so happy when I could tell that Adrienne loved hers.
A Coaching Agreement Template. This is a great template that is going to help me clarify the coaching objectives, fees, payment schedule, and coaching engagement between me my client. No coaching will ever start without having read, agreed to and signed the coaching agreement, so both me and the client can sleep on both ears, and be totally clear about everything that is going to happen over the next days, weeks or months.
A Quick Reference Guide.  This is a tool that includes all the steps that are suggested to take with the client, which I can follow along to make sure that I'm not leaving anything out.
Of course, I also have my training study guide which is over 100 pages and that I can refer to as many times as I need or want.
Conclusion
Well, I'm very excited about it all, and it was my pleasure to officially announce that I am now a Certified Profession Coach, abbreviated as CPC. Sorry if my headline look a bit ego-centrist, but it for search engine purposes, and taking advantage of my rather unique name.
I've updated my professional status on Linked in and received many congratulations from many of you already, so I also wanted to take advantage of this post to thank you all so much again, as well as the many who congratulated me on Facebook. Very much appreciated.
I hope that if you or someone you know need an affordable life coach, you'll be thinking about me, and my coaching services.
Thank you for coming, and please, let me know you were here by leaving a comment below.