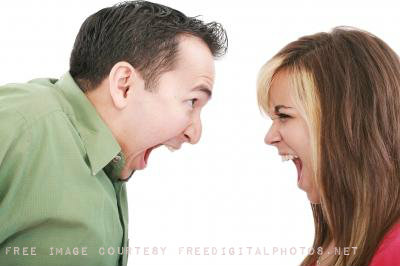 It's a well known and well documented fact; some people tend to attract Mr. or Mrs. Wrong all the time, no matter in how many relationships they have been in. On the other hand, some seem to have found Mr. or Mrs. Right from the get go. But why? This has been one of my biggest questions of life since my late teens. I've only finally made peace with this when I started getting it. Now, I get it. Expect for maybe some rare cases, the type of individual that we attract as partner in a relationship is a reflection of ourselves.
How so?
I know, I know, not something lots of people like to hear, because we love it to be someone else's fault. I know what you're saying right now. What do you mean it's my fault? I'm a nice person, I have plenty of good qualities, and I'm even smart too.
Well, sorry to break it to you, but being nice, intelligent, smart, and all the good and positive things that you may be doesn't protect you from attracting Mr. or Mrs. Wrong.
Why?
Because one has absolutely nothing to do with the other. It's would be like  saying; I can't have diabetes because I'm nice, smart and intelligent.
The reason why you have been attracting Mr. or Mrs. Wrong is NOT because you're not a good person or because you're stupid, is mostly due to your subconscious paradigm, also called your subconscious programming. Why would I be an expert at knowing what's wrong when it comes to attracting Mr. or Mrs. Wrong? Well, I've been a master at it all my life. The only problem was that I didn't know why. However, my 6 years of studying and meditating about the subconscious mind taught me a thing or two.
There could be numerous reasons why both men and women are attracting the wrong partner or spouse into their lives, but there are two very common ones that you might recognize. In this post I wanted to tell you about such reasons and what you can do to help resolve the issue.
Issue #1 Low Self Esteem
Anger is a manifestation of a deeper issue… and that, for me, is based on insecurity, low self esteem and loneliness. Naomi Campbell
If you still haven't put your finger around the Law of Attraction very well thus far, you need to know this about it if anything else. Mr. and Mrs. Wrong are attracted by low self esteemed individuals.
Domineering control freaks are attracted by low self esteemed people like flies by honey. As a matter of fact, this is so because domineering self control characters are themselves suffering with low self esteem. Big time. Like attracts like. Confident well put together men and women do not have the need to control others in any way shape or form.
If you are aware that you suffer from low self esteem, watch carefully for what type of people you are meeting, and watch them closely before it's too late. Believe me, if you see anything that you don't like about a potential partner it's not going to get better over time.
Let me say that again. If you notice anything you find not likable in the person you've met recently, it's not going to get better over time. Actually,  it will get worse. Let the knowledge of your own issues be your sounding alarm, and run away.
Even if you are not aware of your low self esteem issue, yet, but notice that you keep attracting domineering, control freak type of partners, this is YOUR sign. If this has happened again and again, it's the alarm signal that you are suffering from low self esteem.
Why do some People Have Low Self Esteem?
Low self esteem is usually developed between the age of 0 and 7, and it can come from the way you were raised, treated, and dealt with by not only the people who raised you, but anyone who had enough time to affect your mind during those years. What ever happened then became your subconscious programming or paradigm. It's now part of your subconscious mind makeup.
In my case I can't blame my parents for my low self esteem issues. No, not even remotely. What affected my self esteem so bad were my peers at school. I dealt with some pretty heinous kids bullying me from age 4 until age 16. In my case it was plenty enough to shape a low self esteem syndrome that I carried around all through my life until rather recently where I could tell that I was finally doing much better.
Why was I being bullied for so long? Well, bullied people keep attracting more bullies.  Law of Attraction effect.
When you carry such a load of low self esteem around, you are bound to attract Mr. or Mrs. Wrong. In most cases, it's not if you are going to attract the wrong partner, but more like when.
Learn how to access yourself to figure out why you are always ending up with the wrong partner for you. If you can't do it yourself, you can always consult a coach to help you figure it out.  I would have never gotten when I am today on my own.
Issue #2 Looking for a Father or Mother in a Partner
Wow, do I know about that one! I've been looking for my father in a partner for years. People who tend to look for a father or mother in a spouse are people who have lost their mother or father at a very young age. This issue is found more often in women than men, but it happens with both gender.
The unfortunate side effect of losing a parent prematurely is that the enormous emotional void is so strong that the person will still be "subconsciously" looking for that missing parent when it's time to date, fall in love, and get married. In my case, I was always falling in love with guys way older than me and ended up marrying one as well.
Now, what's wrong with falling in love with someone older than you? Well, nothing per se. It's not a crime to fall in love with someone your father or mother's age and you won't be brought to justice to do so.  It could even turn out to be great if it works out for you, but that is not the issue we are talking about here.
So, What's the Real Issue?
The real issue that turns into bad affairs for those who are looking for their father or mother in a relationship is that you need to think it the other way around. What type of person would be looking for their daughter or son to marry?
You see, when someone is looking for someone way younger, or even way too young for a partner that tells you a lot about their maturity and their own issues. In the majority of cases that's why they are not making good spouse. Yes, they are older, but frankly mentally they are even younger than you are, and may even have a very twisted view of what relationships and marriage really are.
Think about it!
My first husband started getting interested in me when I was 14 and he was 27. Ding, ding, ding! Was there something wrong with this picture? You bet there was. Unfortunately, at 14 you don't know anything about anything, and you can't tell a wolf from a wolf in sheep clothing. But really, even if you end up marrying the guy few years later, you know something was wrong from the get go.
If like me you've lost a parent at a very young age and looking for him or her in a relationship, pause for a moment, and analyze the problem.
Why are you looking for mom or dad in a relationship? That parent's void will never be replaced by your spouse. A parent is not a spouse and a spouse is not a parent, and will never be. People looking for someone much younger than than they are as a spouse will bring their own issues to the marriage or relationship. A very common one is control. It's easier to control someone younger with less experience in life.
Unfortunately, if you have lost your mom or day when you were just a small child like I was when my father died, you will always, somehow, miss that parent, but looking for them in a spouse is a crucial error that can be avoided.
How?
1 – Make peace with yourself
I know that when you're small, loosing a parent you may feel that God is punishing you.  You might have been a bad kid for God to take away your mother or father.  I'm saying this, because those are thoughts that crossed my mind when I was little.  By the time you reach the age of dating, however, you need to reason with yourself and make peace with yourself.  You need to know that losing your mother or father was none of your doing.  As a friend coach of mine would say, "people leave when it's their time and it's not based on you".
2- Make a specific list for what you're looking for in a mate
 If you make a truthful list of what you're looking for in a mate (not a parent), you will be better able to actually SEE the difference between the two.  You truly don't want a father/mother figure, but a true companion, a spouse, a friend and a lover.  Someone who has similar tastes, but at the same time maybe a different personality which actually makes you a better person.  Make sure your list reflects a partner, not a parent.
You would be surprised how such list will attract the right partner to you.  It has for many people I know.
3- Seek professional help 
If you have a hard time to do this on your own, and have failed at attracting Mr. Right, then it might be worth it that you seek professional help such as a Life Coach which will be able to see what and where the problem is and guide you out of this tunnel.
Some people can make it out on their own, and some don't.
In the meantime, I hope this post has been helpful to you.  Please, leave your comments and feedbacks below!