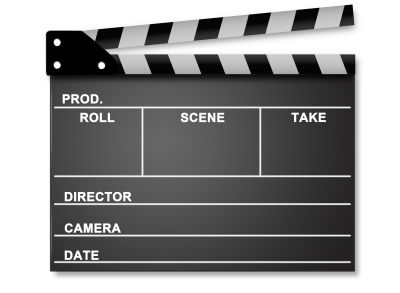 Have you ever thought that you could write the whole scenario of your life?  Most people haven't.  The reason why people don't even think about writing the scenario of their life is because they don't believe that it would make any difference.  Well, think again!
Have you ever cried, screamed or laughed watching a movie?  Chances are that you have.  Now what in the world makes us have true emotions such as crying or laughing while watching or even reading something that is not real?  Well, the first reason why you cry or laugh watching a movie or reading a story is that "you believe it".
Now, wait a minute!  You are telling me that when I watch a movie that's not "real" or read a story totally made up I "believe it"?  Yes, you do -if you didn't you wouldn't cry or laugh, would you?  But to be more specific here, you believe it subconsciously.
Your Subconscious Mind Believe Everything
There is no doubt that consciously you know that a movie or a book story is not real. It's all made up.  The people you are seeing moving about on the screen are all actors speaking from a script.  Those characters in the book don't even have a face or voice but the ones you give them in your own imagination.  So, no doubt, consciously, you know it's all fake.  However, this is why it's so interesting.  The forces that win here is not you conscious, is it? No, what wins here is your subconscious.  Because your subconscious mind believes everything.
This is why while you have fun watching other people scenarios, you should write your own scenario.  The scenario of your life, the way you would like it to be.  In this article I am going to give you a few pointers to help you write the perfect scenario of your life, so you could bring about the kind of life that you want to live.  It's also called visualization with emotions in action.
Writing the Scenario of your Life
Writing what you want in the present tense is always a good idea.  Writing is the physical form of thinking.  If you are thinking about things you would love to do, be or to have, just write them down.  When you write them down they become more concrete, clearer and most of all more real to you.
A word of caution, though; this is not the kind of writing you want to share with anyone, this is between your blank page and you.  If you'd share this with anyone chances are that they might not understand what you are trying to accomplish and they might discourage you in some way with negative remarks, and it would be such same to let someone else prevent you from building your dreams.  Remember, "YOU are the master of your sole and the captain of your life", no one else is.
What if you don't Have any Idea About What you Really Want?
If you are short of ideas and can't really tell what you really want, not sure about what scenario you'd like to write, take a blank sheet of paper and draw two columns.  On the left column write "want" and on the right column write "don't want".  By creating such list, you can use a process of elimination.  There might be more items on the "don't want" column, but that's fine.  Analyze your don't want one by one and think of what you would want instead.  Once you found it, put it on the "want" column.  Once you are satisfied with your column of "wants" you can start writing your perfect story, the scenario of your life as you want it to be.
But, before you get there, you might start creating a want list that could look like this…
Your perfect weight
Your perfect occupation
Your perfect partner
Your perfect house
Your perfect vacations
Your perfect mindset
Your perfect achievement
Your perfect goal
Your perfect day, etc…
Then make sure you write your scenario (story) using as much details as possible
Write as though it's happening now. Always use the present tense
Describe everything in as much detail as possible
What are you saying? What others are saying?
Write about how you feel, what you are doing, etc…
Describe the weather, describe the scenery, describe the place…
Remember that detail is key, the more details your story is the better it will work.  Once you're done, read your story every day for thirty days in a row and see your life start changing.
Read your story twice a day while visualizing everything
Add some pictures to it to help you visualize
Feel what you are seeing with all your mind and body
Watch your own movie everyday and be moved by it, just like when you watch a movie on the screen.

What are you thoughts on the subject?  Please, express yourself below in the comment section!