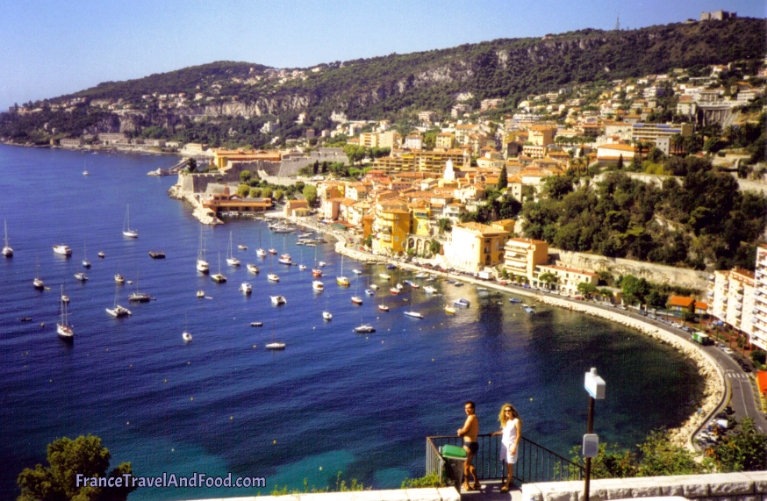 I was really not happy about that, but I missed my post on this blog last week. So, to make up, let me talk about one of the most beautiful places of France and on earth called the French Rivera.
I hope  you can enjoy my own personal photos of beautiful French Rivera and some of it's story and features on this post.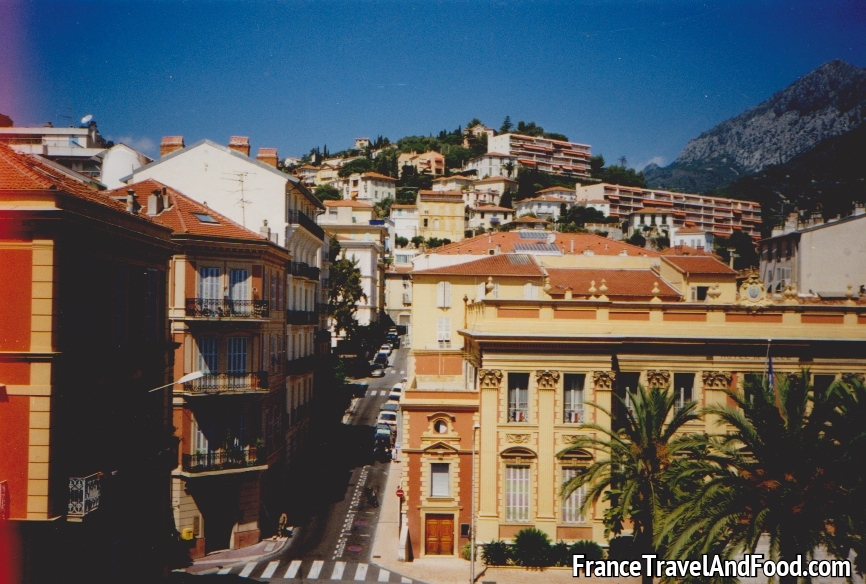 If you are planning on visiting the French Riviera this summer, you'd better make your reservations now.  I remember when we were planning on going to Cannes or Nice in the summer we would make our reservations in February or March.
With this post, I wanted to give you a tour of the French Rivera, and see if you'd like to go there this summer or maybe one of those days as they say.
French Riviera is English for "Cote D'azur" which mean "blue coast" as azur is another word for blue in French. The French Riviera is located on the South East sea shore of France, stretching from Toulon to Menton.  Menton being the last city before the Italian border on this side of the country.
The French Riviera also encompasses the "Principauté of Monaco", where Grace Kelly's children still live.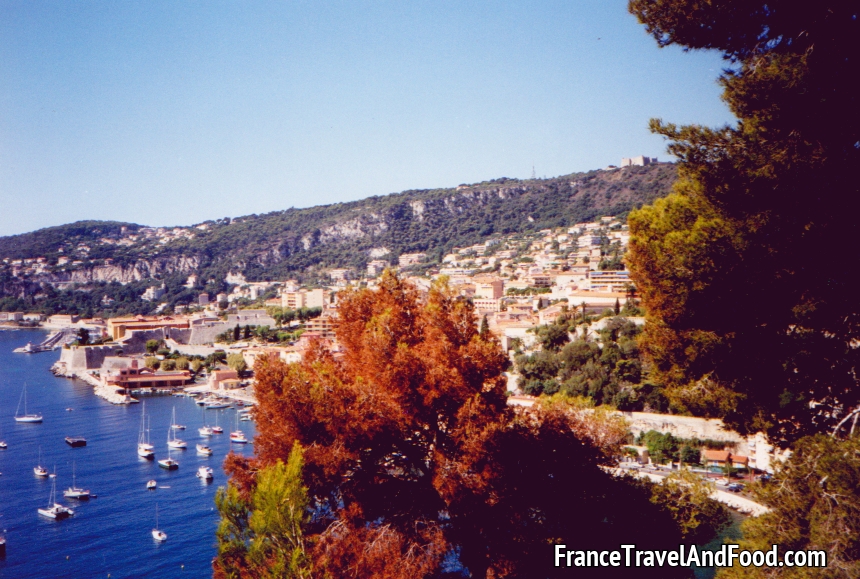 The French Riviera features more than 65 miles of beautiful blue coastline, including about 25 miles of sandy and pebbly beaches. Nice is known for its pebbly beaches, and Cannes for its sandy beaches.
Pebbly beaches are less messy than sandy beach but very painful for your feet, for this reason, I'm not a fan of Nice's beaches.
The French Riviera is hosting one of the most splendid as well as famous landscape of the world. It is the most visited spot of France beside Paris by tourists and French people themselves, during their famous summer vacation.
The French Riviera has a Mediterranean climate, with sunny, hot, dry summers and mild winters. Winter temperatures are moderated by the Mediterranean sea and the temperature very rarely will go into the minus if ever even in the heart of winter.
Because of this very warm climate The French Riviera has an abundance of palm trees, cactus and other hot climate plants and trees that are found only in the south of the country.
French Riviera Story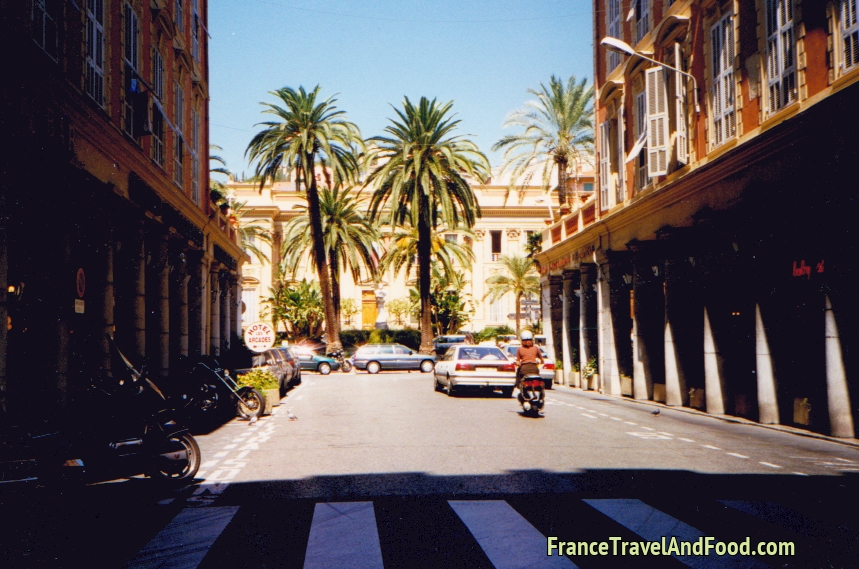 The French Riviera has been inhabited since prehistoric times and drawings dating between 27,000 and 19,000 BC have been found there.
In the 13th century, a powerful political force appeared with the House of Grimaldi. A branch of the Grimaldis took power in Monaco, Antibes and Nice, and built castles at Grimaud, Cagnes-sur-Mer and Antibes. The present Prince of Monaco is a direct descendant of the Grimaldis.
After world war I, Americans started to come to the south of France as tourists, and the wealthy ones started to purchase properties there. Part of Henry James's story, The Ambassadors, happens on the French Riviera.
In the 1960's the famous Mayor of Nice, Jacques Médecin, decided to reduce the dependence of the Riviera on ordinary tourism, however, and wanted to make it a destination for international congresses and conventions. He built the Palais des Congrès at Acropolis, and founded a Chagall Museum and a Matisse Museum at Cimiez.  Then high price apartment buildings started to be built there.
Besides a beautiful vacation destination, the French Riviera is also a center for education, high technology, and scientific research. The largest city of the French Riviera, Nice, is the 5th largest city of France.
Cannes is smaller than Nice but just as well famous because of it's popular festival and beautiful sandy beaches.
Hotel Le Cheval Blanc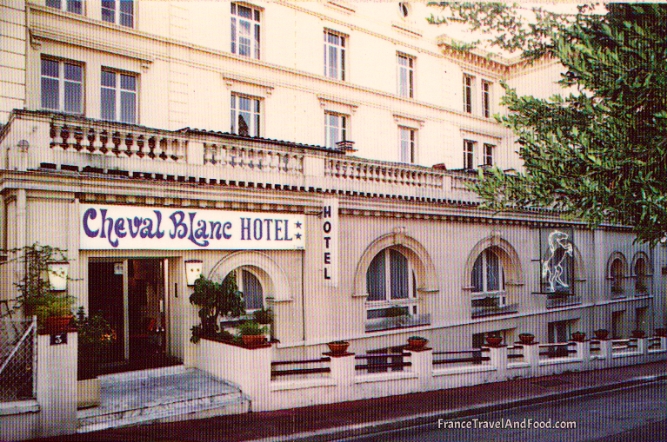 This was my family Cannes hotel destination. It's just a very cute and comfortable hotel at less than 10 minutes walk to the beach and to downtown.
The hotel stands on a quiet street named rue Guy de Maupassant. The breakfasts are great there! If you go to Cannes check out this nice hotel.
The Cannes Festival
The Cannes festival was first created in the late 1930's (with an interruption during WWII) by French minister of National Education Jean Zay a French minister of education and fine art between 1936 and 1939 . 
The first Cannes Festival was on September 1939 with Louis Lumière as its  first president.  The festival was held in the fall back then instead of spring, in May, as it is now.
The new "Palais des Festivals" was built in 1983 and has held the Cannes festival ever since.
The emblem of Cannes Festival, the Golden Palm (La Palme d'Or) was created in 1955.  The palm is the reward trophy of the winners.
For some weird reasons (my guess is that it has to do with some type of "bourgeois tastes) , the winner movies of Cannes Festival are usually really boring, serious or weird.  Sometimes all three at once.  You couldn't pay me to watch those boring movies.
As a matter of fact when a movie runs for Cannes award and loses, then it usually means that it's potentially a good movie.  I remember a couple of those.
Enjoy some of the beauty of the French Rivera in video!
I hope you enjoy this trip to the French Riviera. Let me know in the comment area.