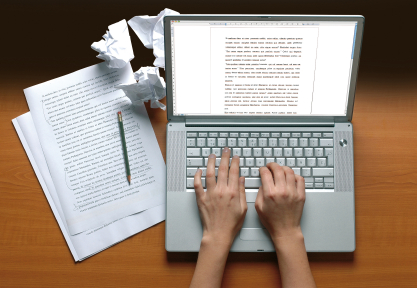 Some people say that writing a press release is one of the most difficult things to write, because while it can be more promotional than a regular article or blog post, it shouldn't be a blatant ad either.
A press release needs to be somewhere in between.
A press release has a more specific goal, so to speak, than a regular article, and if it's not constructed correctly, your press release will not be noticed, read and acted upon.
In this post I wanted to help you create the perfect press release for your business or product so you can grab the reader's attention, and eventually bring in more business because of it.
What are Press Releases?
A press release is a different type of article since it's a written statement and an announcement at the same time.  You can use press releases to describe your services or business and give as many details as possible about who you are, what you offer, when you offer it, where you're offering it, why you're offering it, and how you offering it. This goes for online services as well, of course.
It's vital for the success of your press release that such information appears within the first two paragraphs. Studies show that most people will read the first two paragraphs and then skip the middle and go to the end of your press release to find your links.
Two Main Factors why Press Releases are Disregarded
No eye catching headline

No eye catching opening
Have you ever sat in front of your TV with your remote control zapping channel after channel until you find that one image that will catch you eye, so you can stop zapping and watch already?
The exact same thing will happen with your press release.  You need to grab the press release zapper's attention pretty fast with your headline, and the first couple sentences.
If it's not there, your press release will be discarded.
Sad? Yes, but true.
Good bye your terrific press release, if you've not been able to catch the reader in the first two sentences.  Just keep this in mind.
Your Press Release Headline
Your headline should be eye catching, news worthy, and include the most important keywords of your message, but do not repeat your headline in the first sentence.
Make sure that your headline is short and to the point with upper case for each word.  A long headline with all lower case words, would be the anti-attention-grabbing type of headline you'd ever want to have.
Avoid this by all means.
When writing your headline, ask yourself these two key questions:
What is my key message?

Who is my target market?
Six Questions you Need to Answer in your Press Release
In a press release there are six basic questions that you need to answer for your audience. Remember that those questions should be answered in the first two paragraphs, while the following two or three paragraphs will be used to simply build on them for those who will read that far.
But before you even spread this vital information to the two first paragraphs, you actually need to answer such questions in the first couple lines and will see how below.
Those questions should be answered in this order (as much as possible).
Who are you?

What do you do?

When do you do it?

Where do you do it?

Why do you do it?

How do you do it?
Tell You Story in the 45-50 Opening Words
Unlike an article or a blog post, you do not want to keep the reader in suspense and make them guess what your press release is about.  This type of opening doesn't work for press releases.
In a press release you need to be very shrewd to catch the busy eyes of your reader, and you need to grab their attention by giving them a mini story within the first 2 or 3 lines.  If  your first 2 or 3 lines are interesting enough you greatly improve your chances that they will read the rest.
Get into the habit of telling a story in 45 to 50 words and your press release will do well.
Here is an example:
Stress to  you and your pet can be reduced by 70% just by having the vet come to your home.  P-A-Y-D will come to you for your pet's veterinary visits Monday through Saturday. Your veterinarian at your door step for a more pet friendly experience at about the same cost than regular vets.
In those two sentences I've introduced the who (P-A-Y-D),  the what (at home veterinary services), the when (Mon-Sat), the where (at your home), the why (less stress to your pet and to you, and the how (about same cost as regular vets).
That's a lot of information for 50 words don't you think?  About the size of tweet.  Not bad at all.
Now, with that attention grabbing opening where it tells it all, the interested person will want to know about this in more details. That's when, and ONLY when the rest of your press release will actually be read.
How to Conclude your Press Release
Once you've created your perfect eye catching headline and perfect short 45-50 word story that are answering the vital press release questions of who, what, when, where, why and how, the rest is just building in more details around what you've already mentioned in these couple of attention-grabbing lines.
In the conclusion of your press release you should point to your website by including the whole URL with a call of action such as: Click Here to http://tomywebsite.com
It's  up to you if you wish to include more information such as contact name, phone number, email, etc.
at the very end of your press release it's common procedure to write the word "end" or include three ### (hash tags) to signal that your article is ending.
I hope this information was valuable to you if you are intending to write a press release in the near future.