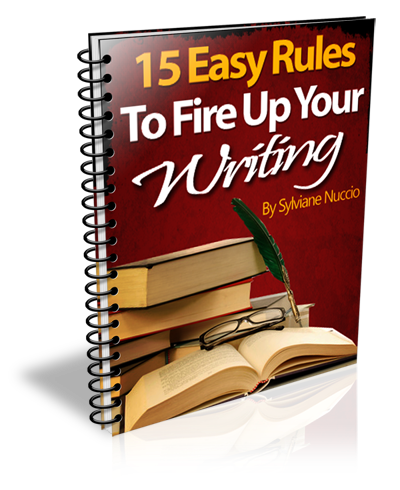 Well, that's about time, don't you think?
Since I took down my older opt-in, months ago, I had not opt-in on this blog.
15 Easy Rules To Fire Up Your Writing is the title of my brand new writing tip eBook, and it's finally here!
I've been at it on and off for months now, and I thought this day would never come, but thankfully it is here, and I'm so glad to be able to write this post today.
If you would like to grab a copy, it's free for the taking.  All you have to do is sign up for it on the opt-in form of this blog (to the right), and you'll be receiving a confirmation email to make sure that it's you.  Then another email will be following as soon as you've done that with a link for the eBook.
What's inside?
In this post I wanted to give you an overview of what' inside the eBook, so you can decide if it's for you or not.
As soon as you download the eBook, you'll notice that it's 50 pages, which makes it just right in length. Not too short, so you'll have some material to read, but not too long either, so you won't get lost in it.
After a short introduction and a prelude that explains why you should care about basic writing rules, you will find those 15 steps in the form of a chapter each, which we are going to briefly review here.
Becoming a Story Teller
Are you a good story teller?  Do you know that the best writers and the best marketers, as a matter of fact, have understood the importance and value of being a story teller to attract people to their product?
This chapter will explain how important it is to be able to tell a story to your readers, no matter what you write. It will give you some tips to learn how to develop story telling habits as you write.
The Importance of Including Life Experiences when you Write
People love to read about real experiences that they can easily understand and which help them to get the point right away.  More times than not, they can even relate to those experiences as well. When you include real life experiences to your writing it makes it alive, so to speak, and that's what attracts the reader to your blog.
In that chapter you will learn how important it is to include your own life experiences in your writing.
Spacing out your Writing
There are still some folks out there that have not yet understood the importance of spacing out their articles.  They are writing long bulky paragraphs that only lose the reader to the point that they just click out of the page.
You don't want that to happen to you, do you?
That's why it so important to understand how the overall look of your article or blog post should be. This chapter will tell you just that.
Using the Correct Word
Here is a problem I encounter more often than I would like to. The use of the wrong word which makes it either a typo or an embarrassing error.  All this only due to the difference in spelling or meaning of those words.
I see those mistakes often enough to have dedicated a whole chapter about it. I'm sure this chapter alone will be of help for many.
Using the Correct Punctuation
Punctuation is what gives a rhythm to your writing, and when using the correct punctuation not only you're helping the reader to fully understand what you're telling them, but you are showing the world that you are a pro at writing.
So, I dedicated a whole chapter about using the right punctuation, explaining the use for each of the main ones.
Simplifying your Writing
Do you know that the simpler your writing is, the more powerful it will be?
In this chapter I will explain, along with examples, what's the difference between a cluttered sentence and a simpler one that helps the reader.
You will be able to use such examples for anything you write, in order to make your writing much more to the point and powerful.
Using Images and Metaphors
In this chapter I explain the importance of using metaphors in your writing to give your reader mental images as they read.
I also give you some examples and a list of less common and more interesting words you could insert into your vocabulary and eventually into your articles.
Editing
I am sure you won't be surprised if I tell you that I've included a whole chapter about editing with a few tips that you will be able to use when you edit your next post.
There I also explain why it's not a good idea to edit as you write, but why you should wait until you're done with your first draft.
If I wasn't doing this myself, there would be no way for me to be able to write about 7,000 words per week.  I am sure you'll enjoy this chapter.
Breaking the Rules
In this chapter I explain how good it can be for your writing and for your readers to be able to break some writing rules. But of course, in order to make sense, you need to know the rules first, before you break them.
Creating Headlines that Work
Even though I wasn't going to include a chapter about headlines, because there are plenty of eBooks about writing good headlines already, I decided that would show how you can construct a good headline.
I actually picked 3 very bad headlines from the web and gave you several examples of what those headlines could have been, which of course would have increased the click-through rate of their articles tremendously.
Putting your Personality (your voice) into your writing
This is something some of us do more naturally than others, so that's why I dedicated a chapter about putting your personality which is often called (your voice) in your writing.
Writing Rules you Need to Stick with
This chapter talks about 3 main writing rules that you need to remember each time you write.  Just by sticking to those 3 rules, your writing will improve tremendously, in case you're not applying them yet.
Practicing to become a Better Writer
As in anything else, there's nothing like practicing your writing. In this chapter, I emphasis the need for practicing writing, while I'm giving you 3 easy tips to help you take full advantage of your practice.
Improving your vocabulary
Vocabulary is the tool of the writer. Even though I don't encourage you to use very uncommon words that no one understands, I do encourage you to broaden your vocabulary to have more munition as you write.
In this chapter I give you a long list of words and their synonymous that you could implement in your vocabulary, or as a good reminder, in case you know them already.
Last Chapter
In my last chapter I give you a list of 20 writing tips that you can keep with you at all time as you write.
Those 20 tips are also a summary of the whole discussion in the eBook.
I hope you will enjoy this eBook.  If you like it, please, refer your friends to this blog so they can opt-in for their own copy.
Please, do not send them a copy of this eBook by email as per the disclaimer. While the eBook is free, it is my property. It took me hours to complete, and it's available in exchange for your name and email address.
I hope you understand, and thank you for your support.
So, what do you think so far?
Please, let me know in the comment area below.