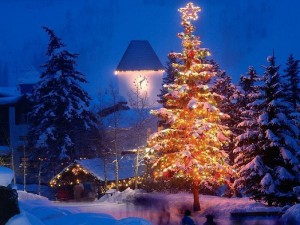 I had such magic Christmas times when I was a child that they could not even compare with the Christmas of my adult life, even in the best of times.  But, that's OK, I am not complaining, because, yes, indeed, I had the best magic Christmas times as a child and this blog post is my way of telling you all about it.
Christmas Eve At Home
The magic of this time of the year always started on Christmas Eve.  All day my mother, my aunt and I were preparing all the succulent food for Christmas Eve dinner and it was quite a feast.  Christmas Eve was more like a standing up dinner with canapés of Foie Gras, pate, Caviar and cheese.  It took use all day to prepare those delicious canapés on small pieces of special bread.

We arranged all the canapés by flavor and style on beautiful trays used specially for the occasion.
When we were done with that we started preparing the dessert trays with the 13 desserts of Noël which are tradition in French Christmas and which includes, walnuts, nougat, figs, nuts and tangerines among others.  Check here for the full list of the 13 desserts of Christmas.
Of course the table was also going to be filled with chocolates boxes and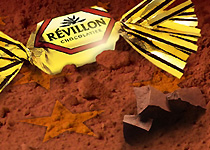 papillottes (special Christmas warped chocolates) orangettes and marrons glaces.
When we were all done preparing the feast for the evening, it was time to get all dressed up for Christmas Eve before the guests arrived.
Another good feeling about this time of the years is that I knew that I was going to spend a good time with my aunts, uncle and cousins in a festive ambiance like none others.
At around 6 O'clock in the evening our family guests would arrive and we would start eating our Christmas delights all through the night while talking, and having a good time.
Just before midnight, us kids, would be sent to bed and that was the time (we didn't get to see) when my mother, aunts and uncle would go to the attic and bring all the toys downstairs near by the Christmas tree.
Since there was always a minimum of 5 kids, sometimes even more, with an average of 5+ gifts each the living room was literally filled with toys.  I remember that it really looked like a toy store.  For us children it was just magic.
Christmas Morning The Real Magic Began
On Christmas morning when we woke up, rather early because of the excitement. it was when the real "movie-like magic" began.
With the toys all arranged by which kid they belonged to all around the tree, I remembered the room looking "unreal".  My family liked to keep the toy unwrapped which actually  added to magic.
To add to it, my aunt would turn her super 8 camera on with a very strong flash that totally illuminated the room and made those dolls, trucks and other toys shinny and bright, just like in a perfect dream.
It was like a ferry had touched each toy with her magic stick.  Quite a memory for a child between the age of 5 to 10 years old.
When I think about Christmas, this is definitely one of the strongest images that come to mind.  For us children, this made Christmas morning really magic.  Nothing could compare with it!
All through the rest of the morning when we finally snapped out of the amazement of all the new toy discovery, we all took turn in the bathrooms to shower and got ready for the rest of the festivities.
While the adults, mostly my mother, were busy preparing our Christmas lunch/dinner we were busy playing with our new toys.  I remember fondly what a joy time that was.
When lunch time came, we would all sit down around the huge family dinner table and enjoy a fancy Christmas lunch with roast turkey, escargots, and all the good foods of the holidays including the famous chocolates of this time of the year.
Later in the evening when it was time for the family members to go back home was always a little sad for me, but what a wonderful time we had.