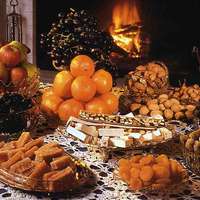 Are you planning on going to spend a magical Christmas in Paris, France? At this time of the years, the city of light is getting dressed with the most beautiful Christmas lights you'd ever seen, and the city becomes enchanted.  At this time of the year, the Champs Elysees Avenue is so radiant that it never gets dark, even at night.  If you would love to enjoy and enchanting midnight mass you will be welcome in one of the gothic style cathedrals where you can enjoy Christmas chants to your heard content.

Christmas Eve called "Réveillon" in French is a magical night where food and delicacies abound like no other times during the years.  A tradition of old dictated that no Christmas dinner should lack even one of what we call the 13 desserts of Christmas (les 13 desserts de Noël) which are, figs, almonds, hazelnuts, raisins, apples, pears, prunes, walnuts, tangerines, green watermelon, White nougat, dark nougat, heart-cake (fougasse).
The 13 deserts represented the 12 apostles and Jesus and this tradition was followed especially in the south of France and is still followed to this day by many.  Even if not all 13 desserts are present on Christmas Réveillon dinner, at least most of them will be present.
Besides the 13 dessert, some foods are tradition on Christmas dinner and in most household you will find for the occasion delicious food such as foie gras, escargots, caviar, baked turkey or duck.  For dessert, bûche de Noël (a special rolled cake with chocolate ganache inside and on top), marrons glacés (caramelized chestnuts), walnuts, dates, dry figs, almonds, oranges, tangerines and mandarins, nougat, and an infinite collection of chocolates such as pralines, truffles, papillotes and so many more.
Following the Christmas tradition, after midnight mass, families gather together for the Réveillon feast.  This is the biggest feast of the years for most French families where delicious food abounds while accompanied by wines and champagne.  The menu varies according to the specialties of the region; however, whatever you may spend Christmas Eve in France, you will have a mouth watering dinner that you will never forget.