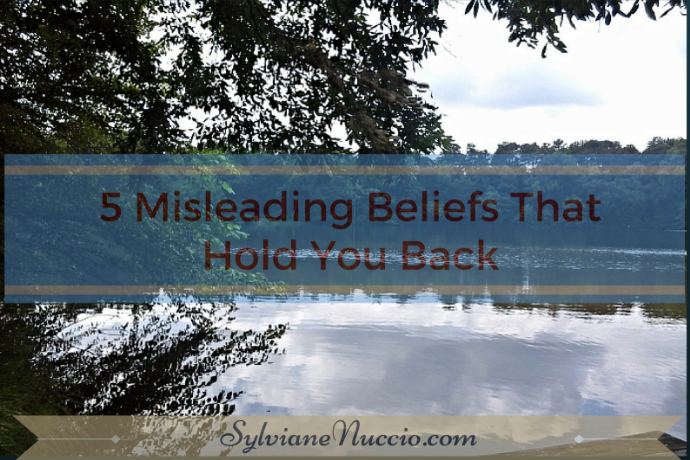 There is nothing worse than a misleading belief.
Why?
Because a misleading belief  is very strong and will usually hold you back.
Why?
Because we don't just have beliefs we are our beliefs. They are part of us. They are part of our DNA.
NOTE: limited beliefs, false beliefs and misleading beliefs are one and the same.
Our beliefs are part of our programming, and our programming is what we do without even thinking of it.
If you ever doubted that you've been programmed since infancy, just think for a minute…
At one time you usually eat?
Do you smoke?
Are you a free spirit?
Do you usually tell what you think?
Are you rather stiff with not much sense of humor?
Do you have plenty of sense of humor?
Are you acting young for age?
Are you acting old for our age?
Are you someone saying I can't learn a foreign language or are you someone saying I'll speak Italian in less than 3 months?
Are you overweight?
Are you skinny?
Are you (fill the blank)?
All of that and many more factors that make us who we are, and make us be, do or say are bases on some type of programmed beliefs.
Many of such beliefs are embedded like a tattoo under our skin. No matter what we do, and no matter how old we get they will still be there.
Good Old Programmed Beliefs are not all Bad
That's right, not all our beliefs are bad. Some are actually very good.
For example, one old forever entrenched programmed belief that's been with me since I was a little girl is that, you don't eat between meals.
Why do I personally have such belief?
Well, two main reasons (that have nothing to do with me, as most beliefs we have):
I'm from France, and the French culture as a whole, is not big on snacks. In France, we just don't eat snacks. We eat at meal time. Period.
My mother was totally against eating between meals, and even though she would never have physically prevented her kids to eat something between meals, she would always say; no, don't eat now, it will spoil your appetite for dinner time.
So as you see, I grew up in a culture where eating between meals is something we "don't believe in," thus to this day, I don't believe in it either, even after 20 years of living in the US.
Even though I spent the 30 first years or so of my life having no idea that THIS is a programmed belief that I have, I certainly know now that it is.
Now, could I "deprogram" such belief if I wanted to?
Yes, I most certainly could.
It just happens that in this particular case, I do NOT want to get rid of this very convenient belief that will forever prevent me to get fat (smile).
Because of that programming of mine, I'm very reasonable when it comes to food.
I always have, and always will be. That the strength of a belief!
Thank you programming.
Because of it, my weight has been the same since I was 20 years old. And I'm way older now (more smile).
Why am I telling you all that?
Well, not to give you the size of my waist to be sure, but to show you how programmed beliefs work on you, and how helpful or destructive they can be. Depending on the belief.
You see, you need to understand how your beliefs affect your life.
If you are not too crazy about your life as it is right now, you should be able to look closely at what type of beliefs you are still clinging on, and decide if they are serving you or not.
You should be able to go through all the beliefs that you have and analyze them one by one carefully, and keep the ones that are serving you, and get rid of the ones that are preventing you to move forward in life.
Here is a List of Common Misleading Beliefs that Hold you Back
1 – I Have to Work Hard to become Successful
This is one of the most erroneous belief out there, but also one of the most common.
Unfortunately, one of the reasons why this is the case, is that so called success coaches teach that you have to work hard to become successful.
Well, if that were true I would have grown up among some of the most successful people on the planet.  And may be so would you.
This belief is simply a misleading belief. A false belief.
To become successful you have to work smart and understand the fundamental laws of the universe, and work with them.
Working hard is not, by any mean, the most important factor for becoming successful.
Some of the most successful people have never worked hard a day in their life. And some have noticed that the day they removed such belief from their mind is the day they started attracting MORE success and everything they ever wanted.
In my own case, I've noticed that I was able to accomplish as much as I used to by working twice as less.
2 – The Harder I Work, the More Money I'll Make
This belief goes hand in hand with the previous one.  It's a totally misleading belief that doesn't hold any truth.
If working 12 hours a day will get you a bigger paycheck than if you worked 8 hours, then sure, working harder, longer hours, will make you more money right?
But of course, we're not talking about that here, do we?
The harder you work, the lower you usually are on the food chain, so to speak.
Working hard is NOT the key to make more money. Working smart is.
The more you'll learn how to exchange value for money, instead of time, the more money you will make. Working hard has nothing to do with this.
3 – I'm Stuck in my Current Situation
I know some situations can be scary and overwhelming.
Believe me if I tell you that I do.
But I learned something during the past 10 years or so of my life.  I learned that we don't ever have to be stuck in our current situation.
If you don't like the situation you are in right now, try to find a way to get out of it.
Job
Bad relationship
Suffocating entourage
Anything, you may feel you're stuck in, is most and foremost in your own head.
It's a programmed belief.
You almost always have a choice to stay in or leave any situation.
I know a lot of people are held by invisible chains.
I know some of such people who are totally unhappy, but are exactly like those elephants who have been trained to stay put with a chain around one of their feet, as babies.
By the time they're adult the physical chain can be removed, because a much stronger one is now restraining them.  The chain that's in their mind.
Take some time and analyze if you have such invisible chains restraining you.
4- Something is Out to Get me
Nothing is out to get you, but yourself.
This type of belief often comes from religion, society, family and so forth.
This is a very common belief that I see on a daily basis.
I've seen it and experience it myself too.
Just remember that no one owns you, and you don't have to be scared of them either.
Get in tuned with you own destiny.
Connect with who you really are.
Explore, challenge and expend yourself, and such beliefs will subside more and more until it's gone.
5- I Need to Wait for the Right Time to Start
The right time to do something is when you feel like doing it.
Tomorrow may or may not come.
That imaginary right time that you are waiting for, doesn't exist, but in your own imagination.
If you have a dream, or a goal, start NOW with what you have.
Don't wait for tomorrow, next week, or next year to start.
People who are waiting for the "right time" to start something are usually full of excuses why they CAN'T.
How about starting with a list of what you CAN do instead?
Please, leave your comments below and share!