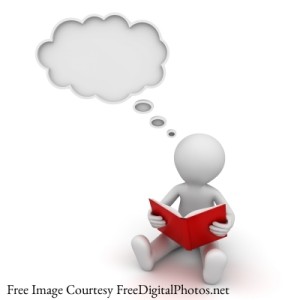 I know it's very common to hear bloggers say "I'm not a writer", yet they do write one to three blog posts a week, or more.
You may not feel like a writer, but if you do write one or more blog posts every week, it does make you a writer, whether you believe it or not.
So, since you are writing that much on a weekly basis, my first question to you would be, are you satisfied with your writing?  Whether you answer yes or no to this question, my next question to you is, would you like to improve your writing?
I know you're not trying to impress the masses with your writing, you're just trying to bring your point across.  However, if you even bother to write at all online I know that your goal is to have as many readers as possible, and you want them to enjoy and pay attention to what you write.  Don't you?
If your answer is yes, then this post is for you, and you might want to learn how to read like a writer to improve your writing skills.  But what does that supposed to mean? Let me explain.
Become a Critic of what you Read
My mother used to be a tailor, and I remember her analyzing and criticizing pieces of garments often. If she saw a woman with a dress that didn't fit well, or wasn't looking right in any way, she would notice it.   If a hem wasn't done right, she would notice it.  If someone was not wearing the right size jacket she would notice.  She was able to see any little imaginable things about what people were wearing.
She was a formidable critic of people's clothing because it was the tailor in her speaking.  She saw people's dress as a tailor, not like anyone else who wouldn't have been able to even tell the  difference.
As a blogger/writer, you should be able to do the same thing when you read other people's work.  You need to become a critic of other people's writing to improve your own.  You need to be able to notice what's right and what's wrong and learn from it.
What Makes you Tic as a Reader?
What makes you tic as a reader and what doesn't? What type of articles online or offline make you want to read every single word from beginning to end, and what type doesn't?  And I'm not talking about topic matter here. No.  I'm talking about the writing style.
When you read an article online or even a book, what are the ingredients that make you want to keep reading, and what are the type of writings that are not attractive to you?  What makes you want to quit reading?
Is the piece that you're reading monotone? Is it lacking personality?  Is it event-less?  Is the writer cold, emotionless, or just boring?  Is the writing cluttered with too many useless words? If you are reading about a topic that interest you but the piece that you're reading isn't  it must be because of one or more of the reasons above.
As a writer, get into the habit of analyzing what you're reading.  If you do, you will improve your own writing.
Learn How to Analyze What you're Reading
Just like you would be able to see what's not quite right with a dress or a jacket if you were a tailor, as a writing you should be able to analyze what's not quite right about an article. Why does it sound a certain way, why is it not captivating your attention, or why is it?
As you finished reading a page or so of a book, an article or blog post, analyze why it was captivating to you or why it wasn't.  Go back to the written piece and try to find out what was there or what wasn't there.  May be you could go over it again with a check list such as this one below.
Is the writer is using the second person (you) as he speaks to the reader?

Does the writer laid the foundation of the story/article with an enticing introduction?

Does the writer have included a dose of intrigue that makes the reader want to read more?

Are the paragraph linked to one another in order for the story to have a natural flow?

Is the writer using examples, either true or fictional, to help the reader understand a specific point?
Is the story easy to follow or is it very confusing? And if it is why is it confusing?
Those are questions that you can ask yourself as you read.  By asking yourself such questions you will be able to pin point why your reading is captivating you or why it's not.
Once it's your time to write, all you'll have to do is making sure you can answer YES to such questions.  Use such questions as the measuring tape of what you're reading.
The First Line is Your Most Important Line
Writer and best seller William Zinsser says that your most important line is your first line.  As bloggers trying to get people's attention with our writing we are well aware of this, aren't we? That's why we try to create perfect, catchy headlines.
Zinsser agrees with that. He says that without a catchy and good first line there is no chance that the reader is going to read the second one.
So, keep this wise advice in mind, and do not think that you can start slow hoping that the read will get to your good part.  That reader may never will, because you've ran them away with your first sentence.
Then, Zinsser goes on to say that your next most important sentence is… yes, you've guess it, your second sentence.
The point he was making is that you need to work one sentence at the time, but you need to do your home work to make it the best possible.  This is what it takes to keep captivating the attention of the reader.
So, the next time you read an article, a blog post or a book, remember to read as a writer.  Analyse what you like and what you don't like. Why is that so?
So, what are your thoughts on that? I'd love to hear them!