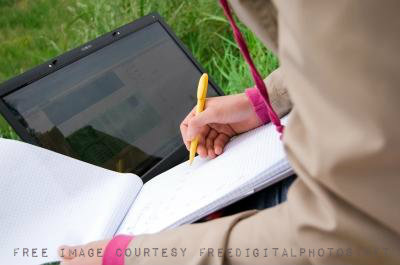 Are you Afraid to Bring out your personality in your writing?
Not too long ago I was watching a video by a successful blogger who was advising the listeners to write with their own personality to the point that if he knew you he would be able to tell that you are the writer of the post he's reading.
Is your style so personal that someone can recognize it's yours right off the bat?  This would be the case only if you are writing "as you" and not trying to fit into some general standards too much, or not trying to sound like someone else.  I can tell you that for most of the blogs that I visit regularly, I usually can recognize the blogger's style to the point that if I'm reading a guest post but haven't realized that I was, I quickly notice that it doesn't sound like the blog's owner.
That's what writing with your own style means.  Are you recognizable like that? What is your writing style?   I'm sure you have one even if you think that you don't.  We all have a writing style.  That's what make us difference, and that's a good thing.  But in case you're not sure, let's analyze what writing styles are, and see how you fit in.
What's a Writing Style?
The writing style tends to reveal quite a bit about the personality of the writer as well as how they perceive what they are writing about and their audience.  In other words, your writing style reveals a lot about you whether you may want it or not.  Your writing style is your personality coming through your writing.
For example, if you're a teacher, you may have a very organized manner to write using a  teaching like tone, while being very organized with your subheadings, paragraphs, and your overall article layout.  Your might write with a teaching tone.
If you have a pretty heavy sense of humor, your writing, probably, will show that sense of humor.  If you are a very honest and direct person, your writing will, probably, be showing that too. Or maybe you are a very stiff and distant person, and if so, your writing may show that as well. In such case you may want to notice how your articles sound.
In the end, it's pretty hard to be able to hide behind your writing.  So, for the most part, don't try to and let it be YOU as it will set you apart from anyone else.
Writing for a Purpose with your Own Style
Of course, the purpose of your writing will affect your writing style.  So before you start writing, you should always know what the purpose of your writing is.  For example, as a freelance writer I may want to be careful not to put all of my own personality into my writing, because I know that some of it will still show up anyway whether I want it or not.
To give you an example that just popped to my mind, an actor may be playing a real life character, and the makeup artist will do their best to make the actor's face look as much alike the character as possible. In turn the actor will use his talent to get into such character.   However, there is still going to be some the actor's face and voice there.  The actor is going to do his best to leave his own style/personality out of the picture, but he can't leave out ALL of it.  Some of it will still be there because no one can detach 100% from themselves. That's just impossible.
It's the same thing with a freelance writer. Some of my personality has got to show up to some extent even if I write for others.  However,  it's not all bad since most people will hire me for my writing style.
So, your purpose needs to come first.  Are you writing a blog post for your own blog? For someone else's blog as a guest?  For someone else's blog as a ghost writer? Are you writing a sales letter?  Are you writing an article for a directory? Are you writing a press release? Your purpose will set the mood of your writing, and your personal style should adapt accordingly.
For example, if I write an article for a directory, I may be just a little more generic and just a little less personal than I am on my own blogs.  If I write for a client as a ghost writer I may try to sound more like them and less like me.
Narrative versus Conversational Writing Style
To me there are two very distinct styles, and depending on which one you use you may set the tone for your readers and get feedbacks accordingly.  So beware!
The narrative style
The narrative style tends to put more distance between you (the writer) and your reader, because the narrative style tends to be rather cold and could be speaking to anyone and everyone.  The narrative writing style is not the best style to use on your blog as it may come across a little bit cold and impersonal.
On the other hand, the narrative style works great for press releases, and some type of articles.  Just not your own blog.
The conversational style
The conversational style is what we usually recommend you use on your personal blog, regardless of the type of readers you may be targeting.   When you are using a conversational tone on your blog you are opening the door for your own personal style to come out because a conversational style will help your true personality to come across in your writing.
When people are browsing blogs they are usually more attracted to conversational styles and you are bound to resonate with people better.  They will be able to feel the human being, the real person (you), being the writing.  This will be more attractive to the readers and encourage them to get to know you.  These are some of the reasons why conversation style should be the style you use on your own blog.
So, there you have it. Make sure you are aware of your own style as you write different types of articles online or even off line.  If you are not sure what you writing style is, you may want to ask others and analyse what they come up with.
Defining your own writing style will set you apart from all other writers/bloggers out there and give  you your own trademark.
So, your turn now. What's you own writing style?