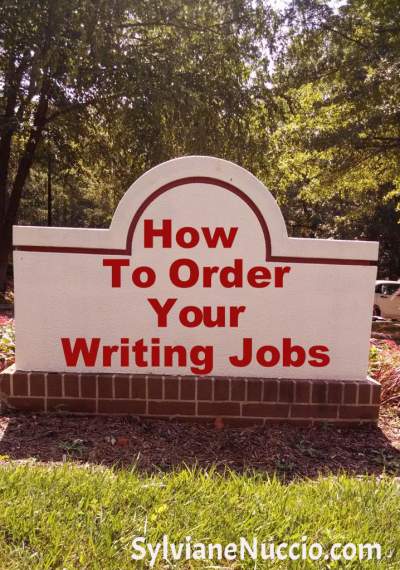 We often read advice about how to write, how to pitch a blog post, and how to get clients as a freelance writer, but rarely if ever do we read articles about how to order a writing job.
The reason why I've decided to write about this subject today is that I often get clients that go round and round and back and forth before they're able to decide what they want, because they tend to contact me before they've done their homework.
So this post is for all of you out there who order writing gigs or who might someday. The better prepared you will be when you're getting ready to make that order, the more you will save your valuable time as well as that of the writer you want to hire.
As you save them time, you'll find out that it will also save you money. Indecision and lack of organization can cost you money in the end.
Follow the simple advice discussed in this article, and you'll be thanking me you did.  Plus everyone will be happier at the end of the day.
1)     Have a Clear Overall Idea of what you want to Order
Before you even contact a freelance writer, make sure you have a clear overall idea of what you want.
Way too often do I have potential clients contacting me when they still don't know what their article should be about.  If you want me to write about "apples" make sure you know it beforehand, and simply tell me, I want you to write an article about apples.
If you're not sure yet if you want an article about apples, cherries or pears, try to figure it out first and contact me only once that's clear for you. (Of course, the apples cherries or pears is only a humorist example).
You might be surprised how much time is wasted in figuring that first step only. Let me show you how it goes at times, and you'll understand what I mean.
Client: I want you to write an article for me.
Me: OK, do you know what you want your article be about?
Client: I'm not sure yet.
Me: Do you at least know what niche we're talking about here?
Client: My niche is about fruits.
Me: OK, do you know what fruit exactly you'd like me to write about?
Client: I'm not sure if I want you to write about apples, cherries or pears.
Do you see what I mean here?
It would save us both so much time if we could avoid this back and forth type emails and start emailing me once you've decided what topic you want me to write about.
So that instead of all that, we could start our conversation at, OK, I would like to hire you for an article about apples.
Ah, that's so much better! Now we're going somewhere right from the get go.
2)     Have a List of the 5 Main Keywords you want me to use
Even though I'm the writer, I'm not the owner of your business, and I'm not supposed to know what keywords you want me to use in your article. So, a good practice, is that before you contact a freelance writer for your writing job is having a list of at least 5 strong keywords you want me to use.
You may or may not know that now Google doesn't like stuffed keyword articles anymore, but we are going to place about 5 related keywords that's going to help me write your article and please Google at the same time.
Google will be happy because I'll use those keywords naturally, not for selfish need to rank, but to help the reader find your article.  This is called LSI, short for Latent Semantic Indexing which is an indexing method that serves to identify relationships between related terms (keywords) contained within an article.
When you give me your five most important keywords with your article order I can take care of all that myself. How easy is that?
So, please, net time your order an article, on top of your specific topic, please, be sure to have your list of keywords.
Now, if you're not sure about what the best keywords will be, I can always figure that out while consulting with you, but you need to give me at least an idea of the type keywords you want in order for me to do this.
3)     Have a Budget in Mind
Even though I'm not expecting you to know exactly how much you want to spend for your article, it would be much better for both or us if you had a budget in mind.
About a week ago a potential client contacted me mentioning that he found my article why writing for peanuts while you could write for big buck, so at least I understood that he already had some type of budget in mind and didn't expect me to write for him for peanuts.
But better still, if you could tell me your work order budget right from the get go it would be a huge time saver for both of us.
For example, if you budget was $25 for a 700 word article I wouldn't have to waste your time with needless back and forth. I could tell you from the get go that your budget is way too low for my services, and refer you to some content mills.
There is no need to start getting too involved with the details about the order to find out that you can't afford such order.  Why would I start trying on a dress that I intend to buy just to find out that the price is too high for me? If I go shopping, I know my budget and I'll ask the price tag first and then try on the dress see if it fits and want to buy it.
It's the same thing when you go shopping for freelance writers. Don't be shy and ask for the price tag very early on, especially if you have a limited budget.
4)     Provide all your Links and Pictures Early
While my job is to write as much as a knock out article as I can, what my job isn't, is knowing what links you want to have in your article or provide you with pictures.
These are two items that you will also need to have in mind before of very early in your order process so I'll be sure to include them in the best way possible in your article.
Went you come up with links and pictures ideas once I'm done with my writing, it's too late and can be time consuming to try to add them later.
If you do this, be prepared to pay an extra fee for your article, as it adds extra work for me to tweak my article just to fit the right link at the right place, or decide what picture goes best where. It's much more constructive for your article if I have all the material you want me to include before I start my work.
5)     Don't Expect the Writer to Read your Mind
Last but not least, make sure that you tell the writer of any specific requests you may have. Don't think I can read your mind and figure them out, especially if you have specific formatting request, or if you need your article before a specific date, or yet again, if you wanted to include some specific quotes or something like that.
Nothing is more aggravating for a writer when the client as for a specific request when the article is completed. This also has to be very early your order.
By the time the contract is signed there should be no details left in the air.  If you come back with a specific request too late, it might cost you or you might not get your wish.  Either way, it's not a good thing for you and your business.
The better prepared you will be when you make your writing order, the more likely your provider (the writer) will be able to do a good job and make sure you're satisfied with his or her work. So remember those five simple items next time you order your writing job, and everyone will be happier.
Please, leave any feedback or comment you may have down below!