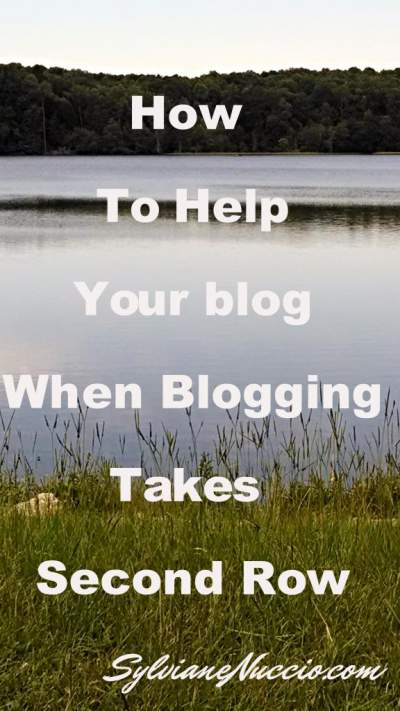 This year has been a very tough one on me to say the least. When tough things happen to us, we bloggers, may have a harder time to keep our blog going. It's certainly has been the case for me.
When life delivers emotional turmoil it can be hard to keep on blogging regularly. Until this past February, I had done pretty good with not one, but 3 blogs, but this year has really got the best out of me and keeping my them all going has been a challenge to say the least.
Back in July when I took a week of very needed vacation, a couple of blogger friends asked me why I kept blogging while on vacation; the truth is that I did while I could, because I wasn't so sure about the near future.
It's not like I didn't know that both my mother and my only pet child were terminally ill, and I knew that if push came to shove I wasn't going to be able to blog as usual for a while.  Even right now, it's not easy to write this post.
Then, there are also other obligations of mind that I need to fulfill.  I recently enrolled in a Toastmasters Club to work on my public speaking, and whether I'm ready for it or not, on September 24 I'll have to give my first speech there, so I have to get in the mood to do that too.
It's not always easy to keep up with our plans when we're grieving, but frankly, if I still have to do a few things that I don't want to do, I figured that at least I can do the things that are taking me in the direction that I want to take in life.
So, what do you do to keep your blog alive when life happens, and blogging takes only a second row?
Here are five tips for you to make sure that your blog keeps running while you're either on vacation or unable to post for less pleasurable reasons like it's been the case on my end.
Have Ever Green Post Always Ready
If you happen to have some extra time in your hands at times, why not using that time to create ever green posts that you could save for times of emergency when you might not be able to post on your blog?
Of course, if you do post on your blog during times where you are going to be away from blogging, you also need to consider what you're going to do with the comments that you'll receive for that post.
If you can reply to your comments that's great, but if you can't, make sure you explain to your readers that you won't be able to reply to their comments, at least, not right now.
Anyone of us can be stuck away from our blog for many different reasons, and having ever green blog posts to keep our blog alive and well is essential, especially if your absence is to last longer than you would have expected.
Request Guest Posts
Requesting guest posts might be something you need to prepare in advance if you can.  You could ask some of your blogger friends to guest post for you in your absence.
I had to do this a few couple of times this year. If I didn't my blogs would have suffered even more than they already have.  But if I had been better prepared than I was, my blogs would have never missed a week post at all.
So don't make the same mistake I made. If you have even the slightest idea that you are going to be missing from your blog for a while, start asking around if anyone would be able and willing to write for you on a short notice, or if they would write a post that you will publish at a later date.
You'd be surprise how fast some people can write for your blog. Recently, Ryan Biddulph did just that for me, here on this blog. And I myself have written for people on a very short notice as well.  So, it's something that's definitely possible.
Pay Someone to Write for You
Another option that you have is pay someone to write for you in your absence.
We spend money for pretty useless things at times, don't we? Why not spend a few bucks for someone to write for you, if you are unable to write on your blog for a while?
Some people might argue that they want to write themselves, that they want their post to be "their voice," etc… But the truth is that when you don't post on your blog even for a week or two, your blog takes a hit in ranking and traffic, so if push comes to shove you need to be asking yourself the question; would I rather have a couple of blog posts (or more) that are not my own, or would I rather lose the ranking and traffic?
There is no right or wrong answer here, it's really up to you and what you want to do.
Promote older posts
There's also the option to promote older posts. I know that they're a handful of WordPress plugins that will allow you to automatically promote older posts from your blog, but if you don't want to add another plugin on your blog, you can always do it manually as well or use of those automatic social media dashboards such as Hootsuite or Buffer, which is still much easier than having to write a new post when you really can't.
Don't forget that you can still manually tweet, facebook, pin, Instagram, etc… any of your post to keep bringing traffic to your blog and prevent it to drop in ranking.
I have to admit even this was hard for me to do, but guess what? You can actually pay someone to do that for you as well. I know that Fiverr has great and reliable options you can choose from, and have someone do this for you for very little money.
On top of it all, if you are somewhat able, you can still visit other blogs, especially those using Commentluv, and promote your posts that way.
Get Back to your Blog as Soon as you can
If you are away from your blog and are not doing any of the things mentioned above, but still want to save your blog from falling, then get back to it as soon as you can. But if you can't, don't beat yourself over it either.
I've left my travel blog to rest for a while now, because this crazy year was making it more and more difficult for me to do it all.  So I stopped beating myself over it and decided that I was not going to totally abandon it, but I was going to let it be for now, and get back to it as soon as I can.
There is a human being behind most blogs, and when something happens to us, it can be a challenge to keep it up for a while.  That's part of life, and when that happens we need to accept it and try to do our best to keep the blog going.
But as much as we love our blogs, at times they take a back row in the important things we've got to do, so we need to keep things in perspective.  Every case is different, and only you know what you can or can't do, but I hope these tips were a reminder of the options that you have in case you can't write on your blog for a while.