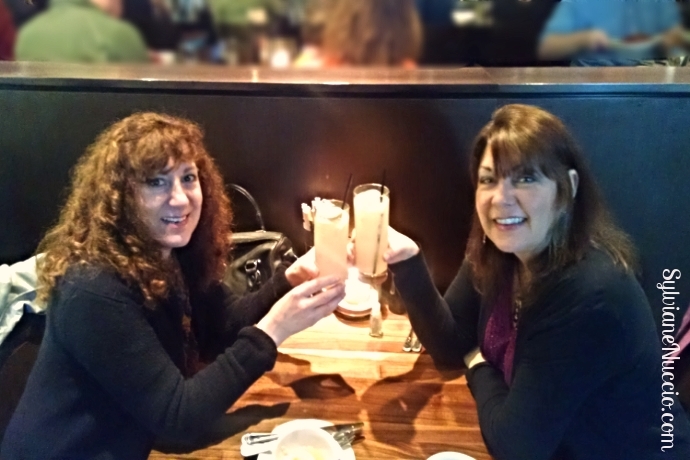 Is it hard for you to step out of your comfort zone?
While thinking about what I wanted to discuss in the post, I was thinking how my life has been a long story of stepping out of my comfort zone.
I've gotten out of my comfort zone the first time I stepped on a theater's stage.
I've gotten out of my comfort zone when I moved out of my mother's house the first time at age 16.
I've gotten out of my comfort zone when I moved out of my mother's house for the second time to move to Paris on my own.
Then again I did it big time when I moved to New York on my own again, and with a still limited English.
There is this thing with me. I love adventures. I love to throw myself into the unknown. And I'm extremely independent. I've never been someone who really needed anyone else to do things.
At times, I even think that I am too independent, but life has actually added to that natural tendency of mine.
At this point I think that I'm the most independent I've ever been, because of the assurance that getting older gives you on top of it all.
Making Lemonade
When life gives you lemons, make lemonade, right?
I've decided to make lemonade with all the lemons that life gave me these past few years. And believe me it has, more than you know.
But I decided to make lemonade, because that's the only way one can not only keep living, but make the rest of their lives worthwhile.
So, once again, I'm stepping out of my comfort zone, kind of in reverse.
While what I'm about to do is super exciting, of course, it's also a bit scary and I do have to get out of my comfort zone in order to go for it.
Now is it worth it?
You bet it is.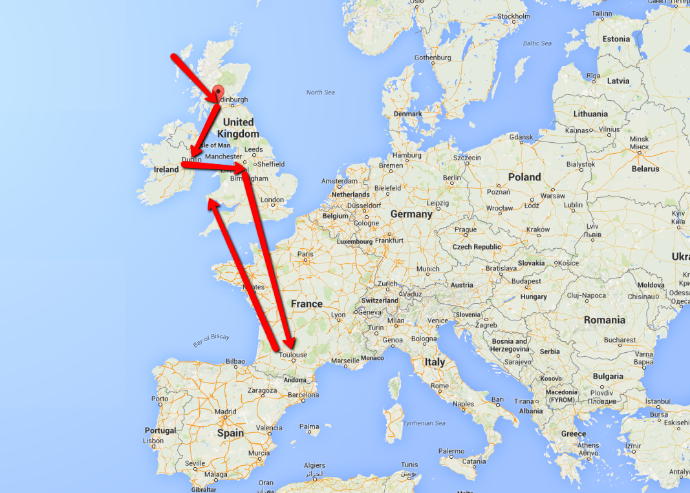 What I'm about to do I've never done before, and I may not do it again.
For the next 6 months or so, I'll be traveling all over Europe.
Here is how it's going to unfold for the most part.
In exactly 2 weeks from today, I'll be flying Scotland.
I'll be in Glasgow Scotland for two weeks, and then I'll be going to Ireland for 5 days. While I'll be in Dublin I'm also planning on taking a day trip/tour from Dublin to the country side of Ireland (I've got it all panned out already).
Then, I'll be in a very affluent town, in England, right outside of Manchester, for a whole month.
From there I intend to visit Manchester of course, and even Liverpool only an hour and half away.
After that I'm going to try to go to France during the month of August. I actually may be in the south ouest of France for the whole month of August, which would be fantastic, but nothing set in stone yet.
If I'm in France in August, it means that I'll be celebrating my birthday in my birth country, which would be very cool.
Then again I'm supposed to be in Haverfordwest, Pembrokeshire, in Wales (South West shore of the UK) for 10 days in September.
Needless to say that I'll be trying my best to stay in Europe well beyond September, but that's a bit too far out for now to know where I'd be exactly. But that's what so exciting!
Now remember that all of that is happening because I've decided to step out of my comfort zone.
Why are People Afraid of Stepping out of their Comfort zone?
For one thing, routine can become very comfortable.
Now good routines that keeps you on track are good, and you should have some for sure, but it's the merry-go-round routine that you want to pay attention to.
Do you know that even if you don't like your life right now, you are somewhat comfortable in your routine?
It's a fact that the brain likes to settle in a routine, because we are rather lazy by nature and we love to settle.
Part of the reason for this is that once we are conditioned, it's hard to get out of it.
Most people on this planet get up in the morning, go to a job they don't want to go to, get back home, go to sleep and start over the next day.
I know for me, I've never accepted this to be "living" even when I've been doing just that.
I've always thought that living like this, just sucked. But I can tell you that I've been around more people who think that's an acceptable way of life than people who don't.
And that's because people settle for less.
They don't think that they can do, be or have what they want in life. They've never heard about the law of attraction, and how knowing and applying it can change their life.
I'm here to tell you that if you really want to, you can change your life around.
But for that you might have to get out of your comfort zone.
Why you Should Go Beyond your Fears and Step out of your Comfort Zone?
Stepping out of your comfort zone is the only way to grow.
Even if you can't step out of your comfort zone physically, you can start mentally.
For example, starting a new thinking pattern, is a very easy way to step out of your comfort zone.
Beginning your day with a whole new set of focus and thoughts, and holding on to it for the rest of the day, would be quite a new zone for many, wouldn't it?
When I really started focusing on good thoughts at least a good 80 % of my day (because we can't control every single thought we have), for me it was really going out my comfort zone.
Yes, there used to be a time where I was comfortable thinking stinking thoughts, and starting to think positive… things like "my day is going to be wonderful" or "I'm expecting only good things into my day, today," "I am on top of the world," and so on… was really uncomfortable at first, actually.
I felt like it was all a joke, and that I was lying to myself.
I thought, I don't even deserve to think that high!
Who am I to think this way?
So, yes, the simple fact of giving a 180° turn to your daily thoughts can be a total stepping out your comfort zone. because your comfort zone, in this case, is negative thinking.
However, if you've never tried that before, you should start NOW.
Give it a try and it will start changing your life the minute you start.
All you have to do is keep doing it.
The more you do it, the more comfortable you'll become.
Step out of your comfort zone one day at the time.
Are you Living in the Comfort Zone of Working Hard?
Are you in that zone right now?
Are you in the comfort zone that working hard is the answer to your every success?
I'm sorry to disappoint you, but working hard has actually very little to do with success.
Ask any good life coach what they think of the term "working hard" and they'll all tell you that the more you believe that you have to work hard to get rich, successful and whatever you want to do, be or have, the more you will have to work hard.
But this type of beliefs have been around for so long, that pretty much everybody believes it, except for those who are not working hard and still have all the success and money they will ever want or need.
Do you want to get out of this false comfortable zone?
True success happens when you put yourself in alignment with the universe, much better and faster than if all you do is working hard.
If I think of the best things that I ever done or got in my life, it was NEVER hard.
Actually, in my case, I can say that it's when things where tough that they only got tougher, because I was working with resistance instead of trying to align myself (my vibrations) with the universe.
Now, let me tell you.
Yes, I've "worked hard" these past 7-8 months especially, but not hard in the way that you may be thinking.
I worked harder at understanding the law of attraction, the subconscious mind, and how to be more in alignment with the Universe.
That how I now feel some strong results.
I'll Keep Coaching you from Abroad
Now don't worry!
I'll be able to keep writing articles like this one, and coaching you from abroad.
If you want to learn more about the hidden power that's in you.  If you want to improve your life in any way, why don't you request your 30 minute free consultation?
This only request I have for you is that you're open minded. I can't help you if you're not.
Please, leave your thoughts and comments below too as well.