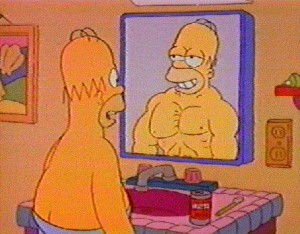 About a week ago, Janet Callaway, a friend blogger who I follow wrote a post about 13 reasons to see clearly.  I left a comment about her post saying that her topic reminded me about an article that I had written a while back about perception versus reality.  If you were asked the question, what is the most important thing to you, perception or reality?  What would your answer be?
Without even a single hesitation, most people would say that reality is more important to them, but is this really so?  Let's say that you are walking in the street and you are passing by a homeless person, very dirty looking and begging for money.  What would you be thinking? You might try to pass by that person trying not to look at him, or might feel sorry for him.
However, this scene happened to be a prank to see your reaction.  In reality, this guy is a wealthy person disguised as a homeless individual.  However, what was more important when you didn't know that, your perception or reality?
You see, the reason why people are so confused between the two is that most of the time our perception IS our REALITY.  That's why perception has such an impact on us. Whether we like it or not, and whether we want to admit it or not.
We are all humans and this means that we are all going to be led to believe what we perceive a lot of times, even if it's not the reality.  However, we can develop more maturity and learn how to see the reality beyond what we see and hear.  Doing this helps us to grow mentally and spiritually, and if we grow mentally and spiritually our life as a whole and our very being will grow as well.
You are Influenced by Your Perception
We are all influenced by our perception, but what is more is that our perception influences us to act or react a certain way.  Because of our perception we make decisions and take actions that could be detrimental to us in the end if what we perceive is not real.  What do I mean by that? Let me tell you a true life story that happened to me a long time ago when I was still living in Paris.
One day, on a Sunday afternoon, a friend of mine paid me a very unusual visit (she never visited me).  For one time in her life, she had taken enough space between her and her boyfriend to come visit me on her own.  She talked to me for hours, on my sofa that afternoon, to finally telling me that she and her boyfriend were separating,  and that she need a place to stay.
My perception of her, back then, was that she was a good sweet blonde, and I allowed her to stay in my Paris studio for three months free of rent.
My mother, on the other hand, who always had an extremely highly developed intuition, came to visit one day and HER perception of my friend was actually completely different than mine.  Meaning she didn't like her.  She just had an unshakable "non-positive" feeling about her.
My mother turned out to be so right.  That "fake" friend of mine turned out to be a pure liar who had used me and lied to me the whole time.  My perception of her was completely wrong.  The problem is that my perception was my reality about her back then.
What did I do Wrong?
So, why didn't I see that earlier what my mother saw in one day?  Why was I so blind to the reality of her true personality and unusual visit to start with?  Well, for one thing, I was only 22 years old and my experience with life was, therefore, limited.  But also, I was a bit lonely, living 350 miles away from my family, alone in my Parisian studio.  I was what I call "subconsciously blinded" and I couldn't see the real reason why someone who never visited would all of sudden do so the very day she had a big favor to ask.  Consciously, I knew better, but subconsciously what I perceived became stronger than the reality.
Our subconscious mind is always trying to protect us from getting "hurt" emotionally.  The problem is that it's going to happen whether or not it's for our best ultimate good.  The subconscious mind as you probably know by now doesn't make judgment and doesn't reason in any way.  It just act based on its programming.  My subconscious emotional pain, back then,  was that I was alone, and my subconscious mind covered for it.  I became completely blind to the obvious truth (reality) that this person was just looking for an escape goat, namely me. She wasn't the friend that I perceived her to be.
Her four hour sweet talk was all fake and premeditated, but because I reacted based on my subconscious pain instead of seeing the REAL dangers of getting hurt, I ended up getting more hurt later. This was coupled with the fact that I always have had an overactive benevolent personality.
So, What Do we Learn from this?
When you are faced with a situation, take time to STOP for a moment and analyze carefully what you are observing.  What you are observing with your bare eyes and ears is what you are perceiving, but it's not necessarily the reality.  Then, remember that what you perceive could be totally misleading.  Once you have taken a conscious note of that fact you can consciously decide to look beyond what you are perceiving and find out if your perception is the reality or not.
Remember that the instinct reflex of your subconscious mind is to protect you NOW, but it's just a subconscious reflex, it's not a "calculated" one. This means that further consequences of such "protection" could turn out to be not so good, just like it was the case in my own story.  This is why it's very important to mold your subconscious mind in such a way that it will serve you better and help you improve your life as a whole.

What are your thoughts? Have you been misled by your own perception before? Tell us down below.