And Why Does it Have Anything to Do with your Business?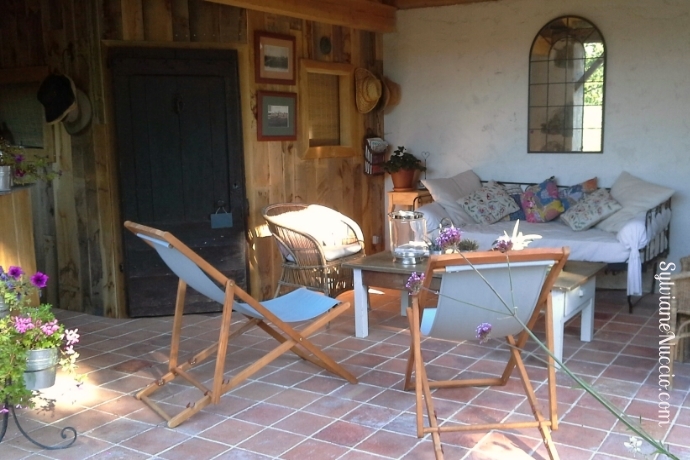 No, this is not one of those flashy headlines to get you here.
Actually it is, but what I mean is that it's TRUE.
Yes, I did land an apartment for free for 2 weeks in August, in one of the most expensive cities in the World.
Yes, central London!
How did that happened?
Because I'm pretty good at building and maintaining relationships.
Now, to be honest, I've not always been that way, but I'm getting better and better for sure.
But what does this has to do with me you may be asking?
Well, if you are in business, everything.
Because today business is built on relationships more than anything else.
My goal for with this article, is to help you understand why YOU need to build relationships to build your business.
Why are there More and More Ads out there?
Last week I wrote about 5 tell-tale signs that show that you don't have a clue about marketing, and if you don't, I suggest that you go read this article first.
But the point here is that people who don't know or don't want to spend some time building their business through relationships are losing out big time.
One of the main lies that business owners want to believe is that people will buy from them for no reason, just because they are promoted and advertised to.
Well, according to a recent Google case study what used to be called the Rule of Seven, which means that someone has to be exposed to your product about 7 times before they buy, has become the rule of 10.4, which means that people have to see your product over 10 times (on average) before they decide to buy.
This is a strong sign that it takes more advertising, and therefore more of your money, to sell your product these days.
Just think about it for a minute, there are more and ads thrown at us every day.
Do you remember when YouTube was ad free? Well, as you know, it's not longer the case.
Indeed, ads are popping up more and more everywhere, because it takes more to convince people to buy.
But why is that the case?
Well, I'm no advertisement expert, but here are a few things that comes to mind.
There are more and more products out there (more competition).
If there are more products, then automatically it will take more ad space to promote them.
Because there're so many ads, people have developed blinders to ignore them as much as they can, so as a result even more ads are thrown at us.
Just a quick glance at the screen shot below, from Statista, showing the constant increase from the recent past to the upcoming future is a tell-tale sign that's not going to decrease any time soon.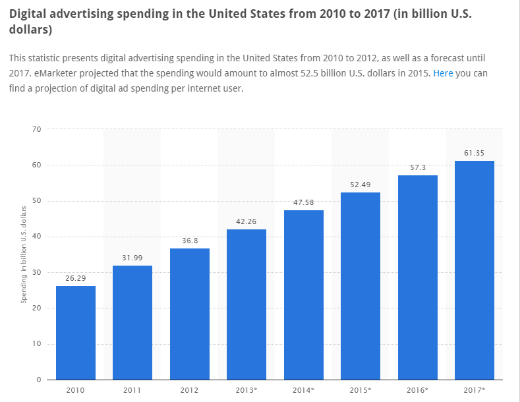 With the increase of businesses from large Fortune 500 companies to new solo entrepreneurs, the business landscape is increasing, and so is the advertisement for it.
This is why if all you're going to do to promote your business is using cold advertising, you need to have a huge budget for it to start with.
But maybe, you could use another method that won't cost you much money at all… what it will cost you though is more of your precious time.
The good news is that you can also hire someone to do that for you, but at least it will be way more economical than having to pay for advertisement.
And what's more is that it works much better in the end.
How Building Relationships Pays off more than Ads
Just a few days ago, as I was having a conversation with an entrepreneur woman, I asked her how she got her clients.
Here answer was very telling, if you ask me.
She said that the vast majority of her clients came from referrals.
She'd meet someone online and build a relationship with them, and then through them she would meet other people that would become her clients.
For some reasons the first person she would build relationship with would not necessarily become a client, but she'd meet her future clients through them.
In any case, she said that none of her clients came out of the blue. She had had to build some type of relationships with them first.
Advertisement is not where she's getting  her clients from.
Even her blog is not the vehicle that she's getting clients from.
While her blog is a platform where she can send them to learn more about her,  what she does, and even deliver value for them, most of her business is created thought emails and other exchange messages, before someone decides to hire her services.
No advertisement can and ever will overtake the value of building strong relationships to grow your business.
Why Relationships are so Important in Business
Remember my headline?
How I landed an apartment in London for 2 week for free?
As some of you know, but probably many more of you don't, I am writing these words from England right now, because I am on a 12+ month journey all over Europe.
So far I've been in Scotland for 2 weeks, and one week in Ireland. Next week I'll be going to Spain for a week,  before I head back up to the UK for another month. Then I'll be heading to France, my own native country, for an extended amount of time.
In case you're wondering, one of the best ways to travel that long is to what's called housesitting. So, instead of staying in an expensive hotel, or having to rent a holiday apartment, you agree to take care of someone's place (which usually includes pets) while they're away.
The house sitting market is becoming more and more popular and my guess is that it will also become more and more crowded as time goes on, but I have a head start, because I've already built relationships with people that not only would invite me back, but give me great referrals as well.
However, the reason why I got that free apartment in London for two weeks, is not because I'm going to take care of someone's place while they go on vacation.
No, it's because I've built a relationship with someone in France whose house I'll be taking care of later this year, but they have invited me to stay in their apartment (which will be empty at that time) in London as a gracious gift for me to enjoy the city free of rent.
So, while some people will pay $300, $500 or more a night, I'll be staying for free in central London.
One thing is certain, no advertisement in the world would have got me that, now would it?
And the beauty about relationships is that it doesn't work only one way( unless you're a very selfish person).
Meaning I'm not the only one benefiting from free beautiful places to live in Scotland, because those people I built a relationship with will be welcomed to my place when I get back to the United States.
We may do a house swap or not, it doesn't matter.
If they want a free stay in the US at some point, they got it.
We've built a trust-relationship that's priceless and that can't be advertised in any way.
Why am I telling you this story?
Because…
Relationships will get you Lifetime Customers
If you do it well.
If you are genuine enough to appeal to people to the point that they can trust you, you will get lifetime customers or clients that will not only come back to buy more from you, but send you referrals, who in turn will send you more referrals.
Advertisement will cost you only money, so if you have plenty of it, you might want to spend some on that, but what advertisement can't buy is trust and bounding that only YOU can create.
And that my friend, won't cost you a penny, but it will cost you some of your time and commitment.
So, are you ready for the challenge of building more relationships for your business?
Let me know what you think in you comment.
If you want to learn more about writing for your business, sign up to receive more info bellow…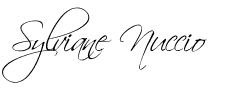 I write in such a way that your potential customers will fall in love with your business.
Would you like some advice about blogging for better business? Get it here!