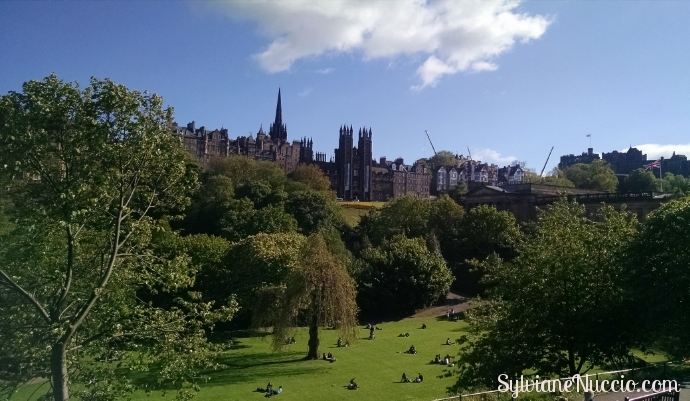 I'm having the time of my life in Scotland.
In 3 words – I love it – except for the weather maybe.
However, I can't complain too much,  as I have had plenty of sunshine every time I went on a big day trip.
I had the pleasure of visiting some very cool places such as:
Glasgow
Edinburgh (the capital)
Luss
Balmaha
Balloch
Gourock
Stirling
Loch Lomond
Not bad for someone who's trying to keep up with her blog writing and her paid writing in between, don't you think?
By now, I can say that I've learned my way around Scotland and that I'm pretty much mastering those train lines.
The first time I took the train to go downtown Glasgow, I had totally forgotten the name of my own station, but thankfully I had noticed the name of the following station, so that's how I was able to get back home.
However, I didn't worry.
I never worry about these things.
I'm a big girl, and I would have found my way back home anyways.
I love traveling, because it makes you street smart, it makes you strong and it makes you more complete.
The funny thing is that I've noticed that I'm not the only one traveling alone. I met a few people like me in my journey in Scotland so far.
Of course, you might have guessed it, if you don't know me yet, I'm a very independent person.  I can openly and truthfully say that I have not needed anyone for anything in years.
I didn't plan on that, and I'm not bragging, but I think that life had that planned for me, so that makes me the best coach ever!
The things that some people like to say with the lips such as, "happiness is an inside job," or "you have to be strong," and so forth…? Well, I live that.
This is my life.
If I didn't find my strength and happiness from the inside, I'd be gone by now, either mentally or physically.
Well, maybe that would be OK too, but I'm here, strong, successful, free, and enjoying my travels.
Wow, I haven't said any of that in a long, long time on a blog post, now have I?
So, after that long introduction, are you ready for some fun now?
Here are few insights from Scotland.
The Days are Literally Very Long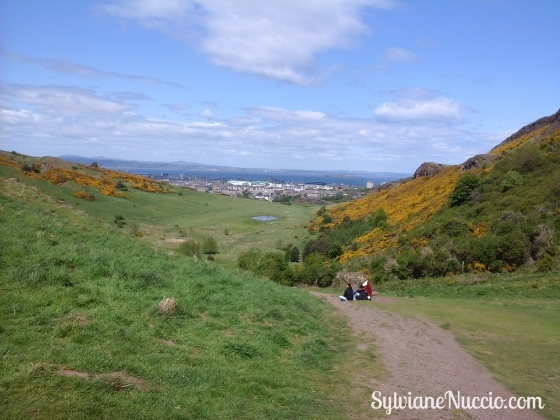 It's day light from about 4:00 AM until about 11 PM right now, late May.
Yep, the summer days are LONG in this part of the world
Now, I remember in France around mid-June to mid-July it's also day light from 4:00 AM to about 10 – 10:30 PM, but here it's even longer.
This is only late May and last night it was 11:00 PM when night started to really fall.
(for those who don't know it, above the equator, the longest day of the year is June 21. It's called summer solstice. So, the longest days of the year  are from around Mid May to around mid-July.  The way the earth is is tilted toward the sun creates longest day light in the north than the south).
So, in the morning, I'm awaken by a bright sun that's trying to pierce the shades, and it feels like it's 8 O'clock already, but it's only  5:30 AM. Gosh, that's so funny to me.
When I left the US only 2 weeks ago, the day light was barely up at 6 AM and the sun wasn't even up yet.
That's one of the cool features of Scotland.
The Weather is Something you've got to Live with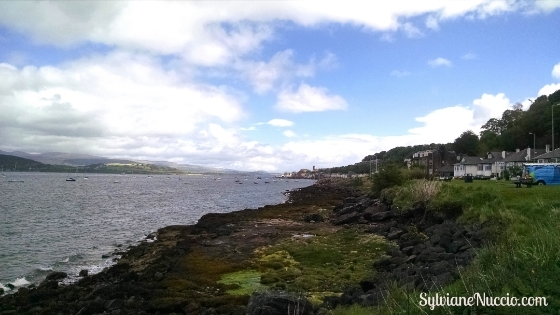 In a word the weather sucks.
It's pretty cool for being mid to late May, no doubt.
Coming from North Carolina it was a bit of shock as temperature goes. Only in the 50's to 60's while I left North Carolina being already in the mid 80's.
The weather can be very unpredictable too.
Sun, rain, sun, rain, wind, less wind, more wind…
You've got the picture, right?
However, when the sun shine is as bright as a sun can be, and when it hits the beautiful landscapes of Scotland we forget everything and we enjoy it to the fullest.
Maybe more than usual, because we know that it won't last long as it does under other skies.
Introduced to New Words of the English Language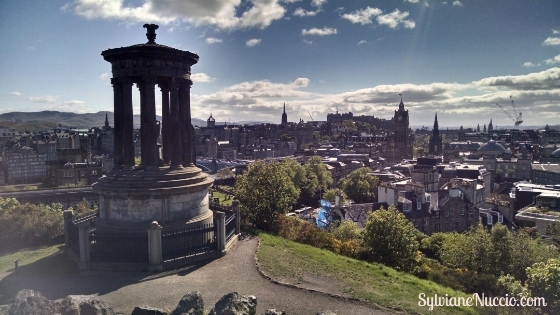 No doubt that the way of speaking a same language is always different when it crosses the Atlantic Ocean.
Since I also speak French and Spanish, I can assure you that I know what I'm talking about.
It's the same thing when it comes to French spoken in France and when it's spoken in Canada, or when Spanish is spoken in Spain or in Mexico.
And, yes, I have spoken too all such people.
Different accents, different words.
So here are some words and expression you won't hear in America.
The sign Exist become Way out in Scotland.
You do get off the train, you alight from the train
You don't ask for the restrooms or bathrooms but for the toilets
You don't say "what would you like for dinner" but "what do you fancy for dinner"
When you bump into someone inadvertently, you say "soorrry." There is much more emphasis on the o and they role the r as if they were speaking Spanish. Actually, Scottish people role the r's pretty much all the time.
You don't buy your food  "to go," you say it's "to take away."
You don't say it's "for here," you say it's "to stay."
There's just one wee problem, means there's just a little problem.
There are many, many others of course, but here is just a handful I've heard during these past 2 weeks here, in Scotland.
No Leach for Dogs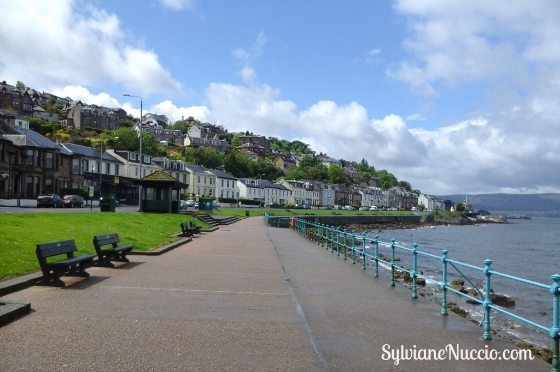 Scotland is dog's heaven.
It's seems that people don't like to walk their dogs here, but more like walk with their dogs.
It seems to me that dogs are well trained from a young age to walk with and around their owners without a leach, especially in parks.
While I've seen few dogs on a leach in the streets (but not all) , I'm never seen one on a leach in parks.
It's actually pretty interesting to watch how easy going they are wondering about left and right while following their owners, being well trained to ignore everything around them.
And there you have it!
I hope you enjoyed my little live insights about life in Scotland.
Your turn now. Tell us about your own insights.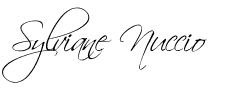 I write in such a way that your potential customers will fall in love with your business.
Would you like some advice about blogging for better business? Get it here!