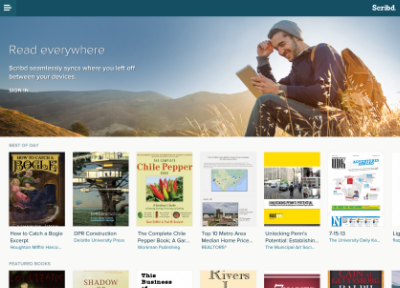 in my last post I gave you 7 ideas to leverage your content on your blog to take full advantage of your content.
Yet, there are other ways you can spread more content of yours around to generate more traffic to your site.
Today I wanted to talk about a different way you could recycle older content and making it new again, or create brand new content to generate organic traffic to your site using a tool called Scribd.
I've been a member of Scribd since 2008, and back then they were still small with limited options, but today, Scribd has grown,  and it's become an even better way to help spread your content throughout the web and generate more traffic to your blog or website.
I have to admit that I haven't posted anything on scribd in a long time. However, I think it's time to get to it again, because this site ranks pretty well on Google and has tons of traffic.
Scribd a Different Way to Generate Traffic to Your Site
Scribd is a website where you can upload documents, presentations, articles, guides, spreadsheets, eBooks and even books (as long as they are your own). If you are an avid reader you can even download unlimited amount of new books for $8.99 a month with Scribd Premium.  But they still have over 40 million books that you can download for free.
What is probably going to interest you the most with Scribd, though, is that you can share YOUR own knowledge by uploading your own giveaways and articles to generate more traffic to your blog or website.
Scribd started small early 2007, and quickly became an easy extra way to spread your content. 7 Years later they are the largest online library with a worldwide reach of 80 million people.  An 80 million people reach can really generate some good traffic to your site. Don't you think?
According to Scribd you can convert any eBook or document "into a beautiful webpage or mobile reading experience." It's a great tool to increase your readership and generate more clients and customers.
Befosre you go ahead and start using Scribd, however, here are a few things you need to know.
Do and Donts on Scribd
Follow their Golden Rule
One of their main rules is what they call "Mom's Golden Rule"  which is: " if you wouldn't say it to your mom, don't say it on Sribd."  Don't insult other members, don't use profanity and other negative statements. My guess is that if you do, you'll be out faster than you could count to 3.
Post Only your Own Content
If it's not yours, don't post it they say. Remember that it's against their rule that you post ANYTHING that you don't own, including music, song lyrics, or poems, if this is what you want to share. This is not a Facebook kind of share. You need to share your own work. Period.
They will also kick you out if you share anything sexually explicit or violent content. So, beware.
Promote, don't Advertise
A great rule of thumb is that you treat the content that you share on Scribd as you treat your own blog.  They don't mind that you promote yourself there – after all that's part of the reason they exist – but they don't want you to bluntly advertise. If you do they'll see you as a spammer and you'll be banned as well.
On the other hand, you can promote you and your knowledge by publishing great content, just as you do on your blog. For example, you could look for older blog posts which content is still accurate, tweak and add to them, as well as update them and publish it on Scribd.
Make sure that you revised your posts well enough so that they won't just be duplicate content.
When you link your content on Scribd to a site or page, remember that they do not accept shorten URLS such as bit.ly or TinyURL.  You need to share the real URL of your sources.
Keep in mind that they have a strong enforcement of their rules. If you violate them in any way, your account will be terminated, all your content deleted, and you won't be able to create another account. So make sure you double check that your content  is clear of any dont's before you publish.
But don't sweat it too much, though, if you have enough common sense, you'll be fine.
How To Sign up
Signing up is very easy. Jut go to  Scribd.com  and sign up. You can also install one of their mobile apps on your mobile device.
So you know, you can even access previews of content without signing up.
As in any other platform, you should follow other members and build relationships with them.  You'll be able to share yours and other people's content to social media as well.
You do not have to verify your email address when you sign up. you'll be ready to share content as soon as you've signed up right then and there.
Once your content is published, it will look like the screen shot below, (pretty much the same as in a blog post) and people will be able to comment on your content as well, pretty much the same as on your blog as well. In the early days of Scribd content really looked like Word or PDF documents, but now it really looks like a web page.
Your readers can even chose to download your document in PDF or TXT.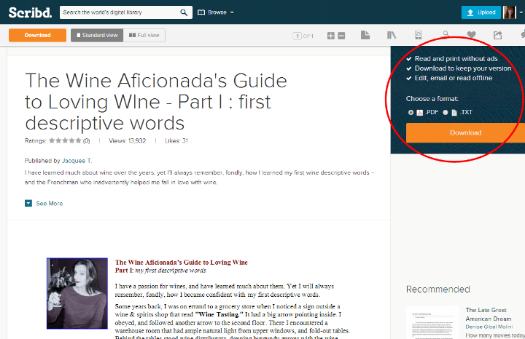 What Type of Content does Scribd Like?
Nothing new here. Scribd likes the same type of content we ALL like, and that any other platform likes as well. Good, G-rated, helpful, educational, informational, or even entertaining, as long as their readers and other people that will find you on  search engines would be looking for and enjoy.
Basically, your reputation will go has high or as low as your content, so only publish content that's worth it.
My rule of thumb would be, if you wouldn't post it on your blog, don't post it on Scribd either.
On each of your publications you will have a short bio appearing at the end of your article with a link to your site, so that content will be directly linked to you. If your content is not of any value, no one is going to want to find out more about you.
Once your content is public your readers will also be able to comment on your work.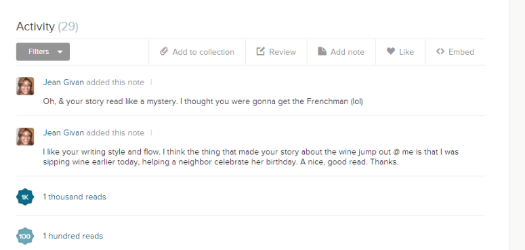 Once your content is live on scribd your readers will have several choices, such as add it to their collection, share it on social network, and like it.  But more importantly, they will also be able to write a review about it and embed it to their own sites or page.
You'd be surprised. Some people will if your content is worth their time.
There isn't that many platforms that would allow your readers to do things like write a review or embed your content, if you ask me. So I think that these options are pretty cool, and can help you brand yourself quite a bit.
How can your Content on Scribd be Found on Search Engines ?
To make sure your content on Scribd is found easily on search engines, make sure you follow basic keyword rules, such as put your keywords in your title, towards the beginning of your article, at least once in the middle, and one more time towards the end.
Make sure your keywords are the right proportion. No specific keyword and you're content may not be found and too many and you might come up as a spammer.
I'm not one hundred percent sure about their rules regarding images, but it would be safer if you'd own the images you post there, which will also come up on search engine in relation to your content.
Conclusion
I think that Scribd can be a great extension to your own blog to spread your wings and increase your traffic generation.
What do you think? Please, give me your thoughts and inputs on that.