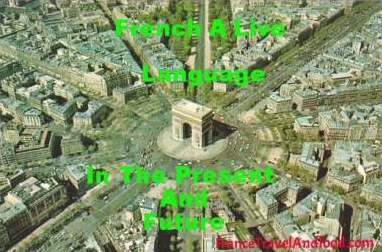 You know how it is right? When you grow up in and around something you tend to have very little appreciation for it.
Not because you're ungrateful, no, but more because the human tendency is to take for granted what they've been born and raised in.
One such thing is our mother tongue, the language we grew up speaking.
Do you Appreciate your Language?
Never did I appreciate the French language until after years living in the US.  When I first landed in New York and joined a group of Americans who wanted to learn French I used to be so annoyed when they wanted me to speak French to them so they could learn and practice.
Back then, all I was interested in was English, English and English. I wanted to speak as little French as I could and was avoiding French people I met there, because I knew that my English was not about to improve with them.
Now, years later, on the other end, things have tremendously changed.
Few months ago, as I was getting in my car after my walk in a park, I heard a couple speaking French passing by.  So I got in the car and swirled by them and asked "Vous  êtes Français?" (Are you French)? This was a stupid question, because the way they sounded they couldn't be anything else, but French. I mean they didn't just spoke French, I knew they had to be from France.
So, of course, not only they were French but they were from Lyon, my own home town. No wonder they sounded so familiar. But I digress. What am I saying all that?
Well, because now that I'm not bathed in the language every day of my life anymore,I do appreciate the French language so, so much more then I used to. I do not take it for granted anymore, and I'm so thankful that what comes in the brain never goes out, because if French I'd left my head, now that I appreciate it so much I'd be crying like a baby.
As much as I studied French literature back in France during my Drama years, never did I appreciate the language as much as I do now. After all, those Americans were right – French is a beautiful language. And what's more is that it's a very popular one indeed.
Some Interesting Data about the French Language
I belong to a few French and France related groups on Linkedin and the other day I found a great article about figures involving the present and future of the French language, and I wanted to share some of this information with you.
French is Spoken all over the World
I learned that French is the sixth most spoken language in the world after (in this order) Chinese, English, Hindi, Spanish and Arabic. Since there are about 6,500 spoken languages in the world, that give us an idea how spread is the French language.
French is spoken in all five continents. They are over 220 million French speakers worldwide and according to a study it's predicted to reach 700 million by the year 2050. So French is on the rise.
On the other hand, I personally know of a few French folks who have married an American husband or wife and settled in the US, and for some weird reasons have never taught their mother tongue to their children.  Those children for the most part are not even able to communicate with their French grandparents, aunts, uncles and cousins. That's sad if you asked me, but I've seen that with my own very eyes.
The French Language in Europe
French is the second most spoken language in Europe with 77 million people speaking the language there, after German with 100 million while English comes only third in Europe with 61 million.
French is the official language of 29 European countries. Demographers forecast that by 2025 French will pass German, and will become the number one most spoken language in Europe.
French is also the language of 72 million people who speak it as a "second mother tongue type" along with their original local language, especially in countries such as Algeria, Tunisia and Morocco as well as other African countries.
French is also taught as a second foreign language in the educational system in most countries around the world which makes it the second most learned language in school after English.
French Spoken as an Official Language
French is one of the three procedural languages of the European Union. The other two are English and German, but it's the only language used for deliberations of the Court of Justice of the European Union.
French is the language used in many organizations such as the United Nations Children's Fund better known as the UNICEF.  The World Health Organization (WHO) as well as the United Nations Educational, Scientific and Cultural Organization (UNESCO), and many others that you can find it here.
More…
Famous plays and stories popular in the US such as Les Miserables, The Three Musketeers, Cyrano, and the Count of Monte Cristo all originate from French authors in the French language. Maybe that's why I don't enjoy those movies in English, and rather see some original versions.
So, your turn now. What else do you know as its roots in French?  Please, leave your thoughts and comments below.