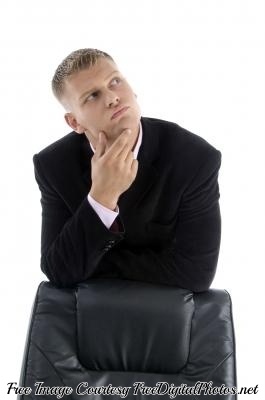 I know that for those who are just starting a blog it can be quite daunting not only to start writing, but writing on a regular basis. Some people like the idea of a blog, but don't see themselves as writers.
This said, no matter how  you see yourself, if you are a new blogger, not only you are going to need to publish content out there, but you probably going to have to write it yourself.  If not, let me know, but for now let's assume that it's going to by the case.
While I'm not someone who believes that you have to write a blog post a day, I do believe that you have to write regularly.  Twice a month should be the bare minimum while once a week would be better.
If you are one of those people who call themselves non-writers, don't feel so bad, you're not the only one. Many people who call themselves non-writers do blog on a regular basis.
What you have to do, however, before you start your blog(or even later if you haven't yet) is ask yourself four important questions which are the following.
What Topics Am I Interested in and What do I Know about?
Do not come to the blogging world thinking that you will be able to blog regularly and with passion if you start off with something that YOU are not interesting.  If you did this, it would make it very tough for you to write right from the get-go.
Give yourself a favor and ask yourself what am I interested in enough so I can blog about it at will?  Or what do I know so well that I could talk about everyday without any problem?
What you know doesn't necessary have to be your passion, but if you know enough about it and take on the habit to write about it often, you might be able to transform such knowledge into something you like. Something you enjoy writing about.
Maybe you used to have a profession that would make you expert in that field.  You could use that knowledge and niche for your blog and build your online business with it.  It could either network marketing, affiliate marketing or some type of service of your own.
Just remember this…
It's better to build your online business around something you know and like. because it's the reason why you will last.
Now, you may be wondering why a freelance writer who writes about all kind of different topics is telling me to write about what interest me.
Well, it's because Freelance writing is a business, and if you're not into the "business" of writing.  You don't NEED to go through the pains of writing about topics you don't know about or don't like.
Also, a freelance writer likes to write and can do it rather easily.  But since you're not a writer, I'm telling YOU to start a blog about a topic that interest you.
What am I Selling?
You might have read on this blog before how much I advise not to write sales posts, because no one is interested in reading sales articles, unless they are really looking for a specific product that they actually want to buy.
So what do I mean by selling?
What I mean is that while you don't want to use your content to sell your business or product, you need to remember that what does the selling is your overall blog and the fact that you are present on it on a constant basis.
Whether you are a network marketer, an affiliate marketer, a freelance writer, a life coach, a web designer, or whatever you may be, you need to keep in mind that you are selling something online while using your blog to promote you.
The more regular you are on your blog and the better the quality of your content, the more people will trust YOU and your service. No matter what you are trying to sell through your blog.
Does my Blog Solely Depend on my Company or Business?
Don't make your blog solely dependent on your company/business.
What do I mean by that?
I've seen network marketers who used to blog on a weekly basis to completely abandoned their blog because they left the company, or the company shut down.  No matter what you are selling through your blog, don't make such mistake.
Even if I ceased being a freelance writer tomorrow I would still write on this blog, because while my blog is the platform of my freelance writing service, it does solely depend on it to survive.
Your whole presence online shouldn't ever be based on your business alone.  Not ever.  It should be based on your passion.  Otherwise I can't see how you would be able to stick with it very long.
Companies fail, businesses shut down, markets change.  If your blog depends solely on those it's not if you are going to be gone, but more like when.
Many of my businesses and blogs are long gone, but I'm still here because "I" didn't depend on such businesses or services, but on "me".
If you want to be online for a very long time, make sure that you do not blog for your company or business, but for you and your readers.
Am I Being Positive?
Now, I'm sure you're wondering what on earth am I talking about here, don't you?
What I mean is that when you write your blog posts don't fall into the trap of writing negative stuff about what you don't like or don't agree with.  This will only show the world that you are bitter about something, and won't give you a very good name.  Besides, this type of behavior can't bring you any type of success.
Why am I even mentioning this?
Well, because I've seen it happened.  I know a blogger who started to become negative about something and started blogging about it more and more often until they were gone.
The very reason that this even started at all was because their blog was based on their business, and such business was the only reason for their blogger to even exist.  When the company fell off, they lost their reason for blogging. This was the first big mistake they made.
Then, what happened was that the said blogger became disappointed, sad and even down right depressed.  Later on, however, the disappointment and depression turned into anger and almost revenge.
Before they knew it, those feelings were showing up on their blog.  Soon after that they were bitter and gone.
Don't let that happen to you!
This is definitely not the way to go with your blog. Don't ruin your blog with your mood swings.
If you have to, write a post letting your readers know that you are going through some things and will be back soon, but again, don't let your frustration and anger be the driving forces of your posts, because you may never recover from such mistakes.
The rule of thumb is this – write about what you are for, not what you're against.  That's a very bad recipe for success.
So, there you have it; four very important questions you need to ask yourself before you start blogging. Actually it wouldn't hurt if you asked yourself those questions at any time in your blogging career.
Now, your turn, let me know what you think… below…