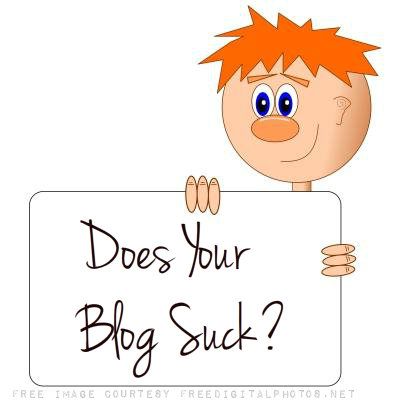 I visit a lot of blogs on a daily basis, and this is one of the main reasons why the traffic on my blogs has triple since this time last year.
While I go about and browse dozens of blogs I can tell which bloggers are serious and which bloggers are not.  Yes, there are tell-tale signs that will give you a clue as for who is a serious blogger and who isn't.
But 'why is it to me if someone is a serious blogger or not', you may ask? Well, this matters to you, because you may not want to waste your time with bloggers who are not serious.  You time is precious and if at all possible you want your backlinks, your time spent commenting on their blog, and the relationship you're trying to build with those bloggers not go to waste. Do you?
So, while we can never tell what people may do one hundred percent, there are some tell-tell signs that you can spot pretty easily.  Once you do, it's up to you if you want to pursue spending time on these blogs or not, but at least you'd been warned.
So let's see.  These are the tell-tale signs that your are not a serious blogger!
1 – Your Blog Looks Amateur
I know we all have to start somewhere, and we may have to go through a beginning phase that is not necessarily very pretty looking.  While I totally understand that, such beginning phase should be ONLY temporary.  This means that after a reasonable amount of time while your blog is looking like a construction site or worse even, a forgotten demolition site, there should be some type of progress going on that should be obvious to the reader.
If you are selling anything at all on a blog that looks very amateur, or unfinished, you can't expect your sales to be very high.  As a matter of fact, you'd be lucky if you make any.
My advice to you is to take care of your blog first and worry about the other details second.  Even excellent content on a very bad looking blog could be a waste of your time and energy.
Your platform is important, guys.  It's a tell-tell sign of who you are. You wouldn't go to a job interview wearing jeans, would you? My guess is that you would dress up appropriately, right? Well, then dress up your blog first, and then try to bring traffic to it.
2 – You are an Anonymous Admin
Now I've been to some blogs where I couldn't see the name or face of the blogger.  I had no idea what so ever who was the owner of the blog I was reading.  If this is you, let me ask you this, why are you online at all?
Who in their right mind is going to want to buy from you, comment on your posts, wanting to share your content, or try to build any type of relationship with you?
There are two things that I must see if I land on your blog (if you want to see me again) is your name and your face.
Anonymous status doesn't work well online, for sure.  It seems that you are trying to hide because you're up to no good. What type of success are you expecting with this type of presentation of yourself?  I'm sure you see what I mean, right?
3- You don't Accept Comments!
Few months ago, I wrote a post about having comments blocked on your site, based on a post that I had read where the writer mentioned that he had blocked comments on his blog.  I'm sorry, but if I can't comment on your blog I might never come back.
Your blog is your number one social media platform, you could ask just about any blogger and they'll agree with that. So, why would you block the commenting area on your own personal social media platform? This wouldn't make sense, would it?
If you have blocked your commenting area, give yourself a favor and let people share their thoughts or ask questions they may have about your posts. You'll be glad you did!
4 – You Have No Contact Form
Now, let's say you have a blog that looks great and I can comment on your post, but I have no way of contacting you, or when I do I can't seem to hear back from you.  What are the chances that the person won't get mad at you, and just leave you alone for good?
I want to be able to contact you in private if I need to; not only through comments.  And I want to get a reply to my request, even if it's a "sorry I can't help you there".
If I ask you a question and you don't get back to me you start losing credibility in my eyes because you don't want to be bothered.  This won't bring positive results for you as far as I am concern, and you won't be someone I want to read from.
Make sure you have that contact page ready, and reply to requests as soon as possible.  You can get a contact form for free with WordPress plugins which offer several options.  The one that I use has a free and a paid version, but you can also use the Clean-Contact plugin, for example, which is another free version of contact form.
5 – You are Writing Sales Content
No matter what you are using your blog for, selling a service, a product, a membership, an affiliate program, or the network marketing business you're in, you shouldn't use your content to sell, but to inform.  If you are a serious blogger and you're here for the long run, you need to be aware, by now,  that sales content is not what is going to attract traffic to your blog.
Sales posts are boring, and no one is interested in reading them or sharing theme. Most smart bloggers won't even want to link to your blog if all you have is sales content.  The selling part is done on your sales page, but not on your blog.
So, there you have it! The 5 tell-tale signs that you are not a serious blogger.  I really hope that's not you. But if you do recognize  yourself here, make the necessary changes and you'll be ready to roll!