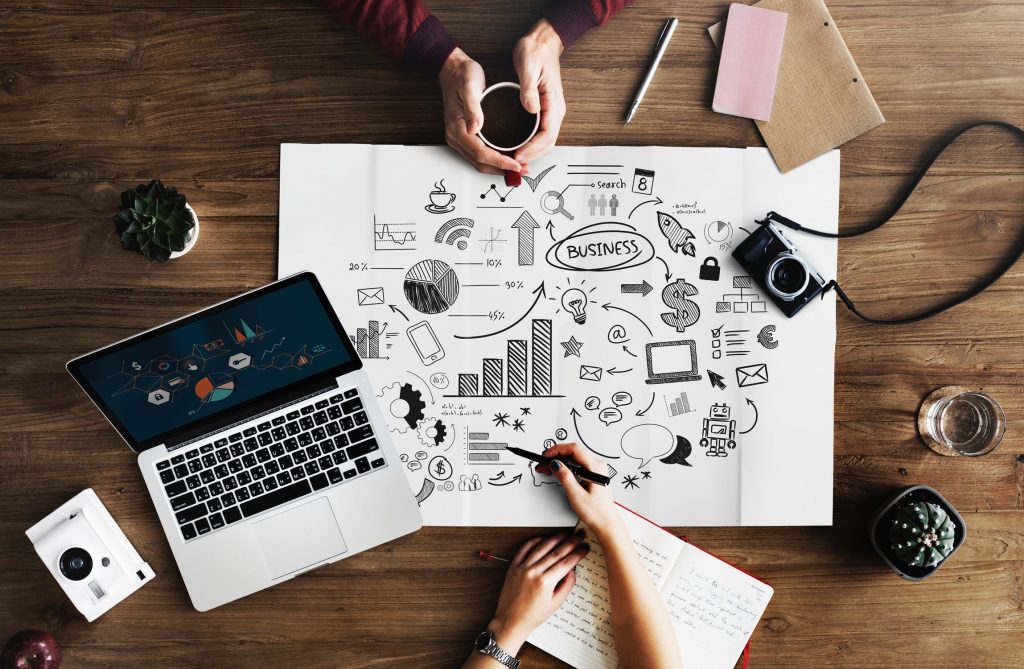 Content. There are oceans of content coming in the form of text and visuals all over the web. Blog posts, articles, social media posts, forums… And each piece of content is a tiny ripple in those oceans – competing with all similar content for a place in search engine results.
Speaking of search engines, Google has become the trendsetter among them, with its complex algorithms, together known as Hummingbird. It uses an AI approach with bots that comb through web content, looking for unique valuable content that it can index and rank for search results.
Content marketers spend enormous amounts of time researching topic ideas and then crafting them into creating content that holds all of the elements they believe will get them a top SEO ranking.
But these pieces of content are still isolated items, competing with all similar isolated pieces.
A Better Way – Content Clustering
What if there were a better way? What if content could be organized and structured in a way that might attract those AI bots in a more effective way?
There is a way, and it is called topic clustering – a system that has been introduced by Google's RankBrain update. Once you understand the basics of content clustering and its enormous SEO benefits, you will never plan your content any other way.
The Basics of Topic Clustering
The concept behind topic clustering is that you can organize past, current and even future content into larger categories. This will allow you to present all related content in a central digital "place". And also will make for more effective and streamlined access by both visitors/users and search engines.
It's not tough. Think of it in terms of a pyramid (others call it a "pillar"). At the top point is a critical piece of content in a general area within your niche. Under that, and fanning out, are other pieces of content on more specific elements of that general area.
Here's a simple example. Suppose you own a comprehensive lawn care business. You craft a "pillar" post on the best types of grasses for each climate/region of the country. Then, you might have several posts on care for specific types of grasses.
Studies have shown that 64% of search engine queries consist of four words or more. This shows us that topic clustering can and will make a difference if implemented correctly. Let's take a look at how content related to the pillar, "SEO in Marketing" should look in a topic cluster:
"Top Tips and Tricks for SEO in Marketing"
"Major trends for SEO in Marketing in 2018"
"Why You Should Pay Attention to SEO in Marketing"
These are only a couple of examples of how a topic cluster should look in practice. What this does for your website and audience is that it makes your entire content structure easier to navigate and access. It's far easier for a reader to find relevant content and stick to the topic he likes rather than being forced to trudge through articles of no interest.
Of course, the other huge benefit is to your website's SEO and how your ranking will be affected. Ever since the above-mentioned RankBrain update went live, Google has made sure that only the most relevant content finds its way to the top of their SERP.
By implementing topic clustering into your content planning, you effectively bar yourself from negative ranking and ensure that you are prominent on search engines across the globe. While that is all well and good, how can you actually implement topic clustering into your existing content planning strategies?
Implementing Topic Clustering
Pillar ideation
The most difficult part of topic clustering is coming up with the pillar for your content. This topic will be the backbone of your content strategy for the next several weeks, which means you should pay close attention to what you choose.
Depending on your niche and the audience for which you create content, there are seemingly limitless possibilities. However, only some of these topics will be viable for your future content cycle. Let's take a look at several questions that can help you determine your pillar content. Answering all of them will give you a good idea of the path to take:
What is the most popular type of content on your website?
What topics do you like to talk about personally?
Which topics can be talked about in several ways without getting stale?
How many articles and pieces of content do you need in your upcoming content cycle?
Topic Brainstorming
Now that you have a pillar set in stone (pun intended), it's time to branch out and create the topics for your cluster. You can easily implement mind-mapping and simply write down all the topics that make sense in terms of your pillar.
Grab a piece of paper and write down your pillar in the center. Make note of every association and idea that comes to your mind in regards to that centerpiece. Before you know it, you will have several fresh topics and article titles to talk about in the next few weeks. Another method is to access a site like Buzzsumo, plug in your pillar topic and you will have a listing of the most popular recent posts in the topic area.
Content Calendar Creation
A content calendar serves several purposes, most of which are connected to scheduling and distribution. Let's assume that you have three articles ready to be posted and three more weeks until your next content cycle. Would you post all three articles at once or space them out across the three weeks?
This is exactly what content calendars are for, and they are essential to maintaining a healthy SEO. According to research, 38% of content marketers post content weekly and on a regular basis. Take all the factors into consideration when planning when to post each piece of content and stick to it. This will allow your audience to anticipate when the next content will drop, and they will come back to your site organically.
Crafting Those Posts
Aye, here's the rub. Whether it is a pillar post or all of those sub-content pieces, consumers demand that they be engaging, often entertaining, and even inspirational. Creativity in developing headlines/titles, the sub-headings, and the content body is a "must-do." Add to this the fact that you are under a deadline, and it's easy to get overwhelmed. Fear not – there is help through a number of tools and services to help out. Here are a few:
Portent This is a cool headline generator tool. You can plug in some keywords and retrieve a huge number of potential titles – humorous, inspiring, serious and based upon your specifications.
Grammarly: This tool is a rather comprehensive checker for grammar, sentence structure, punctuation, and more. Research shows that content should be written no higher than a 7th-grade reading level, and you can get a readability score here.
Tracking & analysis
Last, it's important to track the effectiveness and results provided by your topic cluster. Did your traffic spike after you implemented a new cluster, or did it drop? This can give you a good idea of which topics work and don't, in the context of your site. You can implement several professional tracking tools to make things easier to manage.
Extrapolate the data you collected and plan your next pillar accordingly. The process of using a topic cluster for your content planning is cyclical. This means that you should repeat the thinking you have applied previously, if it worked, and change it if it didn't. The rest is up to your audience and the constantly changing trends.
Benefits of Topic Clustering
The most important question that needs to be addressed is whether or not topic clustering is worth the trouble. There is a multitude of benefits to topic clustering and its implementation in your content planning and delivery. Without further ado, let's take a look at why you should pay close attention to this new SEO technology.
Topic clustering can drastically improve your search engine ranking and make you more visible on the internet. By clustering your content into groups, you make it much easier got users to go through your content. This is something that most sites still struggle with, so pioneering such a system might be of great benefit to you.
It gives your website and business a much greater sense of professionalism, authority, and reliability. Topic clustering is not a necessary feature – many sites operate without it. However, going the extra mile and clustering your content makes for a much more comfortable and quicker reading experience.
Last, topic clustering effectively makes your content look and feel better. By giving your content creators a clear goal with a topic, you will effectively ensure that they are focused on their work. Working on a single topic from different angles allows for high-quality content that would otherwise be impossible with split attention.
Making the Most of It (Conclusion)
It's important to note that topic clustering hasn't made keyword optimization obsolete. Using the right words, formatting your content, and optimizing your multimedia is just as important as ever. Using topic clusters for your content, however, shows that you are willing to go a step further in making sure that the right people see your content and that the search engines can discover it easily – both good things in this competitive ocean.

Author Bio: Daniela McVicker is a passionate digital marketer. Daniela is interested in everything related to SEO and blogging. She works with Top Writers Review and other websites where she shares her experience and helps marketers make their name in the online world.