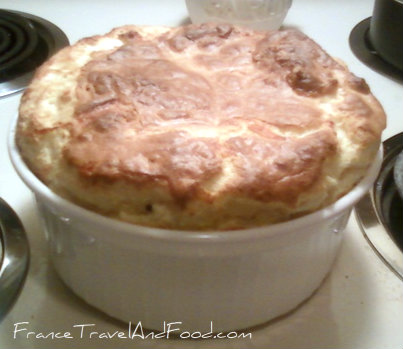 I thought I would do another recipe today.  If you've missed my apple tarte last week, make sure you check it out. And if you are in a mood for a more complicated recipe you can also check my home made brioche with my own step by step pictures.
In this post I wanted to give  you my cheese souffle recipe.  Some people say that souffle is hard to make, but I disagree.  I can make a souffle in less than 20 minutes.  Unfortunately, I do have the measurement only in grams, not cups or ounces and I find it a bit difficult to convert even with the internet.  But if you don't have one, you could purchase a gram scale like the one I have for under ten dollars.

Ingredients for 4 People 
50 g of butter

40 g of flour
1/4 of a liter of milk
4 eggs
100 g of shredded Swiss cheese
half a coffee spoon of salt
Paper
a pinch of nutmeg
Preparation
Separate the yolks from the whites and place the whites in a big enough bowl where you can whip them with an electric whisk.  Place the yolks in a small cup, and leave those the the side for now.
–
Place the butter in a medium size pot and melt it slowly without burning it, and add the flour while stirring with with a whisk for about a minute or two (so the flour will cook). Then add the milk while still stirring until you obtained a thick sauce like mixture.
–
Then add the salt, paper, nutmeg and the shredded Swiss cheese and take the pot out of the burner. Then add the egg yolks while stirring very vividly, so they won't cook.  Stop stirring only when the yolk are completely absorbed and the texture is firm again.
–
Then leave the mix to the side and whip the whites with an electric whisk (unless you're courageous enough to do it by hand). When your whites are ready pour your cheese mix into the whites and stir slowly from top to bottom in order not to break the whites.
–
Pre-heat the oven at a moderate temperature.
Spread butter all over the Souffle case or cases (mold). Spread a bit of flour in it and shake out all the extra by taping the mold up side down on your kitchen counter.  Then pour the souffle mix and put in the oven for about 20 minutes or until golden in color.
You can use the same ingredient and make on big souffle or two smaller souffles for two people as shown on my pictures.
–
You can also watch this is a recipe very close to mine. Sorry it's in French but if you watch how it's done it will be easier to replicate.