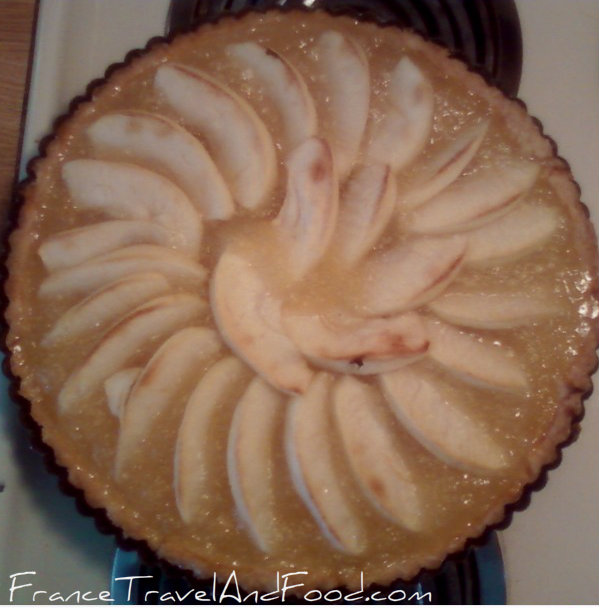 I have to admit that I am a decent cook and baker, but I don't take any credit for it, because I was raised by a mother who used to be an excellent cook and baker.  Yes, a "cordon bleu" as we call excellent cooks in France. She was so good that people always used to tell her, why don't you open your own restaurant?
Everything I Know About Cooking I Know it From my Mother
I grew up seeing my mother make just about everything under the sun, but butter.  She used to even make her own bread and yogurts as well as ice cream, sometimes.  And many kind of deserts.  And last but not least every type of home meals we ever had.  Everything my mother made was from scratch. She absolutely never, ever, bought any pre-made anything.  She used to even make the pasta of her lasagnas. So, you could say that I was raised in the best cooking school in town.

When you spend years seeing your mother cook this way, even if you're not crazy about cooking, like me, you're bound to know some and you will find yourself cooking.  So, thanks to my cooking knowledge inheritance I've been cooking from scratch pretty much my whole life as well.  Some of my recipes are right from my mother and others are my own.
Today, I wanted to reveal my homemade apple tarte from scratch.  When I say scratch, I mean I also make the crust and use fresh apples, only.  Nothing canned or pre-made here.  So, if you are up to the challenge, I am going to give you the recipe of my homemade apple tarte from scratch.
By the way, I've posted the picture of this tarte that I made this pas Sunday, on Facebook, and I've got a few feedbacks.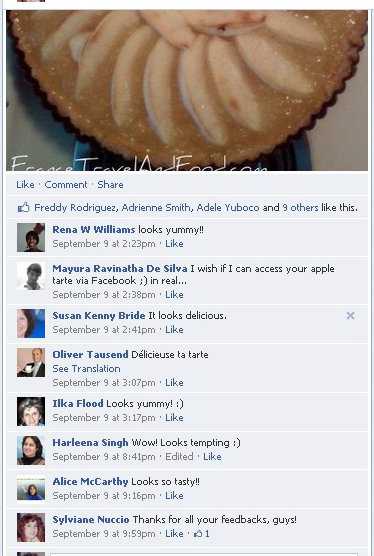 This recipe is for a tarte for 6-8 people.
The Crust
2 cups of flower
1 stick of butter
A pinch of salt
2 table spoons of sugar
1 egg
Half a glass of water
The Filling
5 big apples (golden apples best)
1 cup of sugar
A coffee spoon of vanilla extract
Half a cup of water
 Preparing the Crust
Pour the flower in a bowl and mix it with the salt and sugar very thoroughly with your hand (thoroughly clean of course).
Then add a stick of butter that has been left at room temperature for a couple of hours, and mix the butter thoroughly, with your hands as well, until completely blinded with the flour.
Then add the egg and mix it until completely blended as well. Then add the water and start assembling the dough together without working it too much at all.  It's very important that you do not work the dough as it will make your crust hard.  You should have a very supple dough ball.
As soon as you've got your dough together, spread a handful of flour on a very cleaned and sanitized kitchen counter and start flattening the ball with a rolling pin. Make sure you do not push down to hard as it would be sticky and you won't be able to lift the dough into the tart mold.
Once your dough is spread about to the size of your mold, roll it around the rolling pin and un-roll it into the mold to fit. (Don't forget to spread the mold with butter and flour).  Cut off all the extra dough at the edge of the mold.
Preparing the Filling
Peel and cut four of the five apples, rinse them and cute them in pieces.  Pour them into a pot with the sugar and vanilla extract. Cook until the apple chunks become soft enough that you can crush them into a puree by pressing on them with a crushing kitchen tool.
While the apple puree is cook it's a good time to prepare the crust.
By the time you're done with the crust your apple puree should be ready as well.  Once the crust and apple puree are ready, turn your oven on at 350°, and cut the last apple in two and slice it into thin slices.  Pour the puree into the curst and spread evenly.  Then, decorate with the apple slices.  Put in the oven for about 30-35 minutes or until the top of your tarte become golden color.
It may seem like a lot of work, but with a bit of practice it doesn't take me more than 30 minutes to make that tarte from start to finish.  With apple season starting, I hope you will enjoy making this delicious dessert. Let me know what you think, and if you have any questions as well.  Just use the comment area below, I get back to everyone!
Enjoy!