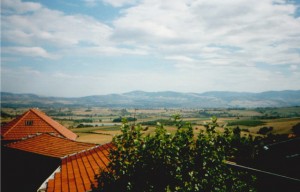 I know, a lot of people who are going to France from the United States are heading to Paris.  If you have never visited Paris, by all means I would encourage you to go there once.  Paris is really one of the most beautiful cities of the world, and like any other large cities, the city has  its share of noise and fast pace life.  However, Paris, also has its beautiful French taste to it with beautiful "terraces de café", parks and quiet river shores where you can slow down and enjoy being there.

However, if you have already been to Paris or if you wanted to get to know other parts the country, Lyon and its beautiful surrounding villages will really make your day.  If you are up to it, I will give you an itinerary to follow that should satisfy your eyes and palate without a doubt.
Take Advantage of the TGV
If you land in Paris you can take the TGV train and be in Lyon in just two hours.  The Paris-Lyon TGV was the first line of the now huge TGV network in Europe.  For the first time in 1981 the fast train joined the two cities in just two hours on a non-stop trip.  I used to take the TGV to go back home every month when I was living in Paris.  If you have never been on the TGV, you need to try it.  It's very affordable and the most comfortable train you'd ever have the chance to ride.
There is a TGV train station right at the Charles de Gaulle's airport and you could be in Lyon by train before you'd board your transfer flight.  I should know because I've been there and done that!
The City of Lyon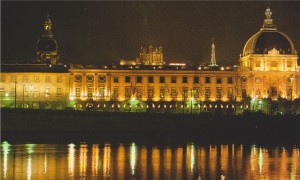 Once in the city of Lyon, you should have no problem traveling around the neighboring cities with the subway, the buses or tramways.  You will even have access to a low price  rental city car service or even bicycle renting system created in Lyon if you are up to it.  Whatever mode of transportation you will be choosing will allow you to move from place to place in the city without any problems.
The Lyon metro (subway) first opened in 1978 with two lines.  I remember still this  beautiful orange train with a super modern look; with a dark beige interior and orange seats matching the color of the cars.  There was a digital female voice announcing the station coming up, and again once the train had made a full stop just before the doors opened.  Back then, when compared to the much older and  not so clean subway of Paris, the subway in Lyon was a breath of fresh air.
The metro in Lyon has now 4 lines called line A (red line) opened in 1978 line, B (blue line) opened in 1978, C line (orange line) opened in 1981 and D line (green line) opened in 1991.
Each of those lines will take you from Lyon to the surrounding cities such as Villeurbanne, Vaulx en Velin, Venissieux, Gerland, etc…
Enjoying the Regions around Lyon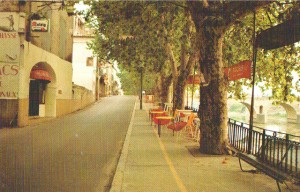 The regions around Lyon are called "Les Monts du Lyonnais" (the mounts of Lyon area) because Lyon is surrounded by hills and small mountains.
To me the most obvious difference between being in Paris and being in Lyon is that Lyon has a much larger and more beautiful surroundings than Paris does.  Paris is surrounded by flat looking plains while Lyon is surrounded by beautiful hills, mountains, vineyards, and old beautiful villages that will be worth your while.
I grew up in a beautiful small village 20 minutes up the hills surrounding the big city.  On a clear weather day I would go all the way to the highest part of my garden and see the large city of Lyon and its eternal famous flame from the infamous refinery of Feyzin, an industrial two just outside of Lyon.
Saint-Sorlin, the village that I grew up in was as far from the hustle and bustle of the city as it could be, but what's amazing is that it was only a 25 minute drive from it.  In that village, however, as I like to say, there were more cows than cars passing by for years.  As time went on, the number of cars increased of course, but to this day, Saint-Sorlin in the department of the Rhone is still a small and quiet typical French village.
The Beaujolais Region
Another great place to visit while you are in Lyon is the Beaujolais region and all its wine tasting places, of course.  The Beaujolais vineyard region includes Julienas, Moulin a Vent Fleurie, Chiroubles, and more. The grapes harvested in each region make the wines baring the same name as the region they come from.  If you happened to be in Lyon do not miss the Beaujolais region located only about 20 miles north of the city.
The Monts du Lyonnais area, will offer you a not only a breath of fresh air from the large cities, but will introduce you to the deep France that you will fall in love with.