Pérouges, France is one of the most beautiful and  ancient villages in the world.
Pérouges is a medieval village leaning against the plateau of the Dombes, Pérouges is located on top of a hill overlooking the vast plain of the department of Ain.  This beautiful ancient French village is located about 25 miles north east of Lyon.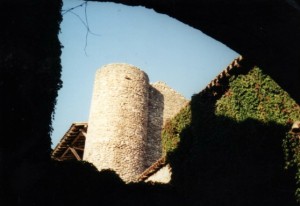 This middle age village has been preserved as it was over 4 centuries ago and is now a delightful sight for tourists to explore and enjoy while they go back in history walking the narrow, uneven, and pebbled streets of the village.
Pérouges has been nominated one of the most beautiful villages of the world and it's definitely one of the oldest preserved one with no new construction of modern times what so ever.
Entering The Old Village Of Pérouges.
You can enter the old village only through two doors which are called "Porte d'en Bas" (bottom door) and "Porte d'en Haut"  (upper door) which both access to the "Rue des Rondes" a street with modest little homes built of stones and pebbles and against one another with no foundation.
As you walk along the narrow streets where most cars of today would not go through you will find La Place de la Halle (Halle Plaza) where a magnificent tree call the Tree of Liberty was planted in 1800 and still standing.  For this reason this plaza is also called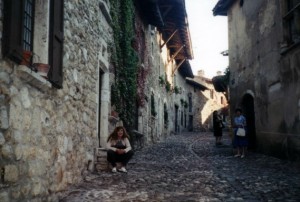 La "La Place du Tilleul" (the linden tree plaza) which is one of the best preserved areas of the village with the old tree a live testimony of an ancient village still standing.
Another reminder of the ancient history of Pérouges is the low door entrances inside the houses which is a reminder to us that people where shorter back then.  Many door entrances are no taller than 5 feet.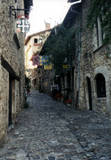 As you go along you will also come across the church-fortress with its central nave keystone of arms of Savoie.
Famous Pérouges
The unique look of Pérouges has attracted many filmmakers and a few movies have been shot there.  The Three Musketeers was one of the several movies that have used Pérouge as a setting for their story.
Pérouges  has also received pregistous guests such as French artists and writers like Saint-Exupery, Academie Francaise member, René Clerc and more recently even American ex-president Bill Clinton
History of Pérouge
It is believed that Pérouges was founded by a Gallic colony returning from Perugia in Italy thus the French name "Pérouges" The Romans built a tower marking up the valley road used by its signal to the defense of Lugdunum.
In 1909 Pérouges was threaten by demolition and saved by Anthelme Thibaut who started a campaign against the demolition and saved the middle age village.
In 1911 a consolidation and restoration of Pérouges was ordered started by French president Edouard Herriot in order to preserve the village and has continued until today.
Wineries and Bakery
You will find few businesses in Pérouges as well as  two winery and a bakery in Pérouges.  Being located near the region of Beaujolais the wine that you can find in Pérouge will remind you a Beaujolais nouveau.
The bread and pastry sold in Pérouge bakery (boulangerie) is cooked the all fasion way with with wood fire.
If you are planning in going to France, in the region Lyonnaise, make sure you come by this beautiful antique village called Pérouges.
Visit Pérouges