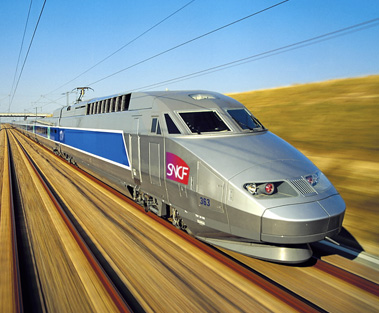 Can you believe that the TGV is over 30 years old?  The first TGV line was serving Paris-Lyon – Lyon-Paris in just 2 hours covering the 450 kilometers or 280 miles separating the two cities. This trip used to take at least 5 hours by regular train or by car.
If you are planning a trip to Europe, you might want to know how the TGV can affect your stay because of the traveling speed that the TGV offers to go from city to city and country to country in a matter of hours.

The TGV Train Changed the Way People Looked at Traveling in Europe
When the first TGV was introduced in 1981, I was just a kid, and little did I know that I was going to get on that ride Paris-Lyon /Lyon-Paris about 100 times while I was living in Paris.  I rode that train once to twice a month to see my family back home.
Needless to say, that without this incredible public transportation device called TGV (for Train a Grande Vitesse – literally Train at Grand Speed) my life in Paris would have been very different.  When you think that a long five-hour trip became a quick two-hour cool ride with no stop, there was no longer any reason for anyone living in either Paris or Lyon not to be tempted to travel often.  You could now have breakfast in Paris and be in Lyon for lunch and back to Paris for dinner.  That was better than any flight could offer, since the airports are way outside of both cities at about a 30 minute drive from and to both downtowns.
I used to love the TGV.  On top of it all it was and still is the SAFEST way to travel hands down, and at a very reasonable price – much more economical than flying. The TGV is so safe that even if something happens to the driver, the train's computer detects that there is no one at the commands and stops after just a few seconds automatically.  We certainly couldn't say that about cars or even plans.
It's because of all such great advantages that this fast train offers to the consumer that the TGV expanded a hundredfold since its birth in 1981.  Now TGV is serving all main cities in France and other European countries.
You can Go Just about Anywhere with the TGV in Europe Today
A couple of years ago I wrote about all the different TGV trains that exist today throughout Europe and you can go read this if you want to learn more about TGV history as well.
Today you can travel to France, Germany, Italy, Spain, Belgium, Switzerland, Netherland, and the United Kingdom with the TGV in a few hours.  You have to admire the tremendous progress from the first line 30 years ago.  Not only France became smaller with the TGV, but now the whole Western Europe linking all major cities in a matter of hours has become smaller too.
France still has the most TGV lines, called LGV (Lignes Grande Vitesse -lines grand speed) in whole Europe and you can now travel from and to any major cities such as Paris, Lyon, Marseille, Lille, Bordeaux, Grenoble, Valence, Aix-en-Provence, Dunkerque, Calais, Le Havre, Dijon, Lourdes, Mâcon, Montpelier, Nîmes, La Rochelle, Toulouse and Nice to name just a few.
Beyond the major cities of France you can travel from and to Brussels, Belgium linking 30 different cities in France to Belgium. You also have 7 trains a day traveling from Paris to Geneva, and 5 trains traveling from Paris to Lausanne in Switzerland.  There are two trains a day traveling from Paris to Bern, 4 trains a day traveling from Paris to Zürich and 3 trains to Munich in Germany.
There are 3 trains a day that will take you from Paris to Turin, Milan and other smaller cities in Italy and two trains a day that will take you from Paris to the Costa Brava, Barcelona and other cities in Spain.
You can also travel five times a day from Luxembourg to Paris and back.  Three trains are traveling from Paris to Amsterdam, Netherland every day as well.  And last but not least, there is a Paris-London every hour which take you from Paris to London is just 2 hours and 17 minute.
If you are planning a trip to Western Europe, this summer, make sure you enjoy this formidable ride.  check the video below. Very impressive test speed of the TGV.
TGV Speed Test 574 Km/hr (356 mph)
So, what do you think?