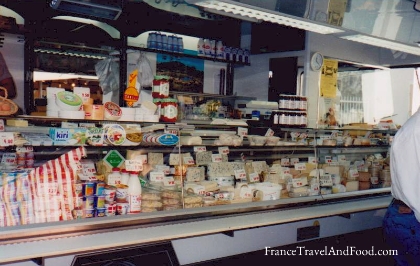 France is most definitely the country of food. I have to say that if you haven't been to France, you can't imagine how much food we have there.  Go to any food stores France, and you will understand what I mean.
I haven't been in all the countries of the world, but I can tell you that among the few countries that I've been, France has nothing to envy anywhere when it comes to food variety and quality.

Maybe that's why most business close at lunch time everyday in France.  The enjoyment of food and the time eating it is sacred there.  And when it comes to Sunday extended family dinners, there are feasts. Just writing about this brings me back to mine and make my mouth water.
Yes, French people just love to eat, but most of all they love to enjoy the food and wine of course.
Food stores have the largest food stands you'd ever seen.  No, I'm not kidding or exaggerating. I've yet to find a store in the US with food stands that size and with such variety.  This is something my mother always used to say when she came to visit me here.  She used to say, "there's no choice here".  I knew she was right. Not when you used to more.
On the other hand, when I took my best friend from New York to France, she was so impressed that she took pictures of food stands, which almost got us in trouble in one of the large stores where we were noticed by management.  The manager of the store was threatening us to destroyer her film (It wasn't a digital camera back then yet).
To get the manager off our back I told him, don't worry, Americans are not interested in copying your stuff. However, thinking about it now, I wonder.
Yep, I had to put on my best act to save my friends film.  Looks like French don't to have their food stand reproduced abroad.
There are many different foods from France that I really miss.  The reason why is because these foods can't be found in the US. period. Believe me I looked for them.  However, because of the online world these days you might be able to find them online at a higher price.
So here is my list of 8 foods (and drinks) that you can find in only in France.  Next time I'm in France I'm afraid I'm going to stuff myself with them all.
Quenelles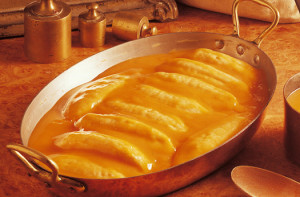 The Quenelle is a food from the very region I'm from.  Quenelles are sticks made out of a specific type of dough with either poultry or fish.  I've never actually made quenelles, as it is not an easy task, just prepare and eat them.
They are prepared mostly casserole, but other ways as well. My mother usually prepared quenelles with a tomato sauce just like pasta.
There are just delicious for with lunch or dinner.
Paté en Croute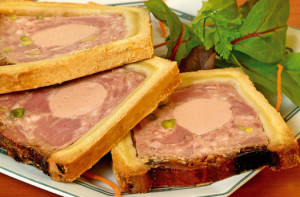 I remember the last time I went to France I rushed to buy me some paté en croute. Humm I've always love paté en croute, and I've looked for this French food here desperately, but could never find it, not even in New York City.
Paté en croute is eaten mostly as an "entree" before main course.
Saucisson Bioché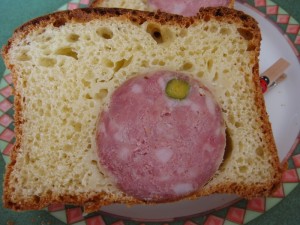 The Saucisson in Saucisson brioché Is a special raw sausage that you cook alone or wrap in a brioche.  My mother used to make the best saucisson brioche ever!
It's is good hot or cold with or without the brioche.  In France it is usually served as what we call "en entrée" as well as Paté en croute.
Saumon Fumé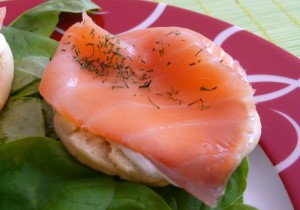 This year, for Christmas, I thought that I'd finally found some saumon fumé, but man, was I disappointed.  The test of saumon fumé (smoked salmon) in France was so much better, that I sworn I'd never buy this  here again.
In France smoked salmon is cut in very thin layers, and sold especially around the holidays.  What I thought was a pack of those thin slices was a block of not so tasty and too salty smoked salmon.  Only the color and the name was the same, nothing else.
Pâtisserie fine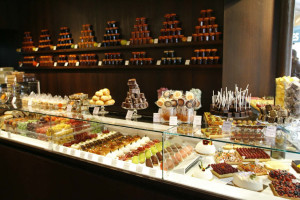 When you're from France and see for the first time a sign that says "French pastry" you think that you're going to get the same pastry you find in France, but after a while you realize that's not going to happen.
I resigned that the only place I'll find real french fine patisserie, well , is in France.  One of my first cousins married a pâtissier (how we call people who make who make pâtisserie fine), and sometimes on Sundays I would go there and eat one of each of those.
Hmm, I could drop dead eating them.  It is so darn good!  But of course very fattening.   I'm glad I didn't live there!
Now how different is a real French pastry from an American pastry, you might ask?
Well, I'm never tempted by American pastry.  Yep, that's that different.
Once in a while I go to one of the "French bakeries" but it's still not the same.  Even a French Pâtissier here in North Carolina told me herself that she can't make pastry the same way here as she did in France.  The flour, yeast, butter, eggs, everything is different, so the taste doesn't come out to be the same, even if it's close at times.
Le Nougat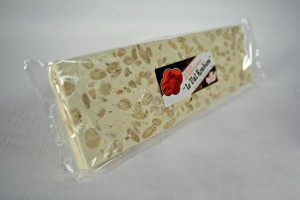 The Nougat, just like the quenelles is a regional food, and you can find it mostly in the Montélimar region which is the nougat maker in France and the tastier in the whole country.
Nougat is a candy made out of egg whites, honey and almond. It's delicious, but not all nougats are equal.  The best is found in Montélimar.
Sirops de Fruits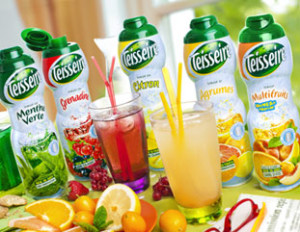 I so love sirops de fruits (Fruit syrups).  Now, sirops have nothing to do with coulee or sodas. It's a syrup made of the fruits. It's very concentrated and very sweet and you just pour half an inch in a tall glass that you fill with water.
If you don't like plain water, like me, it's an excellent way to drink it while being healthy.  My favorite sirops are Anis and Menthe, but they have all the fruit flavors under the sun.
Marie Brizard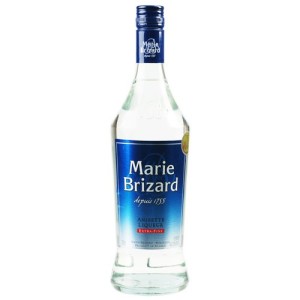 Marie Brizard is a sweet, clear and thick liqueur.  Even though I'm not a fan of liqueurs and alcohol drinks besides wine and champagne, I love Marie Brizard.  I tried to find it here, but wasn't successful either.
So, here you have it! the 8 French foods that you won't find in the US. Tell me what you think, share your thoughts in the comments below.