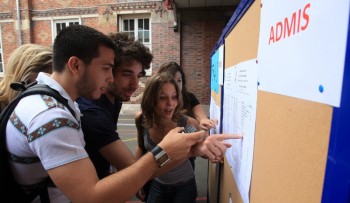 I know this is more a time to think about vacation than school, but hey, August and September will be upon us before we know it, so how about learning how the education system works in France.
If you like it, you might go over to my friend Annie Andre's Practical Adventurology  and learn how you can leave in France for a while and benefit from such education system.  Why benefit?  Well, keep  on reading and you'll understand what I mean.

The Differences Between the French and American Education Systems
The education system in France and that of the United States is very different. It's different as far as the levels are called, it's different as far as the level of education is concerned, and it's different when it comes to the cost of high education as well.
As many of you probably know, America is built on making money and finding any way possible to that effect.  So its no surprise why the schooling system is built that way also.  The education system in the US is created in such a way that makes students go to college for both getting a decent education and finding a decent job while they're paying big buck for it.
Before I understood this I had always wonder why French people were way more educated once they had their Baccalauréat than when Americans got their High School diploma which is both obtained at age 18.
I will explain why this is the case down below, so bare with me and see how the education system is divided in France.
How is the French Educational System Divided?
The French education system is divided in four main sections
– Ecole Primaire (Primary school)
– Ecole Secondaire (Secondary school)
– Ecole Supérieur (High School)
– Hautes Ecole (College)
Those four sections go from kindergarten to Doctorate.
How Levels are Divided
Ecole Pimaire includes (Nursery School)
Ecole Maternelle (kindergarten) from age 3 to 6
Ecole Elementaire (Primary School)
– Cours Préparatoire abbreviated – CP (first year of education) from age 6 to 7
– Cours Elémentaires first year – CE1 from age 7 to 8
– Cours Elémentaires second year – CE2 from age 8 to 9
– Cours Moyen first year – CM1 from age 9 to 10
– Cours Money second year – CM2 from age 10 to 11
Collège (Junior High)
– Sixième – 6e from 11-12
– Cinquième – 5e from 12-13
– Quatrième – 4e from 14-15
– Troisième – 3e from 14-15
Lycee (High School)
– Second – 2nd from 15-16
– Premiere- 1ere from 16-17
– Terminal 17-18
At the end of the Terminal students pass what is known as the Baccalauréat (commonly called Bac) at age 18 and can decide to go the Université (University), or Hautes Ecoles (High Schoools – college in the US.)
The reason why people who graduate with a Baccalauréat at age 18 are more educated than people who graduate from High School at the same age is because the 3 years of Lycée from Second grade to Terminal are of the level of American 3 first years of College.  So, basically a student with a baccalauréat who is 18 to 19 years old is at about at the same level of someone in the US who has 3 years of College.
After that, in France, you can get your Licence (Bachelor), Master (Master) or Doctorat (Doctorate).
Licence is usually obtained 2 years after Bac, (it's commonly called Bac+2)
Master is usually obtained 4 years after Bac
Doctorat is obtained 7 years after Bac
Because America is founded on making money, it's better for the country to make people go to college since it's where the money is made with high tuition. Thus the High School education is lower than its equivalent in France.
How Much Lower is the Cost of Education in France?
The information below was taken from About-France.com.  Now remember that one €uro is about more or less two dollars (less at the moment of this article.)  So, a 250 €uros a year tuition for one student would be about $500 a year. How would you feel if you could go to three years of college at $500 per year?
[box type="info"]Student fees in France Basic standard student fees in France for the 2011-2012 academic year are 181.57 €uros per year for undergraduates, and 249.57 € per year for post graduate Master's courses – plus a few extras that may add on less than 100 €.
Students are also eligible for subsidized student restaurants, basic but very cheap student residences (though demand well outstrips supply for rooms in residences) bus passes and discounts in many places.
In addition, students from low-income backgrounds get grants; French student grants in 2010-11 vary from just exemption from paying tuition fees, to exemption + 4370 € per year, and are means related. [/box]
This is why education in France is not a burden on families as much as it is in the US, and just about anyone can get a good education there for little money.
Even if you go to Hautes Ecoles Privées (private colleges) you will only pay between 3000 to 7000 €uros per year, thus anywhere between $4,000 to 15,000 in US dollars. Still a far cry to the $30,000+ a year for an American college.
I thought that this subject was worth mentioning as many people in the US might not be aware of those huge differences the French and American education systems.
So, what do you think? Give your thoughts and comments down below…