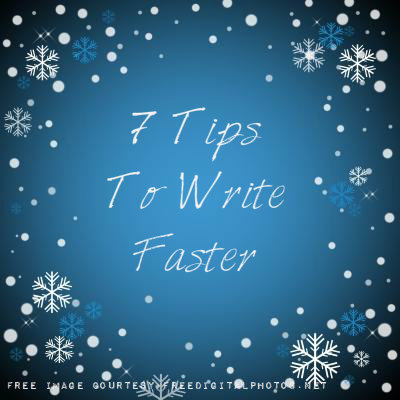 We are all leading busy lives and we all need to find ways to do things faster, and that goes for those of us who write on a daily basis on our blogs, or other platforms online.
As for me, I am getting busier as I am getting more business, and that's great, but this made me think.  How can I find ways to improve me writing speed?  I have to say I am already a fast writer, but there's always room for improvement, isn't it?
By the time you reach the end of this post I'd love to hear what YOU do to improve your writing speed, but before you do, let me give you a few tips that may improve your writing speed.  Especially if you are still knew at writing online.
1-      Learn How to Type
When I say writing speed I'm not really talking about how fast you type, but if you can't type, it will slow down your work tremendously.  So, it may sound weird to you, but this is my  first tip to you.  I happen to know a bunch of people off line who can't type, and I that includes  someone who wrote a book, so I'm not kidding, this reminder is needed.
If you don't know how to type without looking at your keyboard using all your fingers, you need to learn.
Ouch! I know "learning" is a bad word.  I mean by that it's a word that according to some study doesn't ring with pleasure for the human brain.  But let me appease you right now, learning how to type is much easier than you think.  You can buy a non-expensive CD tutorial that can help you type like a pro in less than a week.  As a matter of fact, about 10 years ago I didn't know how to type either, but I learned in about 3 days with this type of tutorial.
So, if you don't know how to type, give yourself a favor and get one of those typing tutorial CDs that you stick in your computer and just run.  Learn how to type like a pro using all your little fingers.  You'll be so glad you did.
2-      Write During the Hours you are Most Alert
Some people are morning people, like me, and some people are night owls. You are most likely to write faster when it's your time of the day.  In my case, my brain works twice as fast in the morning and that's when my writing is coming easier, faster and better.  It's like all the ideas take root in my sleep and are ready to come out in the morning.  What about you, when is your brain working on over drive? That's when you will be able to write the fastest.
3-      Be a Blogger/Writer 24/7 not only when you're Online
If you think about writing ONLY when you're about to start writing, you will always be short for ideas and, therefore, short for speed.  Even if you have a day job, even if you're away from your computer hours out of the day. You need to think about your writing all the time.
If you think as a blogger, internet marketer, or online writer all the time, ideas will come to you on a regular basis.  When you are ALWAYS looking for ideas to write about, your writing speed improve automatically.  When the idea is there, the writing is FAST.  If you run short of ideas sometimes, check this blog for tips to never run out of ideas to write about.
4-      Know your Niche Well
If you know your niche well it will be an easier and faster write.  Believe me I know. I write much faster when I know a great deal about the my topic.  If you're a freelance writer you are not always going to write within your niche – that's part of the game, but if you are a blogger, an affiliate marketer, or network marketer, choose a niche that you know well or get to know your niche inside out from the beginning.  Once you do, your writing will take up speed.
5-      Take Notes of All the Things that Sparks your Interest
The more notes you take about interesting ideas and topics to write about the faster you will be able to come up with an article idea.
For most people what prevent them from writing fast is lack of ideas, so make sure that you collected your ideas in a notebook, either a physical one or one of those online notebooks that you can download on your computer such as Evernote or OneNote, for example.(not affiliate links).
6-      Keep your Introductions Short
Short introductions will greatly improve you're your writing speed. If you get lost in long never ending introductions you will lose track of what you want to talk about in your post or article.
The introduction is meant to keep the interest of the reader live after they've been attracted to your article by your good headline, but the shorter the introduction the better efficient it will be for both your writing speed and your reader.
7-      Use Sub-Headings
Using sub-headings will not only guide your reader through your article better, but it will guide your own writing and  help speed it up.  It takes more time to write a long on-going article than writing 2 or 3 paragraphs under each subheading.  If you are not aware of this yet, try it and see what happens!
Just by pre-writing your subheadings or stop writing after 2 or 3 paragraphs and start again under a new subheading will really help you write faster.
Those are 7 easy steps that can improve your writing speed if you start applying them now.
 So, your tun now. What do you do to improve your writing speed?