This is an excellent guest post from my friend Annie Andre who lives in France with her family.  She coaches people how to move abroad on a budget, and today she wrote a post about 5 delicious traditional foods that real french people cook at home. So, enjoy!
Say the word French food and and what do you think of? Fancy gourmet meals with heavy cream and butter sauces? A big plate of snails and frog legs?
These are the stereotypical meals popularized by the movies and by eager tourists who dine at French restaurants around the world. What you don't see in the movies or can never know by visiting a French restaurant is what real French people cook at home for their families.
What does the Typical French Person Eat at Home?
What exactly does the typical French person cook at home? The answer to this question is "it depends" because just like there are different regional foods from your country, there are also many different regional foods eaten throughout France.
For instance, dishes that originate from the north typically have heavier sauces with cream, butter and roux while in the south where it is warmer, there is a lot of fresh produce and seafood's.
5 Traditional French Foods you will Love to Cook at Home
I asked a bunch of my friends here in France what they cooked for their families at home.
Then, I took their answers and whittled it down to the top five dishes which I thought would have a wider appeal to the non-French palette.
In other words, I excluded things like boudin (blood sausage), escargot (snails), soubresade, cows tongue and other things that many non French folks might be scared to try.
What I ended up with are five family friendly meals eaten throughout ALL of France that I thought would also appeal to non-French folks.
I hope you enjoy them as much my family does.
1- Boeuf Bourguignon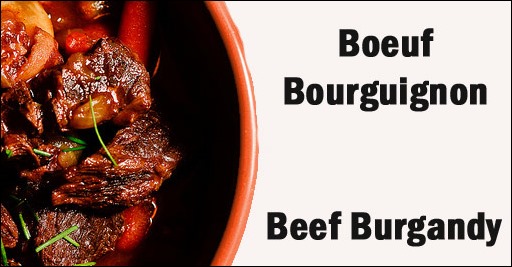 Want to impress your friends and make your family happy?
Make them Beef Bourguignon, a very rich and oh so traditional French beef stew which get's its name from it's birth place in the Bourgogne region (Burgundy region in English).
This iconic beef stew is enjoyed by French people throughout all of France but it wasn't always this way.
This dish used to be strictly a dish made by peasants for their families. Peasants tenderized tough pieces of meat by first braising cubed beef and then slow cooking the meat in red wine (usually burgundy wine) and a beef broth seasoned with garlic and various herbs for a minimum of 12 hours in a stone pot. Then towards the end they added , onions, mushrooms and carrots.
These days the recipe has evolved and it no longer needs to be cooked for 12 hours but one thing hasn't changed. Red wine is still used to tenderize braised pieces of beef and it's still slow cooked for several hours. The result is a rich stew with tender pieces of meat that will make you think you died and went to heaven.
This is not only a great dish to cook for your family on a cold night but also for diner guests. Serve with egg noodles or baguettes, a nice tossed salad and some red wine and your guests will think you are a cooking god or goddess.
2 Tartiflette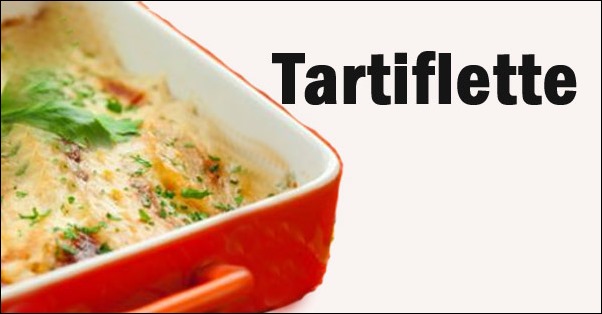 Imagine, sliced potatoes, onions, bacon, crème fraîche and cheese all mixed together in a casserole and baked in the oven until the cheese is melted to perfection. This is the basis for tartiflette.
Unlike Beef Bourguignon, tartiflette is not an ancient dish concocted by peasants centuries ago. Tartiflette is a relatively new dish created in the 1980's to boost the sales of Reblochon cheese, a creamy aged cheese from the Savoy area in the Rhône-Alpes Region.
Tartiflette quickly became popular among skiers and today you can find tartiflette everywhere from Paris to the French Riviera. Where we live in the south, there are even tartiflette pizzas which are out of this world.
If you are a vegetarian, just omit the lardon (bacon) and if you can't find certain ingredients like Reblechon cheese, just substitute with another creamy cheese like brie, camembert or even cheddar cheese. Just don't use mozzarella because it's too chewy and stringy. Crème fraîche is another thing which you may not be able to find so substitute with sour cream or heavy cream.
Serve with a nice salad and you have an entire meal everyone in the family will love.
4- Blanquette de veau – Veal Stew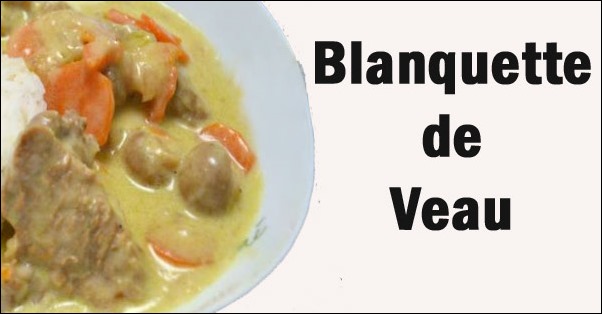 Blanquette de veau is another very traditional French dish but this one was created for the Rich bourgeoisie.
These days everyone eats this iconic dish and you will find it in all the French cookbooks, on all the French cooking sites and in many classic French restaurants.
What differentiates this dish with other French stews is the meat is not braised but rather poached and the sauce is white, hence the name Blanquette.
The white sauce is thickened with a mixture of cream and egg yolks. Mushrooms and carrots are the most common ingredients added to this stew and it is usually served with white rice not potatoes.
Cook this meal and you will be transported back to the times of the rich French bourgeoisie.
5-Ratatouille: Vegetable Ragout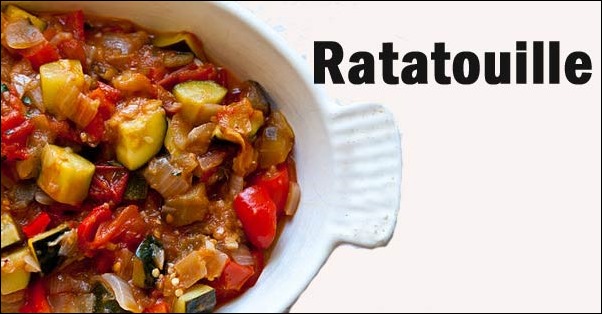 For you vegetable lovers out there, you can't go wrong with ratatouille, a very traditional French Provençal dish dating back to the 18th century from Nice in the south of France.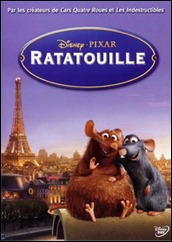 This dish was popularized in the U.S. and throughout the world through the Disney animation hit in 2007 called Ratatouille about a small rat who loves to cook and ultimately creates the best tasting ratatouille.
Ratatouille gets it's name from the verb "touiller", which means to toss or mix together and that's just what this dish is. It's a ragout or stew of mixed vegetables: tomatoes, eggplants, onions, zucchini, garlic, bell peppers and various herbs. Much of the flavour is in the tomato's.
The abundance of summer ingredients and the endless number of ways it can be served and cooked is probably one of the reasons why this dish is so popular in France.
You can serve it as a side dish, as a main dish, hot, cold, with pasta, with rice, with bread, in an omlette and even as filling for crepes.
It's often made in bigger batches to ensure there are leftovers because it tastes even better the next day after all the herbs and ingredients have had a chance to meld together. .
Do a quick search online and you will find a gazillion recipes out there all using different cooking methods. Some say to chop the vegetable while others say to slice and layer the vegetables. Some say to fry this dish first while other say to bake it straight away.
I prefer frying first and the baking this hearty vegetable ragout slowly and I only use the freshest produce I can find.
3- Moules et Frites: Mussels and Chips (Fries)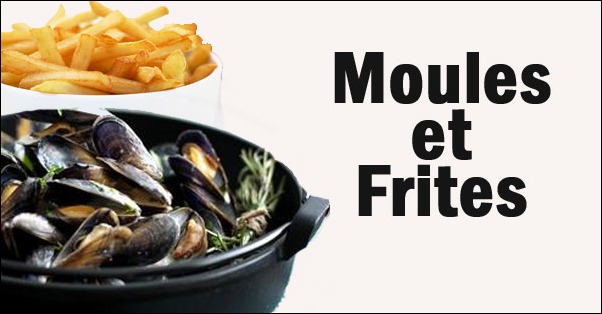 For all you shell fish lovers, there is nothing better than cooking up a big steaming pot of mussels smothered in garlic and white wine sauce served with a heaping side of home fries to dunk in the sauce. MMMMMMMM.
Thought to have originated in Brussels (north of France), this dish has infiltrated every nook and cranny of France. No matter where you go, you can find moules et frites in upscale restaurants, downscale restaurants, it's even served at the schools my children attend including my daughters preschool.
Moules et frites is the second most favourite dish in all of France. Second only to 'magret de canard' or 'duck breast' according to a survey conducted by TNS Sofres, (Société française d'enquêtes par sondages) the number one French marketing and opinion survey institute in France.
Because of it's popularity throughout France, there are many recipes and sauces that this dish can be cooked in. I have seen over 100 different so far and I am sure there are more. Here is just a sample of the different types you can get.
Garlic and cream
Moule frite au roquefort
Moule frite au Chorizo
My husband Blake loves moules et frites with pesto sauce,
But the most famous recipe is without a doubt the Moules marinières which is mussels in white wine, garlic, shallots and parsley.
This is an extremely easy and inexpensive dishes you can make in no time. It literally takes minutes to cook the mussels. Serve with your favourite wine or cold beer to truly experience this dish as many French people like to eat it.
Conclusion
These five dishes are only just a handful of the dishes that French people eat at home. I hope you'll explore more French home cooking because it's so much more than what has been popularized in the movies.
What's your favourite French Food?