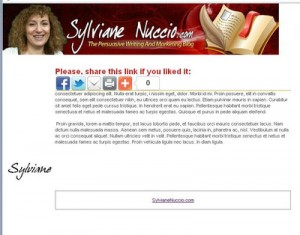 Aweber is without a doubt the most popular auto-responder service out there.  Amongst the thousands of internet marketers sending promotional emails out there, the greater number of them is using Aweber.  Curiously, however, most of them are still using this very plain and rather boring and non-appealing Aweber email format.
What's Wrong With That?
Well, we've dealt with this format for years, haven't we?  We sure did, but Aweber is now giving us the option to customize our email template to help each one of use stand out from the others.  If you are using Aweber as a marketer, why wouldn't you want to take advantage of this?
This is 2012 and the old plain looking Aweber format doesn't have to be anymore.  As a matter of fact, some people have already made the switch to their own customized Aweber email templates.
Do you Want to Know How it's Done?
Since I am participating in Barry Wells' video challenge I thought that it would be a great opportunity for me to show you how you can create your own customized Aweber email template. in just minutes.
In this video you will learn how to:
Upload an Aweber template that you can customize to your own template.
Add your own header
Add your custom signature
Add social media icons
Make you you have a little cheat sheet with the following:
The URL of the picture of the header you want to use
The HTML of your signature
the HTML of the social media icons
Let's see how….
You can even customized further than that.  Just play around and find new tricks to customized your Aweber email templates.  If you enjoyed this video, please, let me know in the comment area, and share it with others.