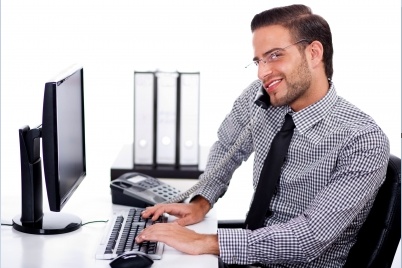 I see a lot of articles with advice for freelance writers, but very little if any for the companies and individuals who are in the market of ordering content for pay.  Are you looking to hire a freelance writer but don't know where to start?
A month a so ago I've already written one such article to help people understand what a freelance writer would expect from you when you  order some written content.  Because I keep getting people who are not clear of what they want and at times feel that they'll learn it along the way, I wanted to write another such article so you could actually learn before your order you written content rather they WHILE you're doing it.
We are all busy, and I can assure you that the less you know about your order ahead of time, the more time consuming it will be for both you and your writer.
So, I wrote this posts because for I've been inspired by my own clients and the back and forth emails that we have to go through before I can even start my work.  But also, I thought that this is the type of information that you – the freelance writer – could use either in your hire me page or you introduction email.
1 – Budget, Budget, Budget
I know I have written about this before, but here is some extra information for you (so very much needed), and some thought provoking questions you need to ask yourself.
Do you have a large, medium or small budget? Answering this question before you order your written content will save you and your writer much time. For example, on my order page I ask my potential clients to let me know what budget they want to put into their order. I'm not asking that for the sake of filling up my blank page here; I'm asking this question because it's an important one to answer before you make your order.
It's very important because it gives me a better picture of what type of work you are looking into ordering.
Needless to say that your budget probably goes hand in hand with your company's size and/or financial success, but whatever your situation may be, you should already have a budget in mind or even set aside before you start your search for a freelance writer.
In my case, I like to work with companies or individuals who already know what amount of money they want to spend on a project. This save both me and them a tremendous amount of precious time.
How to figure out your budget?
By answering the following questions:
How big is your project?
How complex is your topic?
How much edge do you need in your content?
How picky are you?
How much rush are you in?
These and more are questions that if answered before you order will help you figure out your budget.
2 – Duration of Project
Another great thing to have before you reach out to a freelance writer is the duration of your project.  It's very important for a freelance writer to know how long the project will be. I would hate to think that all you need is 3 articles and then realized that you wanted 25 of them.
Now I would love that, don't get me wrong, but it would make a world of a difference in my planning if I'd know in advance that you need me for three months, or for 25 articles or just for two. So, let the writer know what you have in mind.
It would actually work in your favor if you could decide in advance the average duration of your project. How long are you going to need my services?  Once I know, I can better prepare and set aside the time that I will need for your project.
3 – Style, Tone and Content Structure
Something that would really help the writer you're hiring is a brief description of the writing style and tone that you're looking for.  This is probably the most forgotten important details that writers need to know ahead of time when they get a writing order. The fact that you want me to write about diet pills, gardening, or internet marketing doesn't' necessarily tell me what type of style and tone you want your article to have.
So, what is your style and tone?
Conversational?
Formal?
Objective?
Educational?
Sophisticated?
Artistic?
The tone of the writing will impact the reader in different ways, and it's important that you already have a pretty good idea of which one you want.
Formal tone, conversational tone, review type tone?  If you are not sure yet what tone works best for you, your writer can help you find it. All you have to do is ask.
The structure of your content is also very important and something you need to decide early on.
Do you want a …
How-to-guide?
Review style?
News style?
Interview style?
Article style?
Do you intend in inserting images? Diagram? Figures?
Try answering those questions as best as you can before you make your order.
4-  Formatting
A great time saver is to specify you own formatting.
Are there some abbreviations that you do want or do not want, such as "can't" or "cannot" "would not" or "wouldn't" "I have" or even "I've." I don't recommend the latter one, but hey it's just me, if that's how you want me to write for you, then you need to let me know.  Such details are important, because the writing style that I'll be using will represent YOU.
What about titles and subtitles? Do you want it all capitalized or do you want to capitalize only the main words?
Do you prefer to write a.k.a or aka?  ebook or eBook? See what I mean here?
When it comes to numbers, the rule of thumb in professional writing is that numbers between one and ten be spelled out while numbers starting at 11 and up be written numerically, but how do you want that handled for you?
If you know that your content will include any of such specifications, you need inform your writer (as much as possible) about the way you want it. If you don't have any preference, simply let your freelance writer write as he or she pleases, but the point here is that if you do have specific preferences, just let us know from the get go.
I hope this extra information was helpful to you if you intend to order some writing.  For more of such tips hop over my previous post of the kind.
If you are a company or individual looking to order written content, I hope this was helpful for you. If you are a freelance writer, it might help you build your order page with some specific directions for your potential clients.
Either way, please, leave your comments or questions below.
Photo credit: FreeDigitalPhotos.net