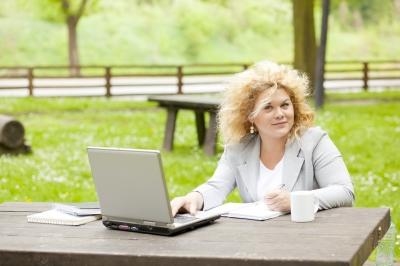 Have you ever thought about writing a book?
It used to be a time when writing and publishing a book wasn't as easy as it is now.  Nowadays, however, if you want to write a book it's a pretty easy thing to do with very little money, and a lot of tools that can help you to make your book idea a reality.
This post is part one of how to write your first book.  Next week, we will discuss the publishing and promotion part of your book.
Do you Want to Write a Book?
I know about some people who are reading this blog on a weekly basis that have already written and published a book, on Kindle, hard copy, or in the form of an eBook, and I know some who are in the process of writing a book right now.
However, they are other folks reading this blog that would like to write a book, but don't know exactly where to start and how to go about it.  If this is your case, then this post is especially for you.
Decide What your Book will be About
Writing a book is a different endeavor than writing an article or a blog post.  You may start writing an article while not being sure where you are going with it at first, while finding your way as you go along.  I've done that myself many times before and still do it on a regular basis.
When writing a book, however, I strongly suggest that you KNOW what your book is going to be about, and what type of market you are going to target with it.
There is no way that you would be able to sustain a 100+ page book (or even less) if you didn't know in advance where you were going with it. If you start writing without a specific idea in mind one or all of the following situations would happen.
Your book would probably go all over the place and nowhere at the same time.
You would probably not be able to keep on writing for long.
You would have a very hard time to be consistent with with your story.
In order for your story to make sense and have a solid structure you need to have a precise idea in mind for your book.  This will be very useful for your readers and help you to be consistent with your writing.  In other words, it will be your ultimate motivator to write, and define the outcome of your book.
Create Your Chapters the Outline of your Book
When you write a simple article, it's not always necessary for you to have all your subtitles ready, even thought it might be helpful.  When you're writing a book, however, it's a MUST.  It's not important if you change the title or subtitles as your book advances, but it's very important that you define your chapters and outline of your book.
This will be the structure of your book on which you will be constructing the story (either fiction or non-fiction).
Think of a building.  It would be impossible for the builders to build a building without a blue print and a structure.  If they did, the building wouldn't be able to stand; would it?  It's the same thing with your book.
No structure. No story. No book.  It's as simple as that.
This is what you need to have before you start writing:
A theme.
A title (that can be eventual changed).
Chapters with titles (that can be changed).
Eventual subtitles for each chapter.
This is the strong structure of you book, so your book will stand.  This is what will help you write a book that makes sense, whether you're writing a fiction or non-fiction story.
Schedule your Writing
Do you need to schedule your writing? The answer is a reasoning YES!
It's absolutely necessary that you schedule your writing, because if you don't I can promise you that you won't be writing at all after a week.
Don't get me wrong, writing a book is not what I would call a "hard thing to do", but it does take commitment on the part of the writer.
No commitment. No writing. No Book.
Have a daily appointment with your book.  Write it down on your schedule and don't budge from it, unless it's an extreme emergency.
Here are a few pointers for you to be consistent with your writing schedule.
Write every single day.
Don't make any other appointment during your writing appointment.
Choose a quiet place.
Choose a quiet time of the day.
Ask people in your household not to bother you during your writing appointment.
Don't do any other task while you're writing.
Take your writing time very seriously.
Edit Several Times Over and Over
Now, trust me, editing a 50,000 to 80,000 word book is not like editing a 1,000 word article.
Not only you are going to have to edit your book a handful of times yourself, but once you're done with your own editing, I suggest that you give your book to at least another two pair of eyes.  The more people you will have to help you edit your book the more mistakes, typos, and errors will find and eliminate.
I know personally a couple of published authors who have found such errors over and over as they were editing their books.  Don't be discouraged by this fact, however, as it's just normal and part of a book process.
Multiple editing by multiple people will help you go through such process without too much frustrations or discouragement.
Decide how you Want to Publish your Book
There used to be a time when there was one and only one way to publish a book, and that wasn't easy to do to say the least.  You had to send your book to editors and they had to agree to read your book and agree to publish it.  Then you had to have enough money to pay for the publishing process.
Today, however, the internet has made it so easy and cheap to publish a book that it can only motivate you to write and don't even worry about the publishing part.
There are many incredibly good, reliable and cheap services that will help you publish your book in the form of a Kindle, eBook and hard copy all at the same time.  The choice is yours.  It's not about if you can publish a book anymore, but who and what you are going to choose for the process.
To put it simply, it's very easy to publish a book these days.
Next week we are going to discuss the process of publishing a book and the promotion techniques that are available to you.
So, do you want to write your first book? If yes, let us know.  If not, you can still give us your feedback and ideas down below in the comment area.