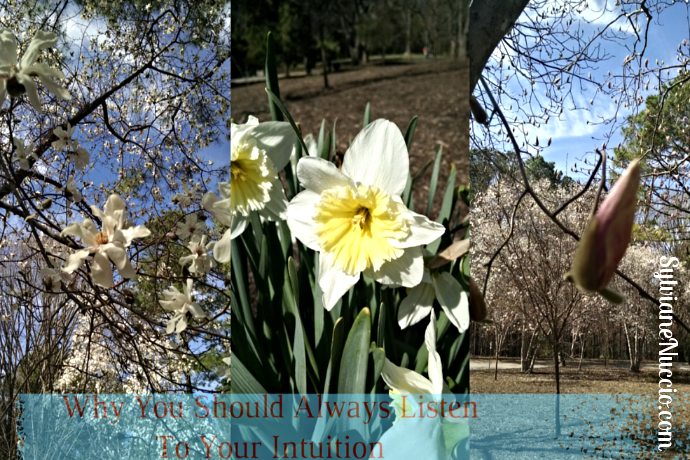 It was a rainy day and I was leaving the house to go to work that morning.
I said good bye to my mother and aunt who were here in North Carolina for their regular 3 month stay out of the year.
I remember closing the door behind me, and as I was getting in my car I felt an overwhelming sensation that one of my cats, Sophie, had gone out.  (While my cats were allowed to walk around outdoors  on a leach, I have never let them out on their own).
I knew that she wasn't out though, because I had just seen her inside as I was closing the door.
So, what did I do?
I did what most of us do when we get a nagging intuition; I just shook it off and left.
That day, my mom and aunt were supposed to be picked up by some friends of mine to spend the day with them.
When I came back that evening, they had not returned yet, but I wasn't worry because we had expected that.
What did worry me pretty quick though, is that as I came in, Tony (Sophie's brother) came to greet me as usual, but Sophie wasn't there.
So I thought that she might have been sleeping upstairs.
I proceed to go upstairs and looked in both bedrooms, but no Sophie.
I could feel my blood pressure rising.
I started calling her name and looking under the beds and even in closets, but still no Sophie.
As I was starting to seriously panic, my morning intuition came back to me.
And at that moment, I finally recognized it for what it really was.
A useful intuition that I shouldn't have discarded.
But I did. It was too late.
Knowing my cat all too well, I knew after 5 minutes of this frantic search that she wasn't in the house at that point.  There no way she wouldn't have showed up by now.
So I went outside calling her name like a mad woman.
Then I started crying and praying, asking God to please give me back my baby alive and well.
I felt so bad and so guilty for not having listen to my intuition that was trying to tell me to "watch out!"
That's when my mother and aunt arrived home and found me calling frantically for Sophie around the house.
After a few minutes of going round and round and looking everywhere, I found her sitting under a bush on a piece of wood.  She looked scared, because I could tell that she understood that she had messed up and was afraid of my anger.
So I calmed down and picked her up, thanking God like there was no tomorrow.
When I got inside the house I totally lost it and cried like a baby.
I didn't realize it right away, but my mom and aunt felt very bad, because they understood that Sophie had gone out when they left.
That had never happened before or after, because they were always very careful that Sophie and Tony did sneak out, but that day it did.
Cats are smart and they know who they're dealing with.  That day Sophie must have known that she could  fool those two older ladies and get out without been seen.
She was right.
They never saw her.
Cats are swift and quiet.
So for the first and ONLY time in her life, Sophie spent the whole day (about 9 hours) outside and alone to her own device.   To this day I've felt that she had protected and preserved.
But the most incredible thing of all is that intuitions I had that morning telling me that "Sophie was out" about an hour before it actually happened.
This is something I will never, ever forget.
You see, intuition is our friend.
Intuition is that voice inside that gives us signals that we should always listen to.
If I had  that same intuition today, I would act totally differently.
I would rush back in the house and tell my mom, listen, I'm having this strong intuition that's telling me that Sophie is going to try to get out, so make sure you see her inside as you close the door. If you don't make sure you do before you leave.
That's exactly what my intuition was trying to tell me to do, but I didn't.
Back then, I wasn't involved in personal development yet, and even though I had had some strong intuitive messages and dreams before, I didn't recognize this one, and I brushed it off.
What's very interesting to me today is that many years later I would learn from two psychic friends of mine that Sophie and I had a strong spiritual connection, and that intuitive message in regards to her was the first proof of that.
Intuitions are spiritual messages from our higher self.
What is Intuition and why should you Listen to it?
In short, intuition is a subconscious feeling that beats any conscious reasoning.
Intuition is a process that gives us the ability to know something without any kind of analytic rezoning.  It's a bridge between conscious and subconscious.
If you've read my blog long enough, you know that if you would compare the conscious mind to the subconscious (or unconscious) mind it would be like comparing the tip of the iceberg (the conscious) to the much larger submerged part of the iceberg where everything really takes place (the subconscious).
The conscious while having its purpose is very limited, while the subconscious is unlimited.
Intuition defies the laws of space and time, that why many people having intuition messages tend to rationalize them quickly with their conscious reasoning.
That's what happened to me that day.
Since I had seen Sophie inside the house, why was my intuition telling me that she was outside?
At a conscious level it made no sense, so I brushed it off.
What I didn't know back then is that since intuition is not limited by space or time, there was that awareness about what actually happened an hour later (in conscious conventional time).
As a matter of fact, since intuition is a preventive mechanism, it pretty must systematically warns you BEFORE the event you have an intuition about happens.
Think about it! It would make no sense if it were after.
Are you Listening to your Intuition?
We all have intuition.
Intuition is our own personal compass, not other people's.
So, when you do have a strong intuition about something it's YOUR job to listen to it.  Not to tell somebody who's going to try to convince you that's not so.
You need to trust your intuition more than you would trust anyone.
When I decided to go to Europe I had first set my eyes on Italy. The plan was to stay there for a year.
At first I was really motivated and all the steps I took to get my passports went perfect, so I knew that I had to go.
But as time went on I realized that I was not motivated to sell my furniture and make the plans that I needed to make.
Then I noticed that I had a nagging feeling about internet access in Italy. Something (my intuition) was telling me that I needed to find out more about the internet in Italy.
Since I had made a contact there, in Rome, where I wanted to go, I emailed that person and asked him about the quality of internet connection.  When he told me that it wasn't very good and "not a given" as he called it, I had the answer that I needed.
As soon as I received his email, I knew why I had that nagging feeling that prevented me to sell and pack my things.
So, I made other plans and decided to go to France and other European countries instead.  I'll go to Italy if I can, but for a short time only.
As soon as I made that decision my intuitive warning lifted off and I started selling my furniture, rented my storage, and I'm starting to pack.
Again, my intuition was telling me something, but this time, I knew better than not to listen that inner voice, so I did.
I can't be in a place where I don't have 100% secure internet connection, because I'm taking my business with me, so my good little inner voice was letting me know about that.
Isn't intuition a wonderful tool?
You've got to love it!
How to Develop Your Intuition
As I said above, we all have intuition, but it is possible to develop it even more.
There many different things you can do to develop your intuition, but here I'm going to give you 3 simple tips that can do a pretty good job a developing your intuitive power.
Turn off the Chatter in your Mind
To let go of the chatter in your mind, start practicing some breathing exercise.  Go in a park and as you walk, look around you, remind yourself to live in the moment as you inhale and exhale.
I walk outdoors in nature just about everyday. While I do, I make sure that I don't allow any negative thoughts.  I am totally aware of the NOW, I BREATH and MEDITATE as I walk, and I repeat my positive SELF TALK.
This is a routine of mine that improve my intuition.
Do this as many time as often as you can.
Meditate
Meditation doesn't have to take hours.
You can do a very good meditation routine for just 15-20 minutes a day.
There is an abundance of meditation guides on YouTube. But once you get the hang of it, you can meditate on your own as well, even as you lie on your bed before falling asleep.
Meditation will improve your intuition.
Work on your Third Eye Chakra
Your third eye chakra is linked to your intuitive power, your psychic ability.
There is a very simple and easy exercise you can start right now to open your third eye chakra.
Close your eyes look up (with your eye closed) toward your forehead between your eyes (where your third eye is located).
Then inhale deeply, and exhale as you chant the sound oooooommmm until you exhaled all the air in your lung.
Do this 5 to 6 times per session, and you're done.
I hope you enjoyed this article, and most of all I hope that next time your intuition is trying to tell you something, you will listen.
Intuition is ALWAYS right.
Please, leave your feedback and comments below…