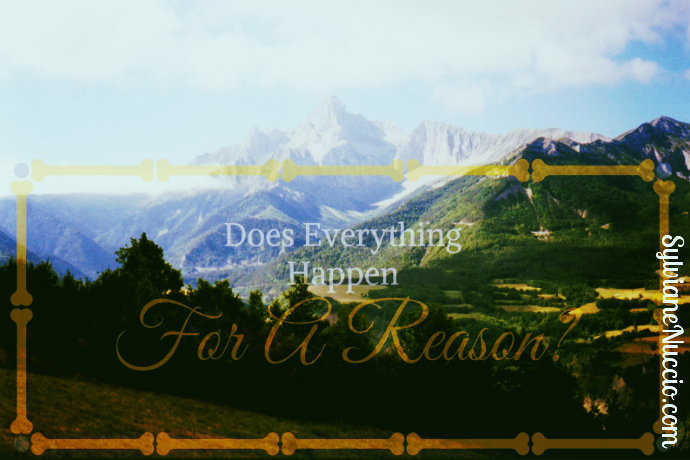 In a word, yes, but the fact that you do or don't understand it, has nothing to do with it.
At times we don't understand it at all, and at times we may even feel that it's unfair, but it doesn't mean that it didn't happen for a reason.
At times such reason could also be a negative one.
The result of some good old negativity, using the law of attraction in a very bad way. Because we forget that it's always working. It doesn't have a stop button.
Bottom line is that usually, when something good or bad happens, people are very much unaware of what that reason might be.
But whether you do or don't understand it, or that's it's positive or negative, still doesn't remove the fact that there's a reason it happened.
The truth is the sooner you can understand that, the clearer things will become to you.
Do you Think that Everything Happens for a Reason?
Well, one thing I can tell you is that the older I get, the more I'm convinced of that.
Now, the fact that everything happens for a reason, doesn't mean you're going to like everything that happens to you. Let's make that clear.
And one thing you should learn sooner or later (sooner would be better) is that not everything is about you either.
What I mean by that, is that you may be chosen to help someone else for something that is not related to you.
Or someone else could be chosen for something that is not related to them.
I think that's quite awesome, actually, because at the end of the day, we are one, and we are all related in some kind of way.
The biggest philosophers have understood that, a long time ago, and wrote about it, but for some of us this concept is still new.
 We are one, after all, you and I, together we suffer, together exist and forever will recreate each other.  Pierre Teilhard de Chardin

 

We expand our consciousness by tuning into the Universal Frequency. Connecting in light for we are all one.  Trudy Vesotsky

 

We are one in all and all in one. There are no men but only the great WE, ONE, invisible and forever.  Ayn Rand
I promise, this is not a way out there type article, by the way, but if you feel that it is, maybe you're simply not ready for this level of topic yet.
But what I'm saying here, is that you're not an island, what happens to you is not always in direct relation to you, and what happens with or to others may be directly related (linked) to you.
Are you following me?
Are you lost?
Well, if you are, stick with me a little while longer,  and you'll get the point, I promise you.
Why Should you be Aware of these Things?
Most life coaches would tell you that the more you align yourself with the universe, the more you'll get silent answers to your questions.
The more connected you'll feel.  And the more at peace you'll be also.
This little feeling, that little voice inside, will become very practical not only for the big things of your life, but for each little details that may lead you from point A to point B.
Once thing that I've noticed since I've planned on going to Italy, is that every steps that I've taken so far that's leading me to being ready, has works perfectly. Just like a well-adjusted clock.
I've taken that as a sign that is telling me – yes, go!
Three Little True Stories
When I went to Atlanta, GA in November to renew my French passport, everything went so smoothly.
Not a single little thing to complain about.
When my French passport arrived at that office in Raleigh, NC, where I live, I had to go pick it up.
I didn't know the address, so I had to use my GPS to get there. That day it was pouring rain. I hate driving in the rain.
But there was something in me that was telling me, it's OK.
Pouring rain, unknown address, who cares, you'll be fine.
I felt unusually calm about the whole thing, and I felt that it was a sign again.
I drove peacefully under the pouring rain (which I usually don't). I found the perfect parking space, and the first building I got in was where I was supposed to be (even though I couldn't see the number).
I wasn't sure what door I had to knock so I called, and it was the door I was standing in front of!
I got in, signed where I had to sign, grabbed my brand new passport and went back home.
 ~~~*~~~
Then,  last week, I had an appointment to renew my American passport.
My appointment was at 2:15 PM, but I was like 30 minutes early, because parking spaces are usually scarce, and you never know how long it's going to take you to park.
Well, I'd forgotten how easy things are for me these days, so I found a parking space right away.
Thus, I was very early.
As I was waiting, I was actually waiting for someone that was not even there yet.  I was earlier than the person who had their appointment before mine.
So, as I was waiting, I started pulling my form and old passport out.
Since the clerk was just standing there waiting for that person, she had plenty of time to realized that I had the wrong form – which by the way was due to wrong instructions – not my fault.
Since that person who had an appointment before me, never showed up, she gave me the right form, and even gave me the exact envelope to send it in.
There again, I could feel that everything was on my side.
She completely took care of everything for me, because I was her ONLY customer the whole time I was there.
I'm not even giving all the little details here, but all I can say is that things and people in some kind of ways, are being organized around me to make sure that everything goes smoothly for me, when it comes to prepare my trip.
I can't help, but taking it as a sign that I need to be going there.
~~~*~~~ 
On the other side of the coin, just this past Monday, my blog post – thus "I" – was used to lift a misunderstanding between two people who are good blogging friends of mine.
It was something I had nothing to do or was even aware of.
I was totally outside of the issue, but it seems that the Universe used me to help resolve a misunderstanding between them.
You see, in this case, it wasn't about me. I was simply an instrument to an end. But not my end, theirs.
Man, that was a story, and I'm actually proud that my blog was chosen to solve the whole thing!
In the case of my passport, because that person who was supposed to be in front of me, never showed up, even gave me plenty of time to show up with the wrong form and still have someone helping me filling out the right from and go as far as putting it in the envelope to be sent out.
That's why I agree with the belief/fact that we are not alone, and we are not here to solve only OUR problems. At times we help solving others' problems.
Not Everything is About You!
Not everything is about you.
Not everything is about me.
At times we are used for the good of others.
At times others are used for our own good.
We may or may not be aware of that reason and that we even had be chosen to help someone at all.
But that's not the point, because the point is that everything happens for a reason.
Not necessarily, YOUR reason.
However, I would say that the more you quiet your mind.
The more you grow.
The more you practice personal development.
The more you meditate.
The more you are going to feel that things and people are appearing in your life for you own good.
People that are serving a positive purpose for you will increase around you, while the ones that are deserving you will tend to fade away.
If you feel that, at this point in your life, you are more surrounded by things, events, circumstances and people that are not helping you at all, but rather kind of pulling you down, then maybe you need to raise your vibrations.
You need to learn how to become more in alignment with the universe.
It's your call!
In the meantime, please, leave your comments, or questions below!