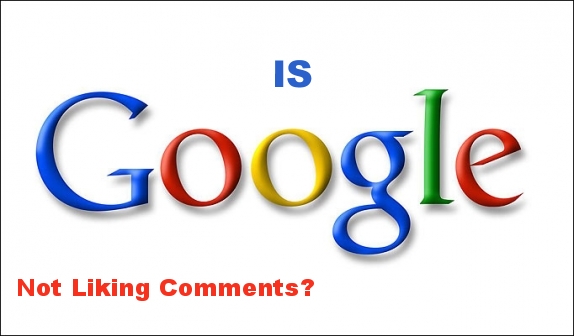 Last year I had written a post about blog comment blocking issues after I had read a shocking article from a blogger who was happy to tell that he had blocked comments on his blog.
Now, I feel that I have to write about this subject again as I was shocked to hear that one of my blogging friends (this time) closed comments on his blog.  According to what he read, Google is penalizing sties because of the bad links from people leaving comments, and even guest posts.
Then, he added that for him comments were a complete waste of time, and that most comments were just reciprocating comments from people's blogs which he commented on.  He added that since he is a one man show he didn't really cared about comments, and was actually very happy without them.
Hum, I'm not sure I agree with that at all, but, for the sake of this post I wanted to analyze those statements and discuss them with you. Then, you can leave me a comment, and let me know what YOU think about this.
Is Google Penalizing Sites for Bad Link on Comments?
Yes, Google can penalize you for bad links that may come with your comments to your blog. However, there is a very easy cure to this, especially if you are using the best commenting platform there is, called CommentLuv (my affiliate link) which most of my readers here are already using.
With CommentLuv you can monitor each comment one on one. You can simply spam and trash the comment or you can get rid of the link on any given comment if you don't trust it or don't want it. You can also remove the dofollow as well. If I see someone who has a link from a sales page or "commercial" site, I usually simple remove CommentLuv link, and boom, their link is gone.
If I see that they are not genuine comments I simply remove the whole thing all together.
Would few annoying comments be worth shutting off all my wonderful readers who are leaving fantastic comments on a weekly basis? NO! Heck NO!
Is Google Not Liking Blog Comments at All?
As soon as I've got that email from this blogger friend I shared his thoughts (without mentioning his name) with other friends that happen to belong to my mastermind group, and here I am going to share what they each said. (Thanks to all of you I had my post pretty much written this week).
So here is the reaction of some great bloggers and social marketers.
[box type="note"]Barbara Charles There is definitely discrepancy on if it's good or not. This goes against everything we've been taught. In terms of providing social proof. His quote says he has been reading that Google is penalizing… I think people who 'read' stuff on the internet should not take everything they read as fact, especially in lieu of the fact that most people writing the articles are just like me and you.
When do we call ourselves an 'expert' that makes our 'word' like God or an authority. The fact that he said he had been *reading* means to me he searched the internet and *found* something he thinks is of value and truth.
The truth of the matter is, no one knows that Google does in its ranking for sure. Right now, to rank, leaving comments is working more than not leaving comments so I go with what's working and has been working.[/box]
[box type="note"]Donna Merrill I watched some videos from Google and the whole comment thing is about misuse. Comments are great and that is why we are blogging, to create a conversation. BUT….check the comentluv on your comments and you can edit them.
I do this a lot. If the back link goes to a sales page, you want to disable the commentluv and also the persons' site in your back office. Other back links that have original content like Barbara's, Adrienne's etc, will help you.
Bottom line is Google is looking for original content and conversations on blogs. If I can dig up that video I'll send it to you, otherwise look up Google…there are so many videos that explain this issue. As Barbara mentioned above, people "read" stuff on the internet and should not take everything they read as fact. Go to the source: Google! Just my opinion.[/box]
[box type="note"]AdrienneSmith I agree with Barbara and Donna on this one Sylviane. I've also read a lot lately on this and it's the same thing that Google has been saying all along.
If you have unique, quality, consistent content that people love to share then that's what Google loves. If you approve comments with spammy links you are hurting yourself. If someone links to a product or service I do NOT approve their comment.
If they are regular commenters yet I don't like the post myself they're linking to, I hit the nofollow link in my CommentLuv and I do NOT give them the link love. You just have to be careful of who you approve and who is visiting you.
We love that people want to learn from us so if they're leaving great comments but linking to crappy sites, remove their entire URL and that will get rid of the CommentLuv link too.
The comments on your blog is what's going to help with social proof and people realizing that you're someone they want to listen to. I think they only hurting themselves.[/box]
[box type="note"]Sue Price Just catching this tread here now and I agree with you all.[/box]
As you can see, those ladies agree with what I was saying about just removing links and comments you don't want, while not getting rid of all comments together.  That would be such a huge mistake.
As a matter of fact, I read myself that Googlebot don't only value long articles, but shorter valuable articles as well, and even tweets that seem to generate lots of feedback and comments.
All in all, it seems that Google actually favors articles that encourage a discussion. In the case of a blog such discussion would be called "comments".
Your Blog is your Own Personal Social Media Site
Is blogging a one man show? Why are you online guys? If you want to write for yourself, then you might not need to have a blog to start with, you could just have an online journal of some sort.  Now if you want to have a blog and even do business from it, but cut off the conversation from the people that help you get business, I want you to explain this to me because I don't get it.
Why are you on social media sites?  Isn't it to connect with people and ultimately promote your business?  Your blog is your NUMBER ONE social media site.  Frankly, I'd rather have a discussion on my blog than on any other social media site.  Would you rather give more traffic and proof of traffic to Facebook, or Twitter than your own blog?  If your answer is yes, then, please, by all mean tell us why down below in the comment area.
Don't Need Comments for Traffic?
My blogging friend who blocked his comments told me that only 1% of his traffic left comments on his blog.  If I look at my traffic I can come up with the same type of statistics.  For example, almost none of the people on my list leave comments on my blog and I see that many do go read my posts, though.  However, that doesn't mean that I should shut my comments for everyone.
The reason why people on my list don't comment is that they are mostly affiliate marketers selling products. Their only objective when coming to my blog is learning about writing and marketing while not necessarily wanting people know that "they" are.  It doesn't mean that they couldn't comment, but I know such breed of marketers aren't much of blog commenters. That's just the way it is.
Then, there are people who might be interested in my content, but who don't have a blog or any type of online presence, yet, and therefore, won't be interested in leaving a comment, because they might not even know how.
Then again, there might be people looking for writing services or coaching services and in that case, commenting on my blogs might not be what they want to do either.
However, this is the very reason that I am going to cherish even more the 1% commenters that are in fact not only going to come to my blog, but also show me that they did.
Bottom line, I think that even though there might be some downside to comments, and there's some downside in just about everything, comments are well worth having on one's blog.
So, over to you now.  What are your thought on that?