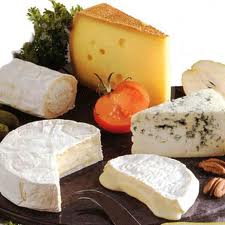 Few days ago, I came across someone online asking the question, how French people who eat so much rich food can stay skinny? While I was sending the person a quick reply to that question, I thought I would write a whole blog post on the subject to try to explain this from what I know.
First, let me remind you that I am from France. At this time in my life I still have spent the better part of my life there. So, yes I am qualified to talk about the subject (in case you're wondering). On the other hand, I have also been spending enough time in the United States to know a thing or two about the food habits of Americans as well.

There are probably several reasons why French people are smaller in size in general than Americans in general, but in my opinion, the three main reasons for are the following ones:
French don't believe much in junk food and snacks
French eat

more

natural food and

less

process food
French eat larger lunches and smaller dinners
If you were able to examine closely or count how much junk food and snacks your typical coworker consumes in a week, you might be shocked. Or maybe you have, like I did!
What about you?  How many vending machine snack bags are you consuming in a week? How many bottles of soda? How many snacks are you consuming in a day, but more importantly, what is your snack made of?
Now, if your snacks consisted of a couple of carrots, some cereals or a yogurt, you'd be fine, but how many people actually do that? For someone coming from France, I had never seen so many adults eating unhealthy snacks until I've got to the US.  The unhealthy snacks have got to have an impact on your weight.
French People and Snacks
French people don't believe much in snacks. As a matter of fact, during my time living in France I can't really remember seeing adults eat snacks, unless it was more like a small meal to compensate between a very early breakfast and late lunch. For example, when I was little the recurring comment from my mother was that snacks cut your appetite and prevent you to have a full healthy meal. This still reasons in my head.
The truth is that sacks might or might not cut your appetite, but it will definitely add to your calories intake when it's not a healthy snack. What I call dead calories will make your gain weight while not being nutritive to your body at all.
So, if you want to be lean like the French, cut back on unhealthy snacks and replace them with more healthy choice. Or, eat a bigger breakfast and Lunch and you won't even need a snack at all.
French People and Processed Food
French people eat way less processed food then Americans do. A very simple reason why is that they cook more. As a child growing up in France, I can't remember a day when my mother fed us processed food. Everything was homemade cuisine, and gosh, delicious too.
If you ate the same amount, or even the same kind of food while one type being processed and one being fresh, the fresh food will always be best, not only for your health which of course is the most important, but for your weight control as well. Processed food is responsible for weight gain and fat to a large degree.
Cut on the processed food and cook more at home.  Get yourself a great French cook book and try it!
French Lunch and Dinner
Any weight control expert would tell you that the worst killer meal when it comes to gaining weight is dinner. If you don't want to gain weight, do like the French people do.  Eat larger meals at lunch and smaller meals at dinner.
In France it's custom to eat more at lunch time and less at dinner time. Even when you invite guests on Sunday (it's a French common tradition) it's a lunch feast. In such case, dinner is sometimes completely skipped or very light. Of course, people do go to restaurants to dinner on occasions, but it's not something one does on a daily basis. Most people don't even eat dinner out on a weekly basis, but more like occasionally.
However, even for those who might go out to dinner once or twice a week, don't forget that French restaurant portions are way smaller than American restaurants portions are.  Also, French people drink rather wine, juice or water during meals while soda is almost none existent.  The sugar and calories contained in a glass of soda is alarming.
So, there you have it. You might be thinking that those reasons why French people are skinnier than Americans are not such a big deal, but you would be wrong. Such reasons (there might be more) are the main reasons why there is a difference in overall general people's size.