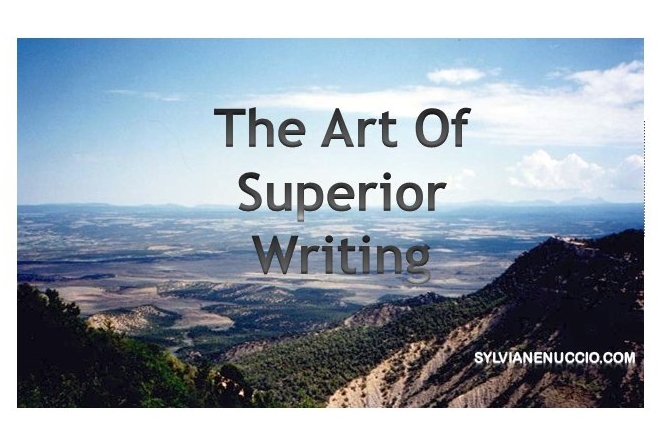 Are you striving to write superior content? Because there are so many blogs and articles online, and a lot of them of very good value, we should all strive to write better and better. We should all be working on the art writing superior content.
Yes, Writing is an art just like painting is an art, and just like not everyone can paint, not everyone can write.  But I can assure you that anyone taking painting classes can manage to be able to paint a decent picture, just like anyone learning how to write, can become a decent writer.
Are you striving for the ability to write superior quality content? Do you like to write? Are you willing to improve your writing skills?  If you are blogging on a weekly basis, you should!
Do you Like to Write?
Many people are saying that they don't like to write or can't write or can't put their ideas together into written words. Granted, writing is not for everyone, and I don't care how much you can and will improve at writing if you can't get to like it you might never be able to be a great writer.
However, do you need to be a great writer to be able to write on your own blog? My answer is NO. If you needed to be a great writer to own a blog then lots of people would not own a blog at all.
This said, however, it doesn't give you an excuse not to practice and try to improve your writing skills.
In my case, for example, I love to write.  I'd better be you might say, considering that I write for my three blogs each week, as a guest blogger, as well as for clients.
I really feel that I'm writing all the time, but one thing is sure, in each of those instances I try to write the best piece I can, and I try to raise my standards every time.  One thing that I've noticed is that if you don't, your writing will not improve, and sometimes even regress instead of progress.
That's why some of the clients that I've got have told me that the person who used to write for them was great at the beginning, but the quality of their work diminished over time.  Don't ever fall into that trap.
You need to remember that just like an athlete would start losing his skills if he didn't strive to improve his skills constantly,  your writing skills could diminish if  you didn't strive to improve them as well.
As a writer, I commit to it, and decide that I am going to give it one hundred percent until I'm done.
What about you, how much are you willing to give to your written piece? Are you committed to learn and practice the art of writing?
Be Willing to Practice the Art of Writing
Even if you never become a great writer, you can still practice the art of writing. I am not a great painter, by any mean, but I do practice the art of painting.
What do I mean by this exactly? I mean that if I decide to paint I will put all my might into it, and try to do my best. Does this mean that I need to be a Monet or a Renoir to be motivated to create the best painting I can? No, most certainly not.
It is the same thing with writing. Do not hide behind the excuse that you are not a great writer to prevent yourself from writing.
As a matter of fact, I am here to tell you that writing is addictive.  The more you write, the better you'll become, and the more you will want to write as well.
Do you still doubt that? Well, try it.  That's the only way you'll know for sure. That's how you'll learn to master the art of writing.
How to Develop the Art of Writing
1 – Read
You need to read as much as you can not only about your specific niche, but about other niches as well.
While your read materials from other people, try to notice how they write, how they structure sentences, what tone, style, words and form they're using.
If you are not very good with punctuation get a grammar book and learn the basics of punctuation. Basic knowledge of punctuation is usually enough if you are a blogger, but no knowledge of punctuation at all will make your blog posts hard to read.
Punctuation is often neglected, but it's very important and adds value in your writing. I will quit reading an article if punctuation is none existent or wrong.  
Always remember that reading will build the foundations of your writing skills. There is no substitute for this.
2 –  Practice
As William Zinsser mentioned in his famous book "On Writing Well", practice will not necessarily make you a good writer, but it will certainly make you a better writer.  So whatever is  your level of writing at this point, practice will make you a better writer.
Even if you read materials until the cows come home you will still not be able to write until, well, you actually write.
Even if you've never written more than a post card until now, go ahead and start practicing your writing. Don't think too much and don't wait until you know exactly what you want to write about.  Just jump in and write.
Do not stop to look for typos or mistakes until you've written at least 250 to 300 words straight, because it would stop you in your tracks, and you will lose your thread of thoughts. Remember, practice makes perfect. The more you write the better you will become at the art of writing.
3 – Do this over and over
Just so you know, when you own a blog and need to write on a regular basis, reading and practicing will become your routine.
This is not something you do for month or a year. This is something you'll be doing as long as you want to have an online presence.
You might not think so right now, but believe me, over time you will develop a true love for the art of writing.
Even if you never become a great writer, you can become a good writer. Even if you don't really like to write right now, you could get to love it over time.
I'm closing in on my 7th year of writing online.  If I look at how I used to write it almost makes me want to cry.  No way! Did I wrote that?
On top of everything was the fact that English is my second language. I didn't grow up speaking and writing English. Far from it. Yet, I was still able to improve my writing skills to the point that I can write for people who were born speaking and writing English.  So, if I could do it, what excuse do you have?
If I could do it, so could you!
What is your technique to become a better writer?