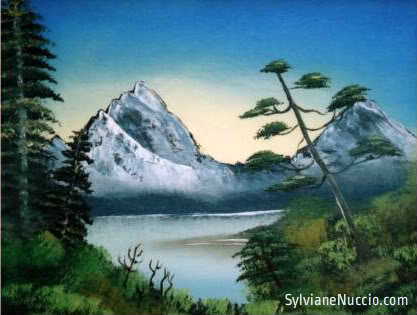 To me writing is like painting a picture or telling a story.  When you paint a picture, you are also actually telling a story.  When you watch a commercial, for example, what do you see? You see a story.  It doesn't matter that it's a one to two minute commercial, it's still a story.  When you call your phone service provider or your hosting provider for an issue you may have, you are telling them a story. The story of the issue about what you're calling for.  When you send that email to your list, even if your message is just a five line paragraph, you are telling a story.  There is a story behind just about anything and everything.
When you are writing an online article, you need to tell a story for your readers to be interested in what you're saying (writing).  In other words, you need to paint a picture. Let's see how we could compare writing to painting a picture and how it can help you to write better gripping articles that your readers will love.
First – Paint a Picture in your Head
Something that will help you greatly to write an article or a blog post that has a real meaning for the reader is to paint a picture in your head first.
When I say paint a picture in your head, I mean visualize or think about what you want to talk about. What will your story be this time?  Your picture might not be very clear at first, and in this case I always suggest that you take a walk while thinking about your writing.  As you do, do not force the issue. Just enjoy your walk while thinking about what you would want to talk about.  You'll be surprise how ideas will start coming to you. I suggest that you have a note pad or other recording device to take notes of your ideas as they may be gone by the time you reach your computer.
If you can't go take a walk, try to quiet your mind while think about what you would like to talk about in your article, try to get inspiration by reading, watching a movie, or anything that float your boat.  Try to paint that picture in your mind by taking your mind off the blank page and on the desire to tell a story.
Second – Paint the Background
When you paint a picture you always start with the background. Now, how does that apply with writing?  Start writing about the main concept of your story.  This is exactly how I started writing this very article.  I woke up this morning with a title idea. That's it. Then, I started painting my background asking myself the question, how can I compare writing with painting?
I started adding colors to my background by writing my ideas down without worrying too much about the details.  When you paint your background, you usually don't worry too much about details. Details come when your painting is almost complete, but for now, you are just painting the background, it's just an idea still. Write down what comes to your mind.  Don't' worry about the misspellings or grammar at this point, just spell out your ideas.
Third – Paint the Central Piece
Once you're done with the background it's time to add your more important items.  When I'm done with the background of my painting, which is usually the sky and far away fuzzy trees or mountains, I start concentrating on the more close up and important items of my painting.  When it comes to painting, this could be close up mountains, lake, or bridge or house, for example.  This requires more attention and more detailing.
In your writing, this could be compared to the subheadings that make your article easy to follow through and even scan, if your reader wants to have a good idea of what your article is about before reading it entirely.  Your subheading needs to be very specific and tell the reader what your article is all about.  Your subheading will start being clear only when your story and background are clear too.
Once the subheadings are in place you can start developing the foreground of your article.
Fourth – Painting the Foreground
Now your background is done, your central important piece is done; now it's time to paint your foreground items.  In my paintings those foreground items are items that appear closer to the viewer, the ones they may put the most attention to.
In writing, such foreground items are your paragraphs, the very body of your content, and where the story is all revealed.  Your foreground is the very content you want people pay close attention to. Your foreground is the specific theme of your article.
The foreground of the painting is what takes the most time to the painter. As you write the foreground of your content, you want to give the meat or the plat-the-resistance of your story.  That's where you want to spend the most time as well.
Fifth – The Final Touch
A painting would not be complete without the final touch; where you add all these little details that make a painting complete, better, and more real looking.
This is when you review and edit your article.  The final touch is when you add or take off words, sentences, and punctuation marks until your article looks perfect and makes complete sense.  The final touch comes once I'm done with this paragraph and I will go back to the top of my article to make sure that what I've just written makes any sense and if it actually will be helpful to the reader.
With writing, I like to do my final touch the next morning.  That's why as a freelance writer I never deliver an article the same day.
I know that some people are skipping this part all together, but for me this is one of the most important step of both my painting and writing.  I could not bear the idea of letting someone see my product without my final touch.
I hope this post will help you to see writing as a story telling or an image painting, and make the challenge of writing easier for you.
Please, leave your thoughts and inputs below!