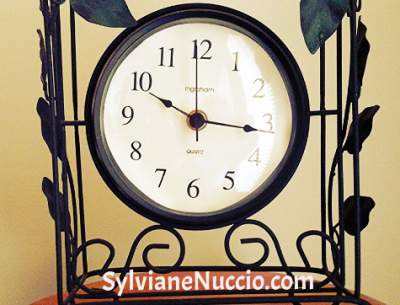 Many of you reading this blog have a home based business, so I'm sure that this information will be helpful to you.
While having our home based business is our dream job for most of us, it also requires that we know how to manage our time well by being disciplined enough to get the job done.
Nobody is going to supervise you or tell you what to do, so if you've been used to that so far, or worth even, if you still need to be supervised to put yourself to work, you must start applying some discipline into your working life to manage your time like a pro and get the job done.
In this article, I'll be giving you 5 steps to make it happen.  If you do this, you'll even be able to enjoy even more money from your business while still having plenty of time to relax and do whatever you want to do.
So, here we go…
Schedule your Time
Truth be told, if you're not going to actually schedule you time to work, you won't be able to be productive. When I say schedule, I actually mean having a planner either digital or physical where you are going to write each of "your must do" items one by one with specific time frame.
As they say, how do you eat an elephant? One bite at the time (Not that you actually want to eat one). At times, having a home based business can seem to bit like an elephant in the house, so your hour by hour scheduling will help you digest it one piece at the time.
It's much easier to stick to your work when you cut it into small pieces, because you're doing it one bit at the time, so you're not overwhelmed. In between hours, you can take a break, which you can schedule as well. If you stick to this simply method of managing your time, you'll be amazed at what you can get done.
Minutes lost here and there will turn into an hour really fast, so don't let time escape you just because you didn't schedule your work well.
Schedule the Largest Task for the Hours you're the most Productive
I'm sure you know what your most productive hours of the day are, right?  Basically, if you're a morning person it's going to be morning hours, probably even early morning.  If you're a night person it's going to be more like afternoon into the night hours. The good thing about having your own home based business is that you can actually work during the hours where you're going to be the most productive, not what's been dictated to you.  So, use this privilege to your best advantage to be productive in your time management and your business.
For example, for me, writing being what requires the most energy of all that I need to do, I schedule writing work for the morning.  I get up early (6 AM or earlier) and I usually write for 2 hours straight. Then I can always get back to my writing later to edit, but the hardest part – the actual writing – must be done when I'm on top of my energy level.
So, if you're not sure yet what part of your work requires the most energy from you, try to figure it out as soon as possible, and make it a habit to schedule it when you're the most productive during the day.
Stay Seated for a Full Hour
Let's face it, the human tendency is to be lazy. It's so easy to be attracted by the shining things that lure us in a house when we work from home. There is the backyard (especially in spring and summer), the fridge, the TV, children, pets, and so on.  All of which are there tempting us.  The lazy person that lives in all of us is strong enough to pull us out of that chair and take a break in the middle of what we're doing. And we will, or should I say, we've all done it?
Unless we schedule a time where we're going to force ourselves to sit on that chair for a specific amount of time until we're done.
Renowned copywriter Steve Slaunwhite says to schedule your sitting time to an hour. Like any of us he recognizes the lazy and unruly person in him, so he found out that by sitting an hour at the time, he can get things done. Anybody can at least stay seated one hour at the time, with the promise that he or she can go and play for 15 minutes after that.
By chopping your time into bits of an hour at the time you can become much more productive in your home based business.
Reward yourself Only when you're Done
This is a trick I've learned few years ago from Tom Schreiter, also known as "Big Al." who is a multi millionaire Network Marketing Entrepreneur. Like anyone else, he had to find ways to discipline himself to get the job done, and one thing that he imposed on himself to complete a task, is rewarding himself ONLY when the job at task was done.
He went even went so far as to impose on himself to do something he really didn't want to do, in case he messed up and didn't do the job he had intended to do.  For example, he would tell himself that if he didn't stick to his work to finish a project by a certain time he would give money to the Politician he hated the most. This even reinforced in him the fact that he'd better have this work done or else. Because, by the way, he was keeping his promises to himself no matter, no matter what.
The most successful people are the toughest on themselves, and that's why they're successful in the first place.  They are steering the boat, they don't let the waves take over. They find ways to stay on tract and deliver.  What about you?
Be and Stay Organized
Now, it's a known fact that being and staying organized will pay its dividends. People who are disorganized lose precious productive time just trying to find things they've lost or misplaced, and that goes even for time.
If you are so disorganized that you have to keep making for time lost, at the end of the week, you might have to work a whole Saturday or Sunday just to be back on track when Monday comes around.  I know I've done that myself, and it really sucks.
So, don't fall in that trap and give yourself the gift of nice extra bonus hours of freedom just by being organized.
Make sure all your needed documents and information are in one place, and easy to find.  Make sure that you have all the email addresses you're going to need in a specific place on your computer. Make sure you have your schedule handy at the click of the mouse or at glance. Make sure you have all the office supplies you're going to need at hand.
In short, make sure that all the details that can be time consuming won't mess up with your time, as long as you are organized.
Make sure that your day is totally scheduled, and that only, maybe an emergency, could mess it up. But even if that should be the case, even an emergency, shouldn't put you too far behind because of you being so organized. Yes, truly organized people do plan for emergency as well, so in the can that one arises, they know that they'll still fall back on their feet.
I hope this article was helpful to you and gave you more ideas to manage your time better for your home based business.
Your turn now, Let's hear what you have to say about time management.