Have you ever heard of Limoges Porcelain?
Well, it's called like Limoges Porcelain (Porcelaine de Limoges) because this type of beautiful fine dishes, cups, vases, and other table ornaments are made in the center of France in a town named Limoges.
I've been to Limoges only one time in my entire life. It's a rather tranquil town, and if you didn't know that's where the ONLY authentic band named porcelain was made, you would just have no idea.
In this post, I wanted to give a tour of both the city and the maker of this beautiful man made creation, called porcelain.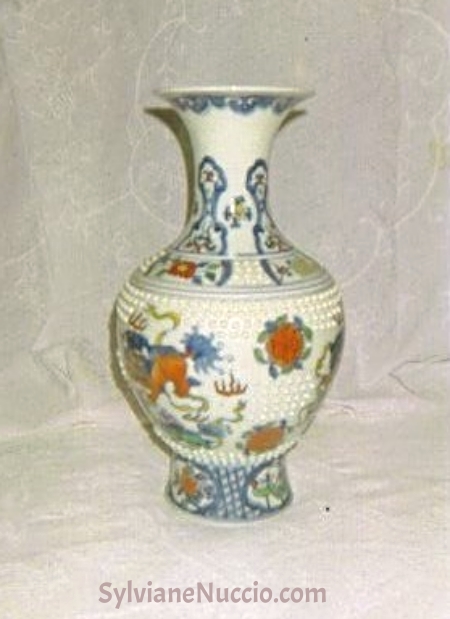 How did Limoges Become the capital Of Porcelain?
In 1767 a fine white soil was discovered in Limoges by a doctor's wife. Apparently she was using it to do her laundry. After a while, however,  the white soil's existence became widely known and recognized for a better use than just washing clothes.  It was first King Louis XV who purchased the white deposit in 1769 and started a production of porcelain items that only the Royals could benefit from. Porcelain was then only a Royal Privilege only.
It's been a long story, but over the years, Limoges Porcelain became more popular and thankfully, not only for the Royals but everyone else.
Today, even though Limoges porcelain doesn't have an "appellation of origin" (appellation contrôlée) any porcelain made in the department of Haute-Vienne, where the precious white soil is naturally born, bears the stamp "Limoges France." There are only about a dozen Limoges Porcelain manufacturers who are allowed to put such stamp on their creative merchandise.
Since the 1980's when economic crises did a lot of damage to the Limoges Porcelain industry true Limoges Porcelain manufacturers  are fighting some fake Chinese and North African productions trying to call their porcelain "Limoges Porcelain."
How is  Porcelain Made?
The Making a porcelain is a long and meticulous one.  After the dishes are molded they are going through 3 backings in special ovens and a series of refining steps. Any piece that is not PERFECT is simply destroyed.
Limoges Porcelain has it's price of course, and you can imagine that it's not exactly a cheap one, but by watching the video below, I'm sure you will understand why.
Limoges The City
Limoges is the 4th largest city of its region that we call the 'Grand Sud-Ouest' (the Big South-Western) after Toulouse, Bordeaux and Montpelier. However, it's the 35th largest city of France.
The city was mostly built in the Middle Age with buildings such as the Saint-Martial Cathedral to prove it. Limoges homes a large amount of college students because of its many universities such as the Universite de Limoges (Limoges University). Institut Universitaire de formation des maitres (University Institute of teacher training), Ecole National Superieur d'Art (National Superior School of Art), and Institut d'Ingenierie d'informatique (Institute of Computer Engineering). Among a few others.
Enjoy a visit of the city during the day and at night…
I hope you enjoyed this insight in the city that makes the famous Limoges Porcelain. Please, leave your comments below.