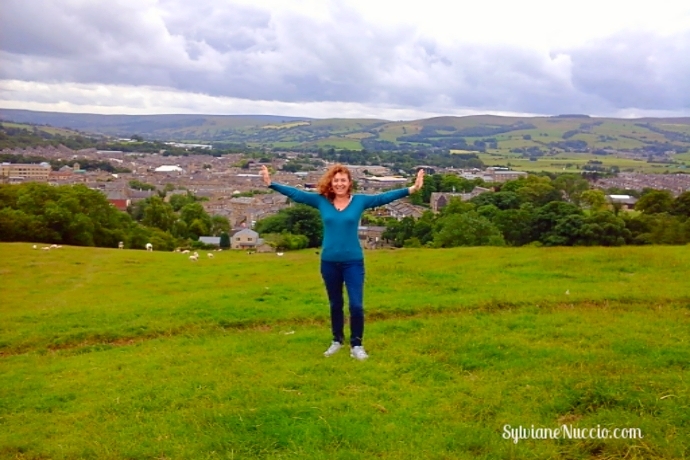 At the end of each year, we tend to go back into memory lane and do a summary of what we've accomplished, whether it's at a personal or professional level.
Some of us take this time to reflect and analyze how things went and what we could have done to make things better.
For me, last year was one of the worst years of my life. Actually maybe THE worse year of my life, because I've lost my mother and my furry child of 14 year (my cat).
Obviously my own personal development training helped me a great deal to go through this time of sorrow. I don't even know how I would have done it if it weren't for that.
However, while grieving is a long process, and maybe a process that is never truly ending, we learn to live with it. And while we're at it, it is possible to turn our life around for the better.
That's exactly what I have done. And that's also what I help my clients do.
You too can live a life by design.
The Dawn of a much Better Year
For me, 2015 has been as good as 2014 has been bad.
So there's always hope, isn't there?
It's like I have a little guardian angel who gave me a lot to compensate for all that I've lost.
And because this year has been a wonderful one, I wanted to do a little compilation of all the places I've been and all the people I've met throughout my travels.
To start with the first 4 months of the years went very fast for me, as I was preparing to leave the United States for my 13 month adventure throughout Europe.
Actually, I had started my trip planning back in November 2014 when I flew to Atlanta, Georgia to review my French passport, since it was going to be invaluable to travel to Europe.
The big adventure started then, but it was only the beginning.
Country and City Hopping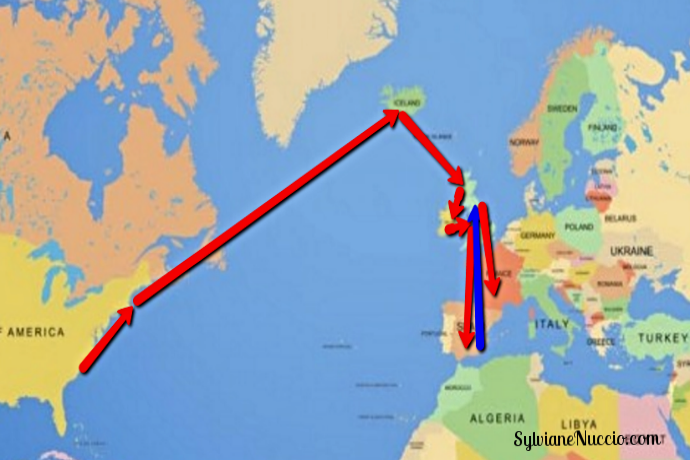 Today, as I'm writing this blog post I am 7 months into my trip.
5 European countries, 22 cities and towns, 15 flights and some 30 train trips.
Just looking at these numbers here, goes to show that I've been around in just half a year.
I've left my home in Raleigh, NC in May 2015 to fly to Boston, and from Boston I flew to Iceland. From Iceland I flew to Scotland where I stayed just over 2 weeks.
While in Glasgow, I've traveled all around Scotland, and visited the capital of Edinburgh, which is a marvelous city that I fell in love with.
From Scotland I flew to Dublin, Ireland, and while there I took a tour bus that took me all the way to the other side of the Irish island.
I discovered for the first time the beauties of this country and the nice people who live there. What a great memory.
A week later I flew from Dublin to Manchester, where I stayed for a whole month, early June to early July.
I stayed in the town of Wilmslow, which is located 20 minutes south of Manchester.
Early July I left Manchester and flew to Barcelona on my way to Alicante in the south of Spain.
As I walked around the skirts of Barcelona near my hotel that evening of July 5th, I remember feeling the gap between the British climate and scenery with that of Spain.
In a matter of a couple of hours I was in for a drastic change of temperature, language, landscape and way of life. I'll remember that feeling being almost palpable.
The next morning, I was hopping into yet another plane that took me from Barcelona to Alicante, where I took all my England clothes off, never to put them back again. You see, from Manchester to southern Spain there is a good 20 degree difference, and when that happens overnight your body is under shock.
On my way back, I flew from Alicante to Madrid, Spain. I had to wait over 6 hours in that Madrid airport to fly back to England. I flew from Madrid to London, and from London to Skipton.
I was so exhausted that I totally missed the take of in Madrid.
Unbelievable!
Me who hates flying, I slept through the take off, only to wake up while in the air?
Never thought something like that would ever happen to me, but it did.
Then it was back to cool summer in Northern England. I was in the beautiful town of Skipton, about an hour from York. I spent 3 beautiful weeks there, and visited all the worthwhile cities and towns around.
Three weeks later, I took a train from Skipton to London where I stayed in a beautiful vintage apartment for two weeks. I had been in London twice before in my life time, but this time around I had two whole weeks to take the city in like never before.
I love London. Always have. Actually I love England. For some reason I feel good there.
Then on August 20, my birthday, I flew from London, to Toulouse, France.
There again, I got a climate shock.
Can you believe that I've never got sick?
But again it must be because I don't believe in the lie of getting sick due to outside factors.
Right now, I am about an hour and half from Toulouse, in a small village of Escamps, in my home country.
This past October I've flown to Lyon my home town, which was a very emotional trip for me, and I enjoyed my own very home town in a way that I'd never had before.
From Lyon I took a TGV train to Grenoble where my brother lives, and walked around that beautiful city surrounded by mountains.
The People I met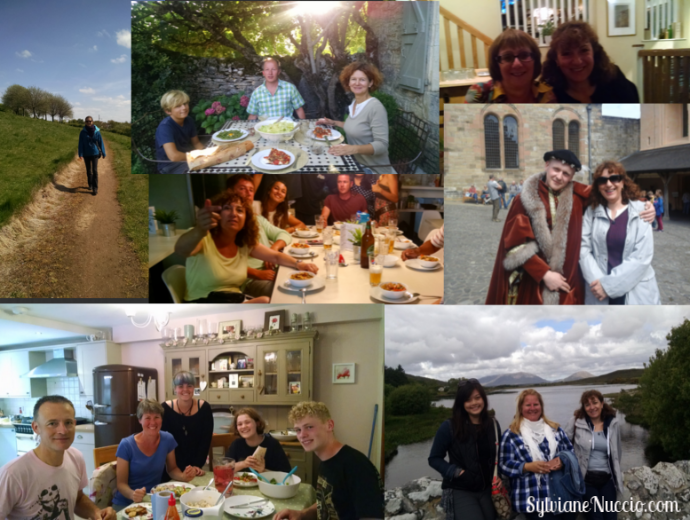 Looking back on my traveling journey, I was thinking of all the wonderful people I was fortunate to meet. As I did, some images came to mind and those images are here to stay.
I was thinking of my first dinner in Scotland with that Dutch lady.
My fun day with a French female doctor on a tour across Ireland
My first dinner in England with two charming British couples.
My night to a Spanish club with an Irish guy, a British guy, a Spanish guy and two Spanish gals, and us walking back to our hotel at 3 O'clock in the morning in the dark quite streets of Alicante, Spain. A keeper right there!
I was thinking of that dinner back in England with a cool British family in Skipton.
And then my first evening here in France, where I celebrated my birthday with a Franco-Australian couple and their young son. That evening I probably drank half a bottle of REAL champagne. Me and Jonathan can hold our drink.
Then again, I remember with a smile on my face, that French girls'dinner where we sang French songs from our childhood.
And finally that young lady from New Zealand whom I met in Lyon, and gave her a personal tour of the my home town.
What cool memories. What fun.
I can't even include them all here, but they will be with me for the rest of my life.
The Pets I've Taken Care of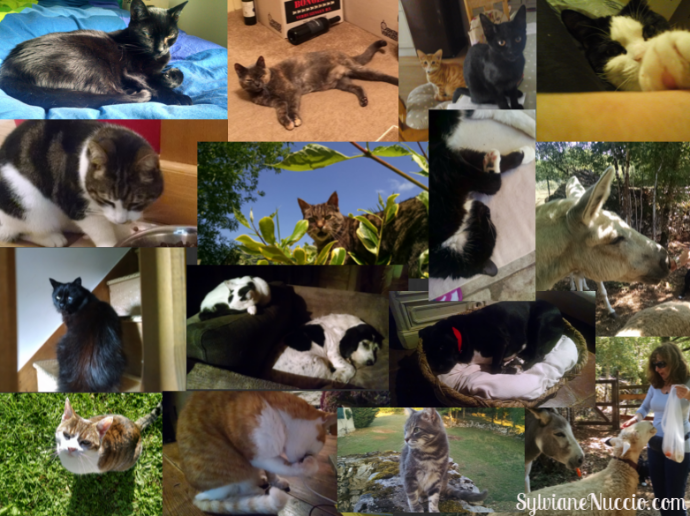 While doing house sitting and working my business online as a copywriter and life coach I've been taking care of 13 cats, 2 dogs, 2 donkeys and a sheep.
They are all in the picture above.
The cats: Neo, Trinity, Benson, Moss, Tabi, Beauty, Sushi, Jeff, Biscuit, Rapide, Pirate, Lulu, Minette.
The dogs: Gavin and Bloom
The donkeys: Alfred and Nino
The sheep: Locky
As a life and energy coach, I can tell you that animals help us BE in alignment, and those pets I've been baby sitting have helped me tremendously to be energetically sounds. What a blessing.
The Food I can Enjoy here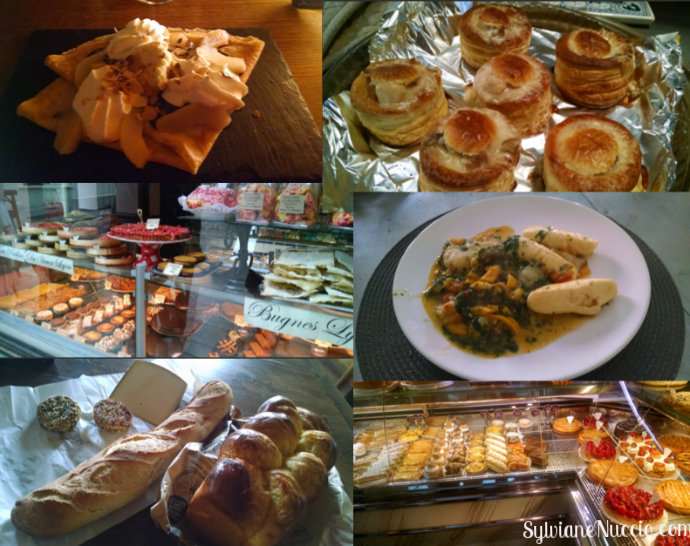 No offence to America, but when you're in Europe, the last thing you'll ever miss from America is the food.
I am not lying if I say that the food in Europe is 10 times better than it is in the US.
So much so that's what I will regret the most once I get back to the States.
Each time I go to a grocery store here it's even more fun than cloth shopping. I feel like a little girl in a candy store.
Plus right now being in France in this holiday seasons, I can't even tell you the choices of eatable stuff that we get over here.
Yes, France is the food capital of the world, and I'm not making that up.  It's just the truth.
That's why from now on, I will come back to my home country on a regular basis.
As a matter of fact, one of my big goals is to have a house here, and to split my time between the US and France.
I'm seriously working towards that goal, and I know I'll achieve it too.
My Work
Earlier this year, I totally dropped my job to work my business full time.
I've even got a client here in France. I write articles for them to promote their rental property in beautiful southeastern France.
I've completed and published my first short book on Amazon (which you can see on the right hand side).
On the coaching side, I've just done a webinar just last week, where I was offering one of my coaching programs at 3 times less the its real value, and I've got a few sign ups.
I've also worked at growing my business and hired some people to help me get there. So I'm so ready to start 2016 with a bang.
My Special Coaching Program at 75% Off
How would you like to improve your own life and live a life by design too.
For this holiday season I'm offering my abundance coaching program at a huge 75% discount.
I'm offering my Abundance Coaching Program at a staggering 75% off. If you would be interested in speaking with me for 30 minutes for free to see if this is for you, just

click here.

I hope you had a wonderful year as well, and I'll see you in 2016 on this blog, or maybe before if you fill out the form.

Why don't you tell us about your goals below!