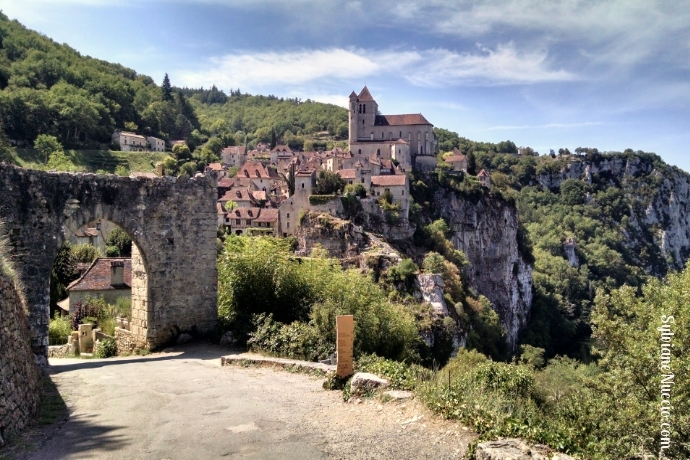 When the plane touched down on French soil at 11:28 AM in August 20, 2015, I smiled and I said to myself, happy birthday Sylviane!
Yes, it's been 15 years since I was last on French ground, almost to the day, and I guess that it was the Universe's way of telling me happy birthday, because it was well over due.
When you remove yourself for that long from your own culture, you're bound to feel strange when you get back. But at the same time, every little thing you hear and see seems very familiar and plunges you into memory lane.
Well, at least that's what's been happening to me.
So, how does it really feel to go back to my home country, also known as France, after 15 years?
Let me tell you…
The Little Things Long Forgotten Yet Still Here
Last weekend someone lent me a beautiful older house in the village of Saint-Cirq-Lapopie (picture above), which is a middle age village where houses date from some 500 years ago and some.
Houses are made of huge stones, with walls about two feet wide. So we can say that they were built to last.
The village is very popular, located on top of a big rock with the Lot River running at the bottom of the cliff.
While it's a touristic village, most tourists are French. Second and third, Spanish and Italians closely followed by British and Germans.
As you're walking in the streets, though, the language that you hear most is French, and as I'm walking around hearing French I feel so strange.
How long is it been since I've heard French in the streets? I mean besides the streets of London… LOL!
I think that's when it really hit me that I was, indeed, in France.
Just a couple days ago, I was at someone's house and I recognized an ashtray style-shape from my childhood. A type of ashtray I haven't seen in decades.
As I was reacting with excitement as we do when we see something from our childhood that was long gone from our day to day memory, but still located somewhere in our brain.
There was an 11-12 year old boy there who was asking his mother why I was so excited about an ashtray, and his mom said, well, this lady has spent half of her life in the United States, and right now she's more American than she's French, so she hasn't seen something like that in a very long time.
The answer she gave to her son was a perfect one I thought.
I have somehow disconnected a bit, there's no doubt about that.
French People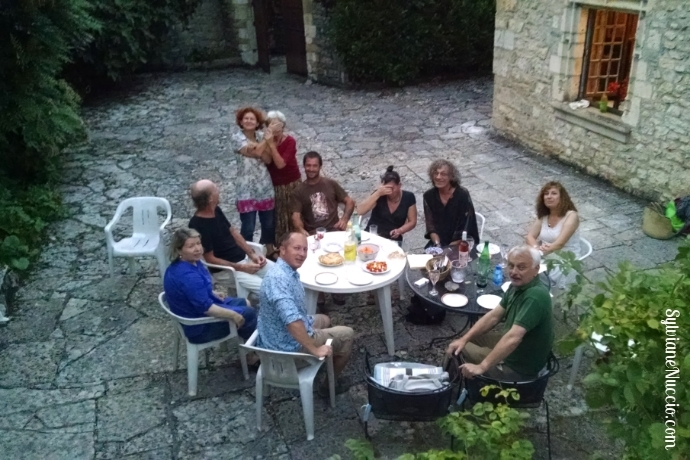 Luckily I am in an area of France where people are extremely nice and friendly.
Usually, in France the south (except for the French Rivera) and the north (except for Paris and its region) it's where you can find the nicest folks in the country. As a general rule. (No wonder lots of tourists find French being rude, they are visiting the two most notorious places in the country for having not so friendly people).
I am in South Western France, where the large majority of people are from here forever, and they have that very specific accent that we call "accent du midi" which means accent from the south.
While they are several different southern accents, they are all similar to a non-southerner. However southerners are keener into recognizing where the accent is from specifically.
The only part of southern France that doesn't have that typical accent du midi is the French Rivera.  All other parts of southern France have that delicious accent that you can recognized in a hart beat. Even though there a several different nuances of it, as I just mentioned.
However, as I was told by both an English and an Australian man, who both have a residence here, that accent makes it harder for a non-French speaker to understand. That doesn't surprise me one bit.
French People and their Love for Wine
French people like to drink. There's no secret about that. And drink they do here for sure.
Between the "aperitif" before meals and the wine during meals, and what we call the "pousse café" (the coffee pusher) which is another type of alcohol beverages, by the time you leave the table you'll have had your share of alcohol. Even though, they do drink like that mostly when they have guests.
The difference between Europeans and Americans, I noticed, it's that they have been drinking for so long that it doesn't affect them as much.
What I mean is that you don't see people drunk, they're just fine.
Whether you're in a pub in Scotland or England or at a French dinner, alcoholic beverages abound, but people don't seem to be affected by it. I've never seen anyone out of control, whatsoever.
Plus they usually do have a designated driver if they have to drive after the party.
Even here, the police is very strict about drinking and driving, which is a good thing.
French Choice of Food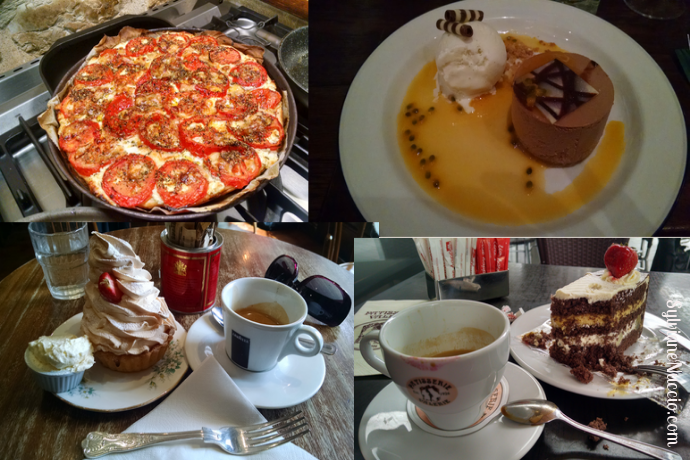 In 3 words…
Oh My Gosh!
Not that I didn't know that already, but the variety of eatable things that you can find in France is simply flabbergasting, especially after 15 years of not having seen it.
For example, I was told by a local woman just a few days ago, that France has now over 400 cheeses. So, it means that if we were to taste one new cheese per day, it would take you about a year and a half to taste them all.
It's too bad that it's forbidden to take pictures inside those stores, because the cheese aisle is very impressive, and that doesn't even include the cheese that they sell by the weight, which is another stand on its own.
After that, you have the aisle of yogurts with probably over a hundred different flavors and styles. To give you an idea, the store I was in the other day has probably 4 times the choice that you would find at Walmart, Target or Kroger in the yogurt aisle in the US.
The bakery and pastry corner is huge and you don't even know where to look. It will take me my whole 10 months here to taste them all.
Then you have the fish and deli aisles with tons of choices as well.
Then you have all the syrups and other pain grilles which are products you can't find in the US at all (believe me I've been looking for years).
I was oh so reminded that, indeed, France is the country of food.
Any English here?
People who do speak English in France, are usually people who have traveled to English speaking countries or if it's required for their job, however, those who haven't have the need do not speak English, especially over here, simply don't speak English at all.
I don't think that anybody speaks English at all in this region. And the younger ones who may be speaking some English would be speaking school English. You know, as good as your school French is.
So, if you come over here, it will be a great opportunity to learn French.
The Internet
Like everywhere else, the country side little places have had the internet last, but it seems that the internet is everywhere now in France, even in the country south western side where I am now, which probably was one of the last places in France to have internet.
I live in a real estate that's a bit remote and we have internet. Well, I wouldn't be here if we didn't.
I was informed that while we don't have a slow or rapid internet here, it's more like a weaker or stronger connection in cases where the installations are older.
As up to this year, because they have finally realized that WIFI is bad for public health, it is banned in kinder garden schools and day cares, and soon to be banned in other schools as well in France.
Yep, WIFI is bad for you.
Driving in France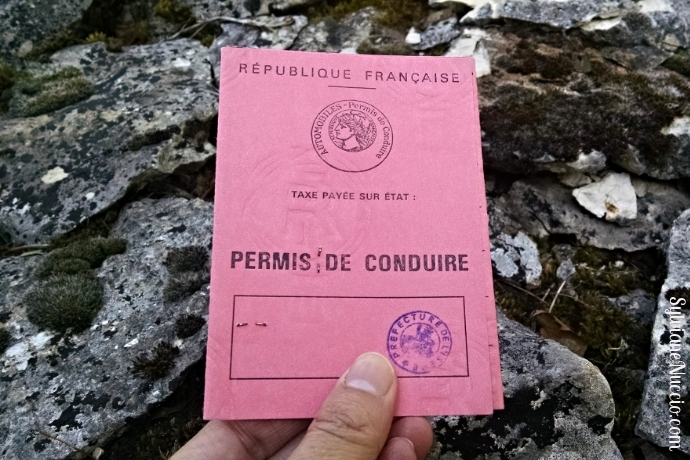 Ah, driving in Europe!
Well, whether you're going to Scotland, England, Ireland, The Netherland, Belgium, Switzerland, Spain, Italy, German or France, etc… you'd better know how to drive manual speed cars.
Yep, European still like their 5 speed cars, and I'm yet to have asked someone here in Europe that told me that they'd rather drive automatic cars.
I've asked many folks throughout my travels and all said, that they didn't like it.
I have no idea why, but I guess that a century of driving manual cars is a habit so entrenched that it won't change any time soon.
Right now I'm driving a 5 speed manual 106 Peugeot that works pretty well. It's funny considering that I've learned to drive on a 205 Peugeot and I'm driving with my original driver's license.
Only since January 19th 2013 French drivers' licenses need to be renewed every 15 years. Anyone owning a driver's license before that date had it for life until they had to prove that they were still fit to drive later in life.
Anyone owning an old driver's license, like me, has until 2033 to renew their license. So, in my case, I don't feel that there's much hurry to do that right now, so I'm using my original driver's license.
Did France has Changed in 15 Years?
Maybe because so many people have told me that I would see a lot of change, getting back after so many years, I have not seen much change at all.
I still feel like I've left yesterday.
What made France 15 years ago is still what makes France today.
Maybe I'll see more change later on as I travel across the country and go back to Lyon and Paris. I will see for myself and be sure to let you know.
I hope you enjoyed this post. Please, let me know in your comment.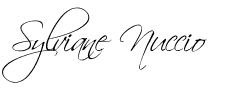 I write in such a way that your potential customers will fall in love with your business.
Would you like some advice about blogging for better business? Get it here!