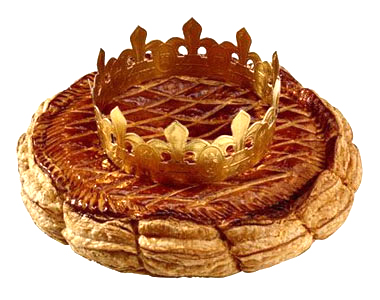 La Fête des Rois is a traditional celebration in France on January 6.  Since this is not an off work day it's celebrated the first Sunday of January, unless the first Sunday fall on  New Year's day. In such case it's celebrated the following Sunday.
This year, January 6 is actually falling on the first Sunday of the year on the dot. While this holiday is very popular in Europe, it's not celebrated here, so you may not know what this is about at all.  In this post I am going to give you a bit of a story and tradition in celebration of la Fête des Rois.

Two weeks after Christmas this tradition celebrates what is officially called the "Epiphanie" which we call in France "La Fête des Rois" or "Le Jour des Rois"(Literally the kings holiday or the day of the kings).
Roots and Origin of Kings Day (La Fête Des Rois)
Roman Origin
This holiday has two roots or origins, one is found with the Romans who have left a great deal of traditions in Europe, and the other is found in Christianity.
Back in Roman days people celebrated what was called "Les Saturnales" which was a holiday/festival that lasted 7 days from December 17th to December 24th.  This was a celebration of prosperity and giving spirit to the point that masters would serve servants offering them gifts which often were a kind of cake with a bean inside (called fève).  When the cake was cut up, the person finding the fève in his slice of cake would be nominated the king of the feast.
Christian Origin
The Epiphany is a Christian tradition commemorating the voyage of the three wise men to the birthplace of Jesus, which wise men became kings.  They are thus called "les Rois Mages" (the Mages).  In 1801 the date for the celebration of Epiphany was set on January 6th.  From December 25th to January 6th is what is called the Twelve Days of Christmas as the popular song says it.

The Galette
What we call "la Galette des Rois" is a special "cake" that we make for this special occasion and which contains a fève or two ( a king and a queen) per galette.  The  fève has changed greatly over the century and it's now mostly made of plastic and represents a small figure in the shape of a king and  queen.
The galette in the northern France is mostly a puff pastry (such as the picture on top of this post) filled with  "frangipane" which is an almond paste.  It's delicious and if you want to learn how to make it, watch the video below.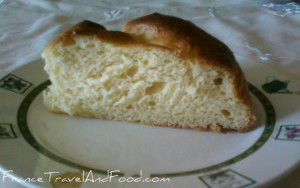 In the south of France la galette des rois tends to be more of a round brioche shaped like my own here (my own).
Before the baking of the galette it's custom to add a  fève or two depending on choice.   It's usually placed in such a way that it shouldn't hinder the cutting while not been seen from the outside of the cake.
The person getting the piece with the fève
is usually dress with a golden color paper crown as seen on the picture above.
The Féve
The word fève refers to a type of bean, which used to be a real bean in the old days. However, since then the bean/fève has changed greatly. Even though we still call it  fève to this day, it's has transformed from a bean to a porcelain figurine representing either Jesus, Mary, or Joseph, and later on started representing a crowned kind or queen or both.
Today most galettes are inserted with a white plastic figuring representing a kind and a queen. While the real fève (the bean) wasn't so hard, the porcelain and the plastic fève are very hard so, just in case you get it in your galette's slice you need to bite with caution so you don't break a tooth.
So, did you know about the La Fête des Rois (Kings Day) in France and Europe? Tell us what you know about this tradition of old!
It's in French, but just watch! Or if you know French, then enjoy them talking as well!